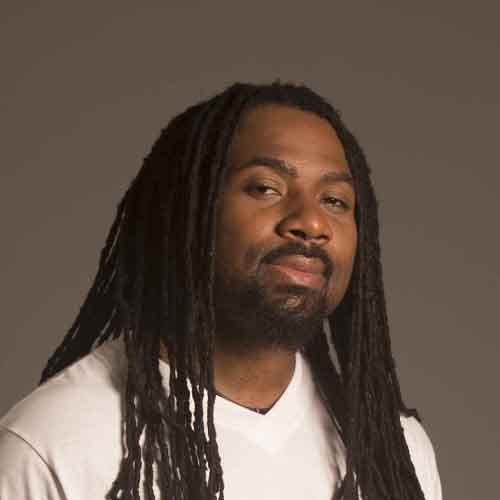 This artiste is adored by the females and highly respected by the men. The music of Hezron can be described as enchanting, mesmerizing, soothing, yet militant and hard hitting. His ability to simultaneously charm, captivate and motivate his fans, has most definitely cemented the fact that he is a rare and exceptional talent.
Hezron Clarke was born and raised during his earlier years in the District of Moy Hall District, St. James, Jamaica, before migrating to the U.S.A. Whilst in Jamaica; Hezron developed his talent, being an ardent member of his church choir. His musical gift was evident to his family and friends who facilitated its development however possible. After his migration, Hezron continued to expand on the dexterity of his vocals by naturally transitioning into singing R & B, but was not entirely satisfied within that genre, as his calling was deeply embedded in the rich Reggae music of his homeland. As such, he was compelled to return to Jamaica to fulfil his true calling of being an outstanding Reggae artiste.
Shortly after his return to Jamaica, Hezron began unleashing a series of hit singles that instantly garnered serious attention within the local music industry. Such singles such as "So In Love" was also apart of the Tads Records -Singers Compilation CD- 'Hit List' and VP Records' "Strictly the Best Vol 41." "So In Love" also made a significant impact on the overseas charts, particularly, on the South Florida charts and New York Top 20 where it spent 25 week on those charts. It was also a success on the Jamaican charts as it spent 2 weeks at number one on the "Richie B's" Music Countdown chart.
In 2011 Hezron released "Forever and Always", produced by Watage Productions, on the "Jahness Riddim" and the single was instantly a hit. Other noticeable singles released by Hezron includes; "Jamming Till A Morning", "Take Your Clothes Off', "We Shall Find A Way" (which went to number one on the Richie B's chart – during the State of Emergency in May 2010), and "Two Places" featuring Shaggy. In 2012, Hezron released yet another exceptional single "Cant Come Between" a Notice Production, on the "Heart and Soul Riddim" and "We can feel alive" on the "Digital Love Riddim" also by Notice Productions. The single "Cant Come Between" has been creating waves of tsunami proportions on the local and international music scene, as it has received heavy rotation, which has catapulted the single to the number one position on many charts across the globe including the "DaFlava" reggae chart out of Canada, other charts in the USA for two months, and even topping charts on the continent of Africa, in countries such as Senegal and Gambia to name a few. His most recent releases includes, "Those Days" released late 2012, and "Hussle Afi Gwaan" and "Cant Tek Di Pressure" (which also looks set to create yet another tsunami) as the track is both locally and internationally getting a lot of intense attention with people relating to the lyrics. released in January 2013, these are 3 tracks from his upcoming album, "The Life I've Live/d" scheduled to be released in 2013 on the Tads Records Label.
Over the last 5 years since his return to Jamaica, Hezron has been locking the stage show circuit in Jamaica, delivering one captivating performance after another. Hezron has performed on numerous stages including Capelton's St. Mary Mi Come From in 2009, Reggae Sumfest in July 2009 and 2010 (and now slated for 2011) and Hennessey Artistry in Barbados in 2010. Hezron also had the pleasure of serenading the contestants of the Miss Jamaica World 2009 Pageant and many more. The artiste has been a regular on the local and regional entertainment calendar making his mark and impressing massive audiences and giving them their money's worth. Hezron's latest performance at the 2012 staging of the "greatest one night reggae show"- "STING", has left no doubts in the minds of the public as to his versatility, and vocal dexterity, as he effortlessly was able to engage and captivate a crowd, notoriously known as the "toughest set of reggae/dancehall patrons" to appease. Hezron has cemented the fact publicly, to the entire music fraternity locally and internationally, that he is an outstanding performer and recording artiste.
Hezron has been compared to Reggae greats such as Beres Hammond and international star, Luther Vandross. Hezron can be defined as one of the most charismatic, consistent and chart topping reggae artiste around. His determination, persistence, and discipline in staying true to who he is as an artiste and the true reggae music will ultimately take him to that pinnacle, where he so absolutely deserves to be.