Interview with Fred Locks #1 - From Clement Coxsone To The Black Star Liner
03/12/2012 by Angus Taylor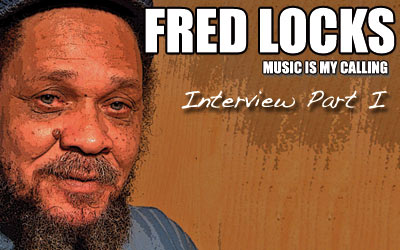 PART ONE: FROM CLEMENT COXSONE TO THE BLACK STAR LINER

Coxsone said "Hey Red Bwoy! What you do?" I said "Sing".

The ruddy, long-locked deeply spiritual Rastafarian singer Fred Locks is best known for the rough-hewn 1975 repatriation anthem Black Star Liners, although fans of Shaka style steppers will also recall his militant late seventies work with the Creation Steppers. But the man born Stafford Elliott's career spanned from Studio 1 in the 60s right through working in the 1990s for Fatis Burell and beyond.
Like contemporaries such as Little Roy and Junior Dan he became involved with the 12 Tribes organization and felt the sharp end of a tough, and at times cruel, music business during the roots era before re-settling in the USA in the 1980s. Now back in Jamaica he released a new album Music Is My Calling on Irie Sounds International on February 28th. Reggaeville spoke to a veteran who has seen and done it all in Jamaican music yet who has remained upbeat and philosophical throughout. This two part in-depth interview is the result.

Where do you think your distinctive vibrato style comes from?
My father was a self taught guitarist who used to play songs and sing but my mother was a good singer too and she loved to sing. She's 83 in March and she sings every day, in the bathroom, the bedroom, everywhere so I knew I was born to sing and started writing songs from very young. My father used to take me to bars when I was eight years old to sing for his friends and they paid me! I don't know where the vibrato came from but that was my style! I was surrounded by music and I used to play a lot of Dakota Staton and Nancy Wilson, Nat King Cole and Frank Sinatra and Bing Crosby records. I used to sing those songs in bars and people would say "This lickle bwoy can sing yunno!"

Tell me about your first musical group.
I started my first group in school when I was about 12 years old. I wrote my first song called I Thought She Loved Me and sang it to my friends Donald Harrison, Junior Harvey and Harvey Campbell. Harvey wrote a tune called Did You Know (Looks Are Deceiving) so they made me the lead singer and we were like some doo-wop kind of group. But we were schoolboys and we didn't know anything about harmonies! Donald's father heard us singing and wanted to manage us so he would take us to his home to rehearse and entered us into the amateur festival where you had groups that were much bigger than us and we came second in one of the auditions but got knocked out in the semi-finals. We were called The Flames (before we knew of Alton and The Flames). We did well as a little group and a lot of people who were competing against went on to become big singers like Hopeton Lewis and Vic Taylor, who came with a group called the Eagles at the time. We were chosen above them and they were told "The Eagles must fly away!" (laughs) But that group didn't last because some of the brethren lost interest.

How did you form your first professional group the Lyrics?
The group was formed when I was about 15 or 16 years old in 1965-66, just as the rocksteady era was coming out of ska. I met two guys Delmar Campbell and Albert Tomlinson who were elders to me and were singing together and I started to jam, singing some of my songs with them. Some guys were passing when we were on a street corner rehearsing and said "You guys have a lot of Lyrics!" So he said we should call ourselves The Lyrics!

You and your fellow Lyrics auditioned at Studio 1. Did you audition for Mr Dodd, Jackie Mittoo or someone else?
I knew Jackie Mittoo personally. He used to sleep at my house. My bigger brother Levi Elliott who is now deceased was a good friend of Jackie. My brother was a guitarist and the first band he played in was called the Rivals with Jackie from about 1960 when I was a youth. That was how the Skatalites heard of Jackie Mittoo and then took him over. Jackie was always telling us to come to Studio 1. My brother's nickname was Leroy and he would say "Leroy brother you sing well - you should come to Studio 1". So I went there in 1967 and me and my group went for three months straight before Coxsone even gave us any notice or attention! Delmar Campbell, who we called Snore, he gave up his work as a customs officer to come to the studio full time in the days before we got the go-ahead from Coxsone. Then one day Coxsone came along and saw me and said "Hey red bwoy! What you do?" and I said "Sing?" and he said "Sing!" Then he said "You sound good. You and your group can go in and let the band hear your song". So we went in to where Jackie Mittoo was in charge of the music - with my brother too so he could play the guitar and let them know the chords and the key my song was in.

You would later become known as a singer of cultural songs but in those days love songs were the order of the day...
Yes, the first five songs for Coxsone songs were in 1967, a little over a year after we formed the group and all of them were love songs. A Get It and then You Made Me Sore and then Money Lover. Then the following year we went back and did two more songs Old Man Say and Girls Like Dirt where Coxsone renamed Music Like Dirt. That was an original rhythm that my song formed and gave Bob Andy the rhythm to do Desperate Lover. But my song that created the rhythm was not released until long after in the 1990s.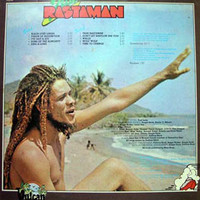 You also did some work for Randy's - did you leave Studio 1 or was this happening concurrently?
It was happening concurrently because I went back to Studio 1 after Randy's. Delmar migrated to the US and myself and Albert continued to sing. Albert was a very great background vocalist and harmony singer. At Studio 1 he did a lot of background for artists like Carlton and his Shoes and the Heptones. He was hanging out down by Randy's doing some background vocals and he told me to come there one day. I had written a song called Give Thanks and he had one called Heed To The Right so we did those two songs together, then we did a cover of Bridge Over Troubled Water before Jimmy London did it.

I heard about that from Junior Dan - how Randy's wife preferred Jimmy's version?
Oh you talk about Junior Dan! (laughs) He played bass on that song. After we recorded those two songs Randy's seemed to have liked our thing and suggested that we sing Bridge Over Troubled Water. We tried to do it like Simon and Garfunkel line by line in harmony doing a duet kind of thing. I was surprised when he gave Jimmy London the rhythm to sing over the song solo and then released his first. But a lot of people heard our one after a while and loved it too but his own made a hit for him because it was released at that time and he did a good job of the cover so we couldn't claim anything or feel bad about it. We did a few more songs for Randy's like A Love That Is Real and something that was never released, some sound system tune. It wasn't a special but we did it for a sound saying that sound can mash up the dance.

Didn't you self-release an early cut of Sing Along before he left?
Yes, Albert produced that. He had written most of the song because he was a good writer. Delmar was a good writer too but he migrated before he got a chance to sing a lot of the songs he wrote. We co-wrote a lot of the songs - I wrote Old Man Say and You Made Me Sore by myself, Girls Like Dirt myself and Delmar wrote, but Albert was always instrumental in putting words in songs when I got stuck and vice versa. So Sing Along was a song where he had one and a half verses and a chorus so I put some parts in. Then he decided he wanted to produce the song instead of doing it for Randy's but we still recorded it in Randy's studio with some of Soul Syndicate band and it came out on our own label, Lyrics. So when I was doing my own album later as Fred Locks I decided I wanted to do it over in reggae rather than as it was done in the rocksteady era. After Sing Along Albert did some songs by himself for Studio 1 while I was not doing anything and holding a spirituality. He did Don't Wait Around as Albert Tomlinson for Studio 1 and then at Randy's he produced a song called Haile I-Jah coming off Wholly Holy and changing the words. Then Albert migrated to Canada! By that time it was early '69 and I was growing my locks so I took a kind of exit for a while.

How did Rasta come to you?
When His Majesty came to Jamaica in 1966 I wasn't Rasta inclined so to speak but it somehow stuck in my mind that His Majesty was a special person. So a couple of months away from my sixteenth birthday I started to seek. I started delving into the scriptures and making comparisons and decided that this was something that sounded right. I was getting my calling so around the tender age of 18 I started to locks and started to see the thing plain and straight. My brethrens Albert and Delmar were Rasta minded but they didn't wear the locks. Now Albert is in Jamaica after being in Canada for a lot of years and he is now a locks! He used to ask me "Why you have to locks?" and I used to say "Every man different - this is my calling". We kind of grew apart because I wanted to take time out from the music because we weren't getting any pay.

How did you survive when you quit music?
When you ask that question you must know when we did a song for Coxsone he didn't pay us! I got my first payment from Randy's and Albert or Beenie was an ardent race horse gambler who took me down the track and I lost my first payment! So I had to get a lift home from the track which was far from home and the guy who was driving the truck didn't like me because of my hair and didn't want me to come in the truck! So eventually I went into exile because the music business was unfair and I wasn't getting any money from it. I was working doing odd jobs but it was hard to get work as a locks. Fortunately by that time I had joined the PRS and MCPS so I was getting some royalties from some of my songs.

You must have done that from pretty early on then compared to most artists...
I did it from early on because a brethren Anthony Rocky Ellis introduced me to it. So by the time I decided to come out of exile I recorded a couple of songs a guy named Howard Roberts with as Tony and Howie (I used the moniker Tony) who would play on Black Star Liner too. We did three songs for Coxsone but he only released one named Fun It Up but it was the same unfair game and we didn't get anything and then he migrated! (laughs)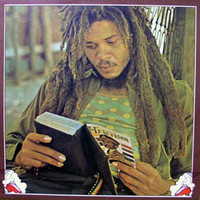 Your friends were dropping like flies! What kept you in Jamaica?
My aunt had wanted me to come to America from around that time but she told me I must get a haircut and come. It was at the time I had started to locks and everybody was telling me I was doing the wrong thing and they wanted me to change. I wasn't about that so I let everything pass me by until in about 1974-75 my brethren Howard came back from America saying "You have any new tune?" I said "I did write a tune long time but we never recorded it". I had written it a long time before from about 1968 but we weren't so close then and it was a spiritual kind of song I was writing. So I started singing, he started playing guitar chords and my cousin started playing a paint can. But there was this guy with a tape recorder and an open mic and he recorded the song on his recorder. Then a couple of hours after I saw him coming with this guy from 12 Tribes who would eventually become the producer of my album Black Star Liner.

Hugh Boothe?
Yes. He was a 12 Tribe member and I wasn't and they never used to deal with other Rastas so I was wondering why this guy was coming towards me! He said "Natty! Why you look so scared? This youth just came up from the house yunno and play a little cassette and when I check it out it sound so clean and clear I couldn't believe it! So I as a man who is Rasta minded and Ethiopian and Africa minded I would love produce the I album. I never produce anyone before but I have faith in the song". At that time he was around the Jahlove Muzik Crew in 12 Tribes. He and his brother-in-law Mickey Mowatt decided both of them were interested in doing it. Most people only mention Hugh Boothe but Jah Mick, as we call him, was very instrumental in the production of that song. So we went to the studio and I had another song called Time To Change also known as Last Days. We went to Randy's and recorded the rhythms to those two songs with Chinna Smith, Jah Jerry from Skatalites and Howard Roberts - we had three guitarists on that session - along with Pablove Black on keyboards, Bagga Walker on bass and Benbow on drums. Then I think I went to Tubby's to voice afterwards.

How well did the music take off?
It was slow moving because we had a producer who was a first timer and never really wanted to give any big company [records for distribution] so he was giving some 12 Tribes guys hundreds in boxes to try and sell. The first song we released was Black Star Liners and it wasn't really going so fast until we gave it to Tommy Cowan. His company Talent Corporation seemed to have a big say in the music business because they controlled the radio stations. Once they were distributing a song they could just call the station and say "Play it!" I had given it to the two major radio stations in Jamaica at the time and they weren't playing them because they said they wanted money. I guess Tommy was giving them money because he had a network with Jacob Miller and Peter Tosh and Bunny Wailer songs and he was getting airplay. So it started to sell and in the first three months locally it had sold nine thousand copies which was amazing. It just came at a time when everybody was looking for hope and was well supported by the youths who were looking towards Africa. It did well for me for a couple of years but unfortunately the follow-up Time To Change, which was known as Last Days, was a better song to me but didn't do much in sales.


Tell me about how you released the Black Star Liner album...
I got a call from a company in England called Vulcan who had heard of me through Black Star Liners doing very well there and going to number one in a couple of reggae charts, and they wanted to do an album. Unfortunately they sent us a bounced cheque! (laughs) It was a Jamaican guy called Junior Lincoln who is now back in Jamaica and was part of Dennis Brown's thing. He was with a guy called Webster Shrowder who was a German Jamaican. They took the album and gave us nothing - just five thousand dollars to share between three people. But I had copyrighted the songs so I started to get some royalties at a later stage from the PRS and MCPS. A company in England took the album and because they were based in England they could track my things better.

Would you say Rasta is more accepted in society now than when you first grew your locks?
Yeah, I would say it's more accepted than 20 years ago. In Jamaica especially they have come to realize that Rastas are not really criminals and not everybody who is dread is Rasta! (laughs) There is a difference between a rudeboy dread and a Rasta because over the years they have seen that he hasn't got himself involved in anything like that. Police and government and even parents are more able to relate to what we are doing and accept it.

What kind of discrimination did you face when you locksed up?
When I was locksed I was a teenage of 18 going on 19 - it's 44 years coming as a locks in April. My father threw me out! (laughs) He said I wanted to shame the family. It was rough because I didn't have any intention and I don't know why he thought that. He would see me on the bus or on the road and you wouldn't know I was his son. Sometimes I didn't have anywhere to live so I would have to come home and sleep on the house top, sometimes when I couldn't find anywhere but ranches and dumpland - when the police would come and burn down the ranches because they didn't want any Rasta there. After a while I went to live in one of my brethren's houses whose family had migrated so a couple of us lived there and we didn't have to pay rent just provide food and pay for some of the bills. Then in 1978 I took my first trip to England and when I came back I brought my father a pair of shoes. But when he saw me said that nothing had changed and I must find somewhere to go. He didn't want the shoes. He didn't want anything from me. I cried like a baby. I think I gave the shoes to someone else. I asked him if I could just stay for the night until I could find something else but he said I must leave. I left with my luggage after travelling for 13 hours from England, really tired, and went to find somewhere to sleep.

Did he ever accept you?
Yes, after a while my father learned to accept me and I now live in that same house. He's passed away now but he left that house after he got married to a different woman after my mother had 12 children for him! But he used to come to visit and I used to cook for him and he said I was his best child! (laughs)
THE VIEWS EXPRESSED HERE ARE THE VIEWS OF FRED LOCKS AND DO NOT NECESSARILY REFLECT THE OPINIONS OF REGGAEVILLE OR ITS WRITERS IN ANY WAY!

➜ you can also read the entire interview plus album-review with James Lord (producer) interview in this digital magazine: