Interview with Fred Locks #2 - From Lloydie Coxsone To Today
03/19/2012 by Angus Taylor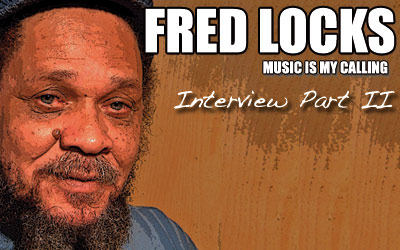 Fred Locks Interview - Part 2: From Lloydie Coxsone To Today
"I named that group Creation Steppers because we used to walk everywhere - we were always broke!"

In part two of our interview with Fred Locks we discuss his time in England touring with Creation Steppers at the behest of legendary UK soundman Lloydie Coxsone. We also hear of his migration to the USA, his return to Jamaica to work for Fatis Burrell and his new album Music Is My Calling out now...

How did you join Creation Steppers - was this happening concurrently with your solo career?
When I went solo and did my album a couple of people from 12 Tribes who were playing on some of the songs like Ilawi [Albert Malawi] Pablove Black, Bagga Walker and all those guys became a kind of 12 Tribes outfit. But this guy I knew from England from a long time, Lloydie Coxsone, used to come down to Jamaica into the area where I stayed. His brother used to tell him about me but he used to say "No, Dennis Brown and Junior Delgado I am interested in. It's name artists me a deal with!" Then one day he came down and said "You can sing Fred Locks. That tune you a do. I want to carry you 'pon a tour". Of course, my producer Hugh Boothe was totally against it because he had been planning with 12 Tribes people in London to bring me on the first tour. But this wasn't near to coming together at the time and I wanted to really go out and promote my songs. I said "I'm an artist and someone wants to bring me to England to tour I don't see why I have to wait. You're not my manager - you're just a producer!" So a bad blood came between us in a small way.

How did Eric and Willy get involved?
By the time Lloydie Coxsone took me to England I had sung harmony and recorded a song written by Eric Griffiths and Massive Willy who just passed away in England. Eric I knew from when I was 10 years old. His brother had introduced us and I knew he could sing very good harmonies and was a very good singer. Anyway, him and Willy used to sing together at the time and they used to come to my area and we used to sit down and smoke. We had songs and Willie could play the guitar so we would sing some of my songs and some of theirs. So Lloydie Coxsone decided to do an album with us but he wanted me to be the featured artist. He did a song with me, Love and Only Love but Eric had produced Stormy Night by himself. Then he started seeing us together so we just kind of formed this group and Lloydie and asked if he would take us there. He said he would get me a new harmony singer because it was a Fred Locks tour he had wanted but I said I would prefer them to be my background and we just sing together. I didn't have any other group at the time. I named that group Creation Steppers because we used to walk everywhere to go to the studio because we weren't making any money and were always broke so I used to say we were stepping from creation! (laughs)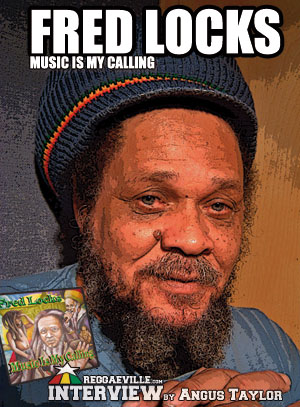 So he agreed to take you to England... and you went from one to Coxsone to another!
Eventually he said he would take us but he didn't look into the work permit. So we tried a late thing and went to the British High Commission who refused a work permit because the time was short and they thought he was taking us up there and presenting us as producers he wanted to do a deal with. But at the time you could go to England without a visa so we reached in about April '78 and they detained us at the airport saying they didn't believe our story and that they would send us back to Jamaica. Now I was so angry about that shit I was saying "Send us back to Jamaica! I'm just here to do some business and you people have us like prisoners!" So a guy came and said (puts on effete official English accent) "I am the chief immigration officer - what is your problem?" I said "You are my problem! You are keeping me like a prisoner. I don't want to know England so send me back on the first flight" This was the Friday night of the show at a place called Liberty Cinema in London.

But they let you go?
So the guy said (puts on effete English accent) "Do you know what I am going to do for you? I am going to let you out for tonight and when you come back I am going to put you on the first flight back to Jamaica. You come back and tell me if you like England. Do you think that's fair?" The driver, a Ras from England, was waiting outside because Lloydie Coxsone and everyone else had gone saying we weren't going to make it. And when we came out he said "Selassie I, I know the I would make it" and I told him to race to the venue but then some police came and said "You guys in that Jaguar pull over!" It was a very hard day. The driver said "These guys come from Jamaica to do a show and they are late and ting" and they escorted us! (laughs) Even at the red lights they made sure we passed through ok! By the time we reached there, Castro Brown who was the mc was telling everyone we had immigration problems and we didn't make it. So we ran out on stage and said "We deyah!" and it erupted. We did the show without a rehearsal because the guys were familiar with the songs Lloydie had given them and the rest was history. We did about six shows and they were all sold out - they loved us badly. I'd open the show and then say "You should hear my harmony brethren" and say "Come in Willy" and he'd do some songs that he was doing for Coxsone. The tour was a smash.


How did the album Love and Only Love come into play?
I had done four songs in Jamaica for Coxsone, and Willy did five and another guy did one song. Coxsone and another guy were promoting the shows but they tried to dodge out of paying us. I was supposed to do some more songs for him so I didn't and he compiled it as Fred Locks and Creation Steppers from the songs he had, so a ten song album was released. I notice he brings it out all the time on different labels and my publisher is in England so from time to time I see my songs come up. Willy passed away and Eric hasn't been getting anything from Coxsone. He's acting like he's not right. He carries himself very badly in Jamaica. Lloydie Coxsone even brought out Eric's production Stormy Night and said he was the producer. I think Eric gave him the master from that time. Roland Burrell sang it over and tried to say he was the writer and Eric hasn't got anything from that. He has a sad face. People think he's odd because he just gave up on it. He's not crazy but he carries himself really low. He comes to my house every day and I give him what I can. But he's not into nothing. I carried him to the studio to sing and he can't even sing a note. We sung a good harmony for a song I just did for a guy in Boston but I took back him to sing on a song that a guy from California wanted me to do and he couldn't sing. He has a kind of speech impediment since recently.

People say you went out of the business in the 80s. What happened?
A lot of people thought I was gone into obscurity or I was out of the business but I wasn't. It was just that the music wasn't being released too tough. I was in America and I had to do a regular job because I had a wife and children to deal with but I was doing some gigs and recording still. I went to America on a tour actually in '79. After I left England I came in to Jamaica for a short while on a tour and because I was married to a Jamaican who was a resident alien she applied for me and I stayed there until I got through. But after a while we split and I was on my own selling roots tonic on a part time basis for a brethren I knew and doing some singing.

Who did you sing for in America?
I did some songs for Parkhouse Records in the 80s - one called Love More Than Money and A Place Called Africa. I did an independent thing for a guy named Junior Thompson. I did some songs for him like Nice Up The Dance in the 80s and one called In My Bible - those songs were released on his Revealers label. I ended up doing about 47 songs for one brethren Johnny Goldburn or Bubbles who wasn't releasing. He did release one in about '96 called Go With The Flow on his Bubbles label but that was from since the 80s. Pama took that song and released it on Jetstar and it did very well in England so he said to my brethren "I hope you're not going to sit down on Fred Locks thing now" and he said "I have a lot of tune and every month we will release a thing" but of course he didn't! Before him I did a tune for a brethren who had a company called Tanya Records and Philip Smart of HC&F Studio in New York was instrumental in co-producing the album. Another guy was executive producer and fronted the money but it was done at Philip's studio and he was paid for it even though he had no financial input. The other guy, a little Rasta youth wanted to record me so I did a 12 song album called Fred Locks Culturally which came out in 1994. So I was doing things.

But you did an album for Fatis Never Give Up in '98 that got released.
Yes, I came back to Jamaica in '96 to live. I met Fatis a few months before when they were doing a show with Luciano, Mikey General and Sizzla. My brethren Johnny came to the show and we met unfortunately with Fatis! We were in the dressing room and Luciano was complaining that some guys went to buy food for him and went for hours and never came back. So my other brethren was saying "The manager should have made sure everything was alright" and this big gigantic guy Fatis was the manager! So he said "Ey, bloodclaart bwoy, come out of the dressing room!" So we came out of the dressing room and we were really frightened because my brethren was like David to Goliath! He was a short guy, not the one who made the comment but my producer Johnny Goldburn. He reached Fatis' waist! But he said "I man no love how the I man handle I and I. Fred Locks this yunno!" and Fatis said "Well me never enjoy when your little brother run off his mouth and no stand up yunno. But if you ever come down Jamaica you must check me." I said "I will be coming this year".

What was Fatis like to work with?
I went to check Fatis and asked him to give me a rhythm but he said "I don't give riddims. You must come and listen to some riddims". So I went to the studio and heard a rhythm which became the title track Never Give Up and when I sang the song I heard him say to the engineer "Same thing me tell you" and I said "What did you tell him?" and he said "It's not your business man, just cool, seen?" So afterwards he told me that the engineer said "Fred Locks is an artist that done. What you record him for?" but when the song came out so good he was saying "Oh man, me never know seh him a still sing good yunno. The tune wicked". So Fatis said "Any time you come a studio, any riddim you hear - just sing". So I would come to sessions and just make tune on the spot. I had about 26 songs but he released the album Never Give Up with just 11 tracks.

Why did you not release more with Fatis?
When I did the first tune it was like back to Coxsone days. He wasn't offering anything. I was just anxious to get a little money. So every time he would give a small thing he would add it up and say "I wanted to give you 80 thousand for the album but you had 55 already so now there is only 20 left. And I said "Bwoy if I had known that I would have taken it one time yunno!" (laughs) It was like he would even add carfare into the thing - anything you had put! (laughs) He wanted me to do a follow-up album but he was offering half the money upfront and then half when I finished the album. He said "Come up the studio and me a go bring some money" so I went to the studio and he didn't come. I wasn't watching the money but I didn't like his vibe so I went away. He came to the studio asking "Fred Locks record any tune yet?" and they said "No" so he said to me "No ramp with people because if you can't make tune for us we'll use Gregory Isaacs yunno" and I said "You know Fatis I don't really feel too creative round here no more" and then he started flinging some obscenities so I just turned by back to him and left! (laughs) But he'd see me after that and humble up himself and he'd take my number several times but he never actually called me and then he passed away.

How did you react to his passing?
When he passed away I went to the Bob Marley birthday celebration at the museum and I saw his son who was a little youth when I first came to Jamaica about 16 years ago and is in his 20s now. He said "Fred Locks, you must give me your number" and I said "Two time you take it and you never call me!" I told him we had 15 more tunes together but you know what happened? It was like a spate of misfortune had hit them, because he said their house was burning down recently and when fire fighters came and put it out Fatis had a room full of a thousand or more 24 track tapes because he believed in the live thing. But that room got flooded and most of the tapes got lost. But he told me last Friday that they are doing some more sessions and he is going to call me to come and voice some more tunes because he has taken over his father's business.

Tell me about what you got up to in the last decade. I saw you at a great show in London where Junior Delgado had just died and his son took over and sang in 2005. It was you, Meditations, Wailing Souls and Israel Vibration.
You were there? My God, I was sorry I didn't meet you! It was one of my better shows but the people backstage caused some problems. We had been running some dress rehearsals where Meditations would open, then I would come after them and then Wailing Souls and then Israel Vibration. Then on the night of the show the promoter Bagga John sent the driver to say everything had changed and Wailing Souls were going to come before me. Pipe from Wailing Souls was upset about it and said "How a little red bwoy is going over people who get nominated for Granny yunno!" But you can't blame the artist when it was the promoter. I had met Pipe in Jamaica when we did Sumfest together and I'd dealt with him properly and he'd said "Respect" because he'd met my cousin in California. But he came back to California and told my cousin that I came to the venue late because I had wanted to come on after him! Anyway that was one of my better shows because when I was on stage some nice Rasta girl was saying "I waan you!" (laughs) They were loving me. I'd gone to do an interview with Daddy Ernie from Choice FM a couple of years before that and he was saying that the only Rastafarian artists that he rated were Morgan Heritage and that it was a mere formality that we was even interviewing us. But at that show he was saying "Kill them Fred Locks! I hope you have about a hundred more tunes because the people love it!"


You have a new album out Music is My Calling produced by James Lord for Irie Sounds International.
That is my latest project. He is a white Rasta youth who came to Jamaica a couple of years ago to do dubplates for a sound system thing in California and other places but he also told he was a producer. So around the middle of last year he gave me a CD with about 12 rhythms saying I could voice any one I liked. One was a Dennis Brown, the first track on the album called This Loving Feeling. I went to the studio with him just to voice that one track and he wanted about two hours just to make sure the tune came out good. Now I am a very good writer as Fatis would tell people so when he gave me the 12 rhythms I wrote 12 songs for those rhythms in two days. So when I went to the studio I told James I had songs for all the rhythms but he wasn't too enthused about spending money for studio time so he said we could start off with one.

So you just did it anyway?
I didn't even get an advance. What I do when I sing songs for people is I can get up to a thousand dollars and at least five hundred. "Fred Locks" he kind of stuttered, "I don't really give advances but I would like to try to spend the money on promoting the song so I you want to do it do it but if not we'll just do the one song". But the vibes were so right and the spirits blend. So I went in the studio and ended up saying "Next!! Next!" and ended up doing seven songs in less than three hours. He was so excited he couldn't believe it. So he went back to America and sent me down some money for just two hours to do another five songs and because it was the vibes I did voice the next five songs in about three hours at a different studio. So that was how the album came about and I liked the work because he put some nice background vocals and overdubbed instruments on the songs. It's not released yet. He is coming to Jamaica on Sunday. One of the tracks was just mastered because I wasn't pleased about the voice. So I did it over and he just remixed and remastered it.

It sounds like you must have some other albums on the go then...
I am doing an album for myself where I co-produce all the songs. It's with a brethren who I grew up with and he has started to produce and I co-produce and helped pay the studio rate and everything and decided to put them together for an album. Jah D Fearon who is a longtime keyboardist from Studio 1 days gave me six rhythms to voice and I took them to the studio and voiced and added things - so then I added their names as co-producers. But then I put those songs on a hard drive and when I went to my brethren's studio to voice the last few songs and some error he made or something on my hard drive now means the hard drive won't open for a couple of months now! (laughs) And because my other bredda was using the hard drive it's got thousands of other people's songs on too. I have a lot of things in the pipeline. A lot of producers who I have done work for have given me songs I have done for them to put together so I have about five or six albums of finished work. But I wanted to bring out the album I was producing myself so that has got messed up a bit.
THE VIEWS EXPRESSED HERE ARE THE VIEWS OF FRED LOCKS AND DO NOT NECESSARILY REFLECT THE OPINIONS OF REGGAEVILLE OR ITS WRITERS IN ANY WAY!
➜ you can also read the entire interview plus album-review with James Lord (producer) interview in this digital magazine: