Review
Album Review: Feluké - Insight
09/26/2018
by Munchy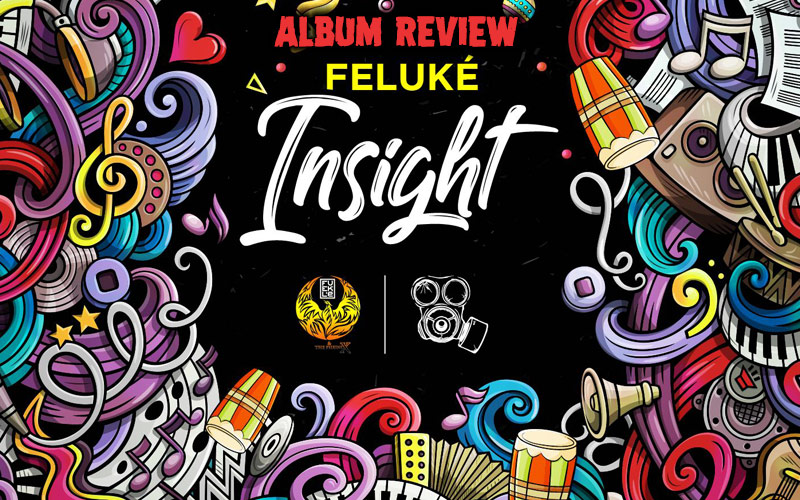 It was more than two years ago at the celebrations of Bob Marley's 71st earthstrong on 56 Hope Road that I first got to witness the power and talent of Denver Feluké Smith live on stage. I have seen his name pop up on the social media before, knew of his skills as percussionist who has played for big stars like Jimmy Cliff, Stephen and Damian Marley, or Gentleman at his MTV Unplugged concert, yet I never had the slightest clue, what an amazing, intriguing artist this Jamaican himself actually was. When the tall man in the navy blue shirt entered the stage, the drums rolled, the backing vocals started their chants, power and magic were in the air, a revolutionary spirit came across – and of course a stunning musical performance was presented.
For the longest while I have been waiting to hear Feluké's EP that he had been working on with producer Llamar "Riff Raff" Brown of Nebilus Records. The diagnosis of cancer last year, a fundraising campaign to finance the treatment in Mexico and his healing process have delayed the production, but could never stop this warrior from his mission, who always kept his supporters updated during the hard times by documenting his journey and sharing messages. Now the time has finally come for Insight to be released and the final result is just as powerful, uplifting and positive as one has to be who overcomes cancer and yet remains a determined spirit that ever carries a gentle smile on his face.
Insight is a seven track project characterised and dominated lyric wise by Feluké's kindness, his love for all people, the spirit of unity and brotherhood he wants to share as he explains in songs like Revolution or Show Love that features not just Jesse Royal and Gentleman but also includes a cameo of the producer Nebilus himself contributing a solid deejay part. At the same time there are warning words of devils in disguise that try to hide behind suit and tie and cannot be trusted or others that despise people and don't give them the freedom we were naturally given. Feluké sings of ups and downs, determination but also hard times as he knows best. "No matter what you're going through in life, don't you never ever give up the fight" are lines from Israel that starts with the dooming words of Matthew 7:24-27 about the wise and the foolish builders, who build on sand instead of rock.
Musically Riff Raff and his artist got on board some of the finest musicians the contemporary Reggae movement in Jamaica has to offer, including the riddim section of Notis HeavyweightRockaz. Jason Welsh and Wayne "Unga" Thompson as well as Nico Groskopf, Ranoy Gordon and Lamont Savory on guitars, Carlton Jarrett and Aeion Hoilett on bass, Evan Mason and Carol McLaughllin on keyboards, and Oral Brown on drums. Together they created a firm and solid foundation for Feluké's chants, colorful like the musical artwork on the cover, rich, organic, roots often rocking Reggae music. There are playful keybords, humming organs and clavinet as we can hear on the prayer like Soul Alive, sharp and bright horns, sometimes howling electric guitars, sometimes groovy acoustic guitar as for Trouble featuring Ky-Mani Marley and Runkus. Forward marching beats and trenchant synth chords that are to be found on the opening track Disguise or It's A Shame remind of the sound of the great Steel Pulse with the same energy and intriguing intransigence.
The man who has given himself the Nigerian name for "placed in God's hands" chose the perfect partner to team up with. Llamar "Riff Raff" Brown, who has previously presented us with records such as Jo Mersa's Comfortable and Jesse Royal's Lily Of Da Valley did a wonderful job transforming Feluké's obvious mental, physical and musical strength into sound. Together they present a Reggae project that is what way more music of this genre should be: revolutionary, spiritful roots rock!
---
Release details
Feluké - Insight
DIGITAL RELEASE [Nebilus Records]
Release date: 09/28/2018
Tracks
01. Disguise
02. Israel
03. It's a Shame
04. Revolution
05. Show Love feat. Gentleman, Nebilus & Jesse Royal
06. Soul Alive
07. Trouble feat. Ky-Mani Marley & Runkus
Featured artists
Gentleman
/
Jesse Royal
/
Ky-Mani Marley
/
Runkus