Eesah @ Global Reggae Charts - Issue 22 (March 2019)
04/01/2019 by Gardy Stein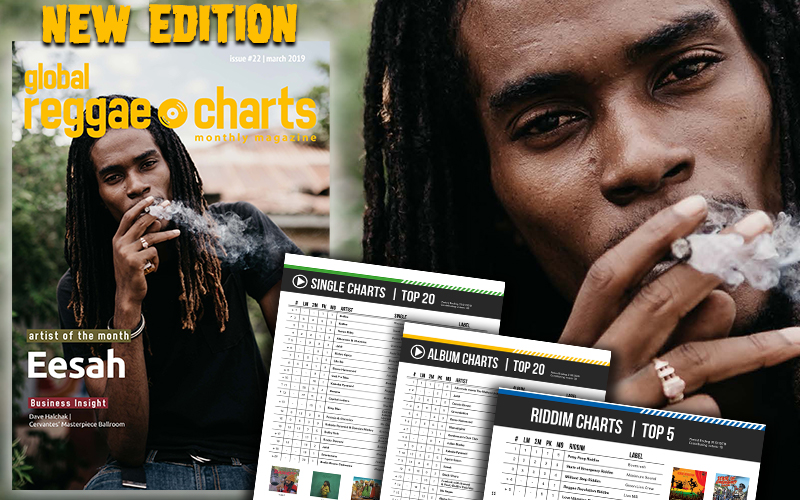 Spring is here - as is the March issue of the Global Reggae Charts magazine! Graced by composer, songwriter, and performance artist Eesah, who positioned himself on #11 of the album charts for his release Masterpiece, you'll find a portrait of the young prodigy as well as an exclusive interview with talent booker Dave Halchak from Denver, Colorado in this edition. And the charts, of course!

Koffee leads the single charts with Throne and Toast on places 1 and 2 respectively, followed by Tarrus Riley with Guess Who, Alborosie & Chronixx on Contradiction and Field Trip by Jah9.

New entries include Richie Spice, Cali P & Teka, Kabaka Pyramid, King Mas and Rocky Dawuni.

The album charts are dominated by Alborosie's Unbreakable (now in its third month in the #1 position), Dennis Brown, Feelings by Jah9 and Groundation's The Next Generation. Riddim winners are Peng Peng, State Of Emergency and Militant Step.

The charts are online and can be found at www.globalreggaecharts.com.

SINGLE CHARTS TOP 20:
1. Koffee - Throne
2. Koffee - Toast
3. Tarrus Riley feat. Mykal Rose - Guess Who
4. Alborosie & Chronixx - Contradiction
...

ALBUM CHARTS TOP 20:
1. Alborosie meets The Wailers United - Unbreakable
2. Dennis Brown - King Jammy's Presents: Tracks Of Life
3. Jah9 - Feelings
4. Groundation - The Next Generation
...

RIDDIM CHARTS TOP 5:
1. PengPeng Riddim
2. State Of Emergency Riddim
3. Militant Step Riddim
...