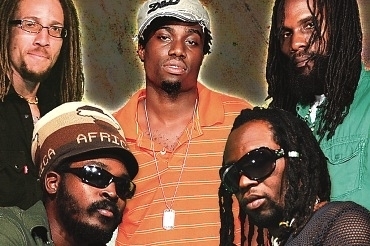 Coming from different parts of Jamaica, the members of Dubtonic Kru, individually have been exposed to a variety of musical genres.

The founding members of Dubtonic Kru are "Jubba" and "Stone", a dynamic Drum & Bass duo who, over the years have contributed to the development of modern Roots Reggae, with their unique sound and approach that intertwines Jubba's mesmerizing Reggae/Jazz Fusion drumming with Stone's groovy,
yet pulsating bass lines. The Kru has gained about a decade and a half of experience from touring and or recording with the legendary likes of Max Romeo, U-Roy, Burning Spear, The Mighty Diamonds as well as modern day artistes such as Bushman, Junior Kelly, Richie Spice, Lutan Fyah and Voicemail to name a few…

One of the significant milestones in their careers was the composition of the "I Swear" rhythm, a rhythm that took the Reggae arena by storm, which featured Chuck Fenda's "I Swear" and Richie Spice's "Marijuana".

The Kru became a more complete music machine with the addition of longtime friend and versatile guitarist Jallanzo, who also added his strong vocal ability along with his refined engineering skills, as well, a young and very talented Luke Dixon on work stations.
Another turning point of the group's dynamic came with the addition of very unique and powerful singer to round out the already electrifying dub compositions with sometimes spoken words by Jubba and the thrilling voice of Jallanzo.
Kamau, "the Quiet Warrior", who already has one album and two popular singles to his credit "Sight a Revolution" and "Goodbye Babe" under the Island Treasure label, brings a revolutionary voice to the Kru.
Their songs and spoken words are consciously thought provoking, while their rhythm/dub section walks through the passage of time with a gritty sound that rolls stones and break fences.

The staging of the prestigious "Reggae Sumfest" festival in Jamaica, saw quite a memorable and outstanding performance by the Kru summer 2009, immediately after a well heated European tour.Their performance on International night one, saw them sharing stage with renowned pop stars such Neyo,Toni Braxton,Keri Hilson, Jazmine Sullivan and reggae stalwarts such as Coco Tea, Jah Cure, Morgan's Heritage among others.

This movement continued to make strides and as such, in the end of 2010, they entered the Global battle of the bands, the final result in the Jamaican leg was an almost unanimous decision by both Judges and audience in favor of them. In the final remark from the head judge of the panel, he had this to say "When good musicians play together you always get good music. When good musicians who have been playing together for a long time play you get magic," Bennett said. published by the Jamaican Gleaner.
Dubtonic Kru will head to Malaysia to represent themselves and Jamaica in the world finals.
The Kru continues to bond with audiences through remarkable performances which sees them more and more solidifying their place in the Music Industry.

They are certainly dedicated and poised to raising the bar and keeping it interestingly spontaneous.
Stick around for the ride.