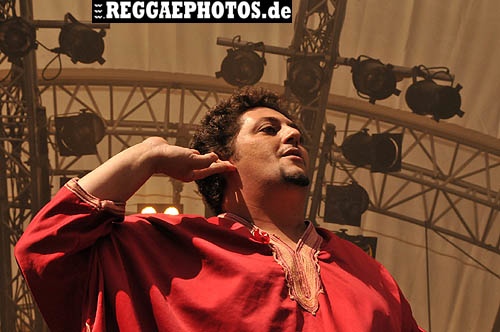 Their story sounds like that of many other bands – a bunch of friends sharing a passion for making music. The members have sundry backgrounds and influences, hence the band's unique sound. Dub Inc. is commonly labelled "French reggae", which does not perfectly render all their inspirations, ranging from North African music to hip-hop.
The band recorded two EPs soon after forming, to get things moving: Dub Incorporation 1.1 in November 1999, and Version 1.2 in June 2001. Dub Inc. then started becoming professional as they toured and gained growing support in their region (Saint-Étienne).
In September 2003, they released Diversité, their first nationally-distributed LP, and patiently started spreading their web over the regional media and venues. They grew very successful locally, playing sold out gigs and selling more and more records.
The band also attained acknowledgement from professionals at that time – DUB INC. was awarded with the 2004 FAIR, which speeded things up at all levels and allowed them to start working with booking agent A GAUCHE DE LA LUNE.
The band's second album Dans le Décor was released in August 2005. A wider distribution and restless touring made the name DUB INC. famous outside their own borders (in Germany, Portugal, Italy, Spain, Greece, Morocco …). Their audience kept expanding; so did the sizes of the venues they played in. A Live recording was a logical follow-up. It was released in October 2006 as a CD/DVD of live appearances collected during the summer 2006 festivals.
Touring and meeting people along the way made the members of Dub Inc. eager to bring new elements to their music. They decided to go for a new LP, entirely produced in MCB Studio, in Saint-Étienne. After six months of work, Afrikya will be released on 6th may, 2008. More tours are being set up, tickets already pre-ordered… The story goes on…
source: dubinc.org