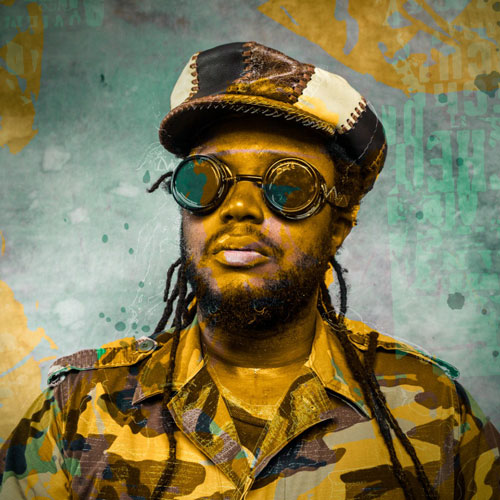 Born the 22nd of April, 1976, Duane Stephenson is a proud product of August Town, St. Andrew. With music seemingly in his every cry at a tender age, it is no coincidence that his legacy would then become conscious melodies touching the hearts of millions across the world.

His legacy began during his pre-teen stage when his uncle, the then lead singer of the Riddim Kings Band Michael Rutherford, began to mold him for what was to come. Accordingly, Duane's notoriety later came with his eight year stint as lead singer for the group, To-Isis along with mentor-ship from musical greats such as Noel Dexter, Kathy Levy, and the great saxophonist and producer Dean Fraser.

nder the guidance of Dean Fraser, Duane was brought to the forefront of the music industry through his written contributions to hits for a number of musical giants such as Morgan Heritage, Gyptian, Tarrus Riley, Etana, Jah Cure, Luciano, Beres Hammond and Alborosie.

In 2007, Dean Fraser and Duane's synergy brought forth his first studio album entitled "From August Town". With hits after hits: "August Town", "Cottage in Negril", "Fool For You" and "Ghetto Pain", this masterpiece received rave reviews from the likes of All Music's, Rick Anderson who said the album is "the best since Prisoner by Lucky Dube" and Pat McKay of Billboard Magazine who hailed it as "the album that has solidifying the return of great reggae music to the forefront."

Bringing forth another gem in 2010, Duane released his second studio album "Black Gold" which featured Mutabaruka, Queen Ifrica, Gramps Morgan and Ras Shiloh. The title track "Black Gold", tells the story of a persona "nature boy" and his paradoxical disregard for society which sets the tone of the album as hits like "Sufferers Heights and "Nah Play" connected with the average man living in today's society.

His third studio album, "Dangerously Roots" debuted number 3 on the Billboard Reggae Charts across Europe in 2015. Showing much more versatility, this album tackles love with "Julene", day to day levity with "Ghetto Religion", dancehall nostalgia with "Cool Runnings' and of course inspiration with "Jah Reigns" among others. In keeping with positivity, Duane also co-wrote "A Step for Mankind" with Boltar Solomon and produced with The Wailers in aid of the United Nations World Food Programme. The track has become the global theme song for World Hunger Eradication Day and was also featured on Oniric Records' Solutions for Dreamers: Season 3.

Having proven his stature time and time again, Duane has graced the stages of several leading reggae festivals across the world including; Rototom, Rockers Festival of France, Uppsala Reggae Festival and Reggae on the River to name a few.

His most recent project saw the release of the single "Play That Song" which held the number 11 spot on Reggae Charts in Europe for weeks. Consequently this single is a suiting opening track for the much anticipated album number 4 "Exile to Dreadites" that is set to be released early 2019.