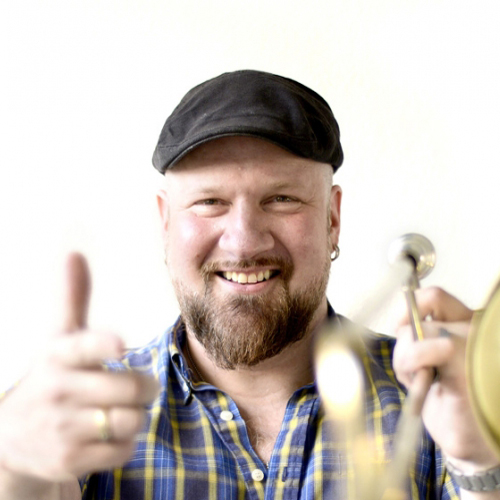 Dr. Ring-Ding a.k.a. Richie Senior was born in 1970 in Münster, Germany to a multi-cultural and musical household. His introduction to music began with singing along with his family and learning the recorder (deathly boring) but he soon switched to more interesting instruments such as the trombone. From 1987 on he played in the horn section of El Bosso & die Ping Pongs, one of Germany's most famous Ska bands and the only one of its time which sang in German. From this experience he came to love Jamaican music.
Around Christmas of 1992 Richie formed his own band, Dr. Ring-Ding & the Senior Allstars. Over the next ten years they would release five albums, numerous singles and two albums as the backing band for Doreen Shaffer (JA) and Lord Tanamo (JA), and in doing so made their mark on the international Ska scene.
Dr. Ring-Ding is a popular live performer, studio musician, arranger and producer in many different music genres such as Swing, Rhythm & Blues, Chanson, Hip Hop, Rumba-Soukouss and Punk, but, above all, in Reggae, Dancehall and Ska.
Richie's cooperation with German Reggae producer HP Setter was immortalized on the solo dub album Big T'ings and on the compilation Riddim In Exile. His work with the Rock crossover band H-Blockx secured him a hit with the tune Ring Of Fire, which went to number 13 on the German charts in the summer of 2000. Further collaborations with H-Blockx followed; among others on the title track of their album Get In The Ring (2002), which boxing world champion Sven Ottke selected as his entrance music.
r. Ring-Ding has also made spectacular contributions to single selections for national and international producers: Doctor's Darling (Germaica Records) went to the top 20 of the German Black Music Charts at the end of 2002 and the German language Vom Vater (Germaica Records) appeared on numerous Reggae compilations.
Dr. Ring-Ding has performed live all over Europe and North America. He has appeared alongside many veterans of Jamaican music (Bob Andy, Doreen Shaffer, Phyllis Dillon, Hopeton Lewis, Derrick Morgan and Dennis Alcapone, just to name a few), and has played in the horn section of the New York Ska band The Toasters, most recently during their 1998 "Independents Day" tour in the US.
elevision and radio appearances in Germany, Spain, France and the US have helped spread the positive vibes that emanate from Dr. Ring-Ding. As a Deejay, singer and/or trombonist, he has appeared on a number of albums from international Ska, Reggae and Hip Hop artists, such as: Stubborn Allstars (New York)
Soul Kid Click (New York)
Curse (Germany)
Adjusters (Chicago)
Toasters (New York)
Spook & the Guay (France)
and many more
Additionally he has appeared as Deejay or MC with famous sound systems all over Germany, as well as in Rome, Paris, Lyon, Toulouse, Bordeaux, Granada, Barcelona, Madrid, Budapest, Szczecin and New York City, such as:
Crazy Baldhead (USA),
Rude (Italy),
Culture Rock,
Natural Mystic,
Small Axe,
Lucky Punch,
Kingstone,
Pow Pow Movement,
Ba Ba Boom Sound
and many more
In brief, Dr. Ring-Ding lives music, particularly the music of Jamaica! As one of the first performers in Germany who bridge the Ska and Reggae scenes, he has opened many ears and hearts for the "Good Vibes" of his favorite sounds.