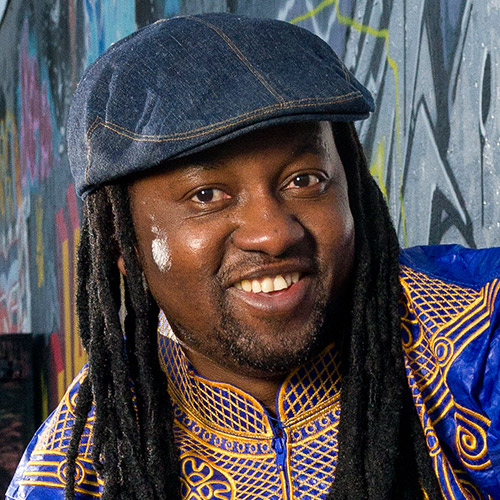 Dr. Olugander alias Abukpapa, is a Gambian dazzling home-grown performing and recording, philanthropic world-sought-after Reggae Dancehall artist based in Finland. He started his musical career at a tender age through the inspiration of his late grandfather "Oupa Kambai Joku" who was a great cultural musician in his hay-days.

Dr Olugander's hard core rhythms could be compared with that of many great superstar around the world. What sets him among the rest in the pecking order is his professional manner of conducting his life which is free from liquor consumption and smoke.

He started his education at St. Charles Lwanga Mission Primary School in Faji Kunda and later proceeded to St. Peter's Catholic High School in Lamin. Being someone who likes to explore, he moved on to St. Augustine's High School, an all boys high school in the Capital city of the Gambia, Banjul where his musical career became heightened.

Abukpapa is agile, flexible and full of confidence on stage which makes his performances unique and awesome. His voice is silky smooth, original and he exhibits humility and love for everyday ordinary people. He is a role model to the younger generation and a voice for the voiceless. He is so far the only known Gambian musician who keeps it simple and natural by avoiding smoking or drinking but still gets wild on stage with his teeming crowd of followers and admirers.

In 1997 he formed a crew named (CAP-SYL-MAD VIBES), a trio musical group that lasted for a year then later changed to Promised Land Crew in1998, comprising him and Capricon as main singers. The Promised Land recorded their first debut Album entitled "Too Late" at Yellow Gates Studios by Kebba Taylor in 1998, with their first hit single on television entitled "Babylon rule".

The Promised Land Crew got a lot of exposure from showbiz impresario and arts columnist Dr. Obiozor Williams who first discovered their talents. The Crew got rave reviews on the Arts & Culture page in Daily Observer Newspaper.Their first shot at national prominence was during the 1st ever Gambian Music Award, May 2, 1998 at Palma Rima Hotel. The Crew became a favorite for music fans at the "Fateleku" Nationwide Music Tour for all Gambian artistes initiated by Obiozor Williams alongside veteran star Ousu Njie Senor and late Uncle George Christensen of Radio 1 FM where over 40 artistes performed throughout the length & breadth of the Gambia in 1999.

In 2001, Capricon decided to quit music for the Islamic brotherhood 'Markas' which gave birth to Dr. Olugander's solo musical career. Dr. Olugander derived his title from his fans who regarded him as a musical doctor. The name Olu- means (God Father) while "gander" came as a result of his love for the male goose the "Gander" which is his favorite pet. "Abukpapa" is derived from his MAN-JAH-GO clan which means "father's child."

A fond lover of great stars like Cocoa Tea, Lucky Dube, Bob Marley, Bunny wailer, Dennis Brown & Luciano, he felt he could use music to bring great changes in the life of young people with his own original style.

CHARITY WORKS
Known for his philanthropic gestures, he was the first musician of his generation in the country to establish and register a charity foundation, Gander's Production Foundation (GPF) embarking on giving back projects throughout the country in support of the poor through his musical performances. GPF with the Motto "Each One-Support One" donated cooking items and food stuff to the disaster flood victims of the Gambia at the office of the Vice President of the Republic of The Gambia in December 2010. He also contributed to the rehabilitation of school toilets in Wassu Upper Basic Cycle. As an ambassador of The Gambia Organization of the Visually Impaired (GOVI), he made a cash donation to the blind school of The Gambia in January 2013. He was also honored by supporting a Kenyan charity to donate to Kandaria Dispensary in Kisumu, Kenya in August 2015.

He usually organizes big annual events 'Welcome Back Home Shows' any time he returns from an international tour. These shows are always among the biggest platforms in the country, where most of the upcoming Gambian musicians got their first ever open air opportunities to be heard and known by their fans.

AWARDS
In 2008 he won the best reggae song in the Gambia. In 2009 he was given an honorary award & invitation to USA by (AGERA). Dr. Olugander is undisputedly the Gambia's best international reggae ambassador & export, who has been jetting in and out of aeroplanes from Africa, Europe, Asia, Scandinavia, USA over the years.