Interview: Don Corleon - It's All About Reggae Music
03/31/2011 by Angus Taylor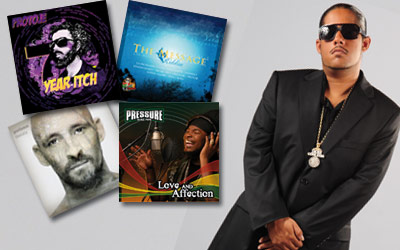 "It's all about reggae music" says top Jamaican producer Donovan "Don Corleon" Bennett as we begin our interview. By that he means he rises at 5am every day and gets to work building rhythms, voicing artists and reputedly whipping up the occasional gourmet quality meal. It's this dedication, creativity and seriousness that have taken the young man from St Elizabeth to his position as one of the dominant production talents on the island. In creating the Drop Leaf rhythm in 2004 he started a trend towards brazenly melodic reggae as the sweet counterpoint to the hard dancehall he and his contemporaries were fashioning. But now he is about to showcase his love of the old school with a new Dub longplayer Dub in HD – as well as his formidable live mixing skills. Here are the Don's thoughts on his forthcoming album, his recent collaboration with his cousin Protoje, and much more…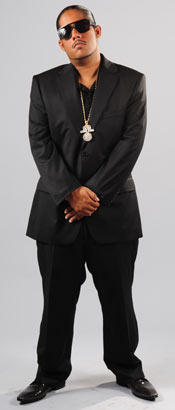 You started playing on a sound system from the age of 13. What was your first sound called? Who were your favourite artists when growing up?
My first sound system that I actually owned was named Studio 2. I was a big fan of Studio 1 so I said Studio 2! I'd usually play at my school fetes or proms, around my community in St Elizabeth. My favourite deejay was anywhere between Bounty Killer, Papa San, Shabba and Major Worries - those type of artists. The first music I listened to was actually soul. I'm a lover of all genres and respect all genres of music so I listen to everything. I just loved to buy 45 vinyl. When I was buying in record store times I didn't even usually listen to what was on the record. I'd just say "Give me everything on Jammys label. Give me everything on Penthouse. Everything on Dave Kelly". It was just the love for that.

What do you think of the decline of the 45 in Jamaican reggae?
In everything in the world, things evolve and things die out. But we just have to cope, we just have to keep on making reggae music, and try to supply the formats that people are buying. Obviously I still make vinyl and it's not doing the numbers that it used to but that's not really the reason we do it. I love vinyl. I'm old school, coming from Technics 1200s and even before that older turntables so we still push vinyl but have to adapt to other media too.

Tell me about how you started your Vendetta sound after you returned from your studies.
Vendetta sound was me coming to Kingston to just party. I met Protoje because I was going to school up here and I linked him again and he looked upon me and said "You have to start back a sound. You did wicked back in the day". But I was like "Yeah, yeah, money and stuff" so he was the first person to give me money to buy Vendetta. The first thing we bought was the turntables, mixer and everything. So that's where it started: me coming to Kingston from St Elizabeth - and just not going back! How did you go from voicing specials and remixing tunes to production?
Through the son of Jammys, Baby G. I had been recording numerous tunes for him like Sizzla Come On, on the Mexican rhythm - I was the person that got the tune for him and voiced it - and I was doing other production work for Assassin and Kartel. Then one day Baby G looked upon me and said "You have to do the producing thing". I said "No man. I just want to play my sound and get my dubplates" and he said "No, you have to take it serious, you know".

So how did you come to release your first rhythm in 2002?
The first rhythm I put out was the only one I didn't build. Mad Ants was Shiah Coore, Cat Coore's son. He had four rhythms but he wanted me to take another one and I was like, "No I don't feel that one. I want this one". He said he didn't really like that one but I was sure that was the one I wanted so I took it and the first person I voiced on it was actually Sizzla. Sizzla was the first person who endorsed me and believed in me and said, "Youth. Me a go give you and album you know". That's how it started. Then Vybz Kartel went on it and he was the person who named me "Don Corleon" on that song. I just heard him say "Yo, Don Corleon!" on the intro and I said, "Stop. Who is that?" and he said, "You man. You look like Marlon Brando!" (laughs)

What's someone like Sizzla like to work with?
It was very funny. Remember I was young and didn't even know what I was doing back then! I had basic recording skills from doing so many dubplates but Sizzla saw something in me that others didn't. It was good. When we were there he would sit down every day and write out every song on paper. I still have those papers to this date. It was a good process and very different from how a lot of artists work nowadays.

You were a very successful dancehall producer but then you changed the game by creating the Drop Leaf in 2004. How did you do it?
This guy from New York linked me and said he wanted me to build him two rhythms - a one drop and a dancehall. So I built the dancehall one but I was building the one drop I thought "No man! I don't feel to give him this rhythm" so I built him another one and kept that one. So I looked upon this one and said "I'm a real lover of one drop from way back from playing sound. I really want this project to mean something different so I'm going to do it different from how I always work". Back in those days when you were new and you were timid, if an artist came with a tune you'd just take the tune. This time I said "If any artist comes with a tune and I don't like it or feel it, I'm going to tell them". But it was a good experience and I met a lot of artists I work with to this day with that one rhythm. That's how I met Gentleman, Morgan Heritage and numerous people.

Tell me a bit about Gentleman and what you heard in him that made you want to work together.
The first time was when I was watching Irie TV and a song came on and went "Dem goooooooooooone... so far away..." and I thought, "Who is this youth?" It just grabbed me right away and goosebumps came all over my body and I said "This guy, man". So I called my friend Jackie and said "I need to get a link to Gentleman" and she linked it up. From the moment we met it was just good working. Gentleman really loves reggae music. A lot of people might do reggae music for the hype, for the money, for numerous things but Gentleman really loves this thing. A lot of people don't know he's been deejyaing over twenty years from seventeen-eighteen years old. He's just a good lover of reggae music and he does it authentically. He comes to Jamaica, works with Jamaican producers, so I have to give him maximum respect for that.
How did you enjoy your European tour with Protoje and Pressure last month?
It was nice. It was very tiring but the people, boy, I can't say enough. If you look at every show I thanked the people over and over for supporting reggae music. I love what I'm hearing in Europe too with the production and stuff. It was a well received tour - Protoje and Pressure really represented to the fullest and I'm proud of them.

Would you agree that one drop reggae is more popular in Europe than in Jamaica now?
It's totally true. I wouldn't even say Europe but worldwide. In the Caribbean the one drop is very big down there, in the South Pacific it's huge. I would say, we as Jamaicans don't really embrace our music - as in the one drop - like that. The average person in Europe can tell me who played drums on that Studio 1, who recorded it, anything there is to know about the business. But if I go on the road in Jamaica and ask anyone if they know who Brent Dowe is, they don't know. They don't really follow the music like that so that is a thing we need to teach the youths and show them reggae music is not "old people music" or a thing of the past. To me the youths in Jamaica need to embrace back the culture and the backbone because without reggae, dancehall wouldn't be.

Which producers do you admire in reggae and outside?
Outside reggae I have to say Quincy Jones because he is the all timer. No one can top his tunes or fill his shoes. I love Sly & Robbie and I love Steely & Clevie but I'm more of a Steely & Clevie fan. I just like the sound. But I respect all of them because they are great producers and great musicians - I don't really have a favourite per se. I just have favourites because everybody brings something different to the table - Bobby Digital, King Jammys. Tubbys is a man I look up to greatly soundwise.

You have your own Dub album, Dub in HD in the works, which you recently released a video of yourself mixing. What was behind the decision to bring back dub music to Jamaica?
Proto was always endorsing it to me. I kept watching Mad Professor and Scientist on the internet and decided I really liked this thing and can do it. I just watched the Mad Professor and that's basically how I learned. I wanted to show people it's not all about automation. We can do the thing same way too. In fact, the same day I dropped that video Protoje called me right away and said Mad Professor just linked him and saw the video, liked it and wants to talk to me. So what we talked about was that you're going to see another dub album with Mad Professor and Don Corleon soon so stay tuned...


<object style="display: block; margin-left: auto; margin-right: auto;" width="400" height="255" data="http://www.youtube.com/v/zohLYV6ncNg?fs=1&amp;hl=de_DE&amp;rel=0" type="application/x-shockwave-flash">
<param name="data" value="http://www.youtube.com/v/zohLYV6ncNg?fs=1&amp;hl=de_DE&amp;rel=0" />
<param name="allowFullScreen" value="true" />
<param name="allowscriptaccess" value="always" />
<param name="src" value="http://www.youtube.com/v/zohLYV6ncNg?fs=1&amp;hl=de_DE&amp;rel=0" />
<param name="allowfullscreen" value="true" />
</object>


Protoje and others have told me you are quite a chef as well. Is there are connection between what you can do in the studio and what you can do in the kitchen? Would you consider combining the two like the UK artist Levi Roots?
(laughs) It just relaxes me to tell you the truth. From a young age I'd usually cook for myself, make my own breakfast and so on. It's just a vibes and something I like to do as a hobby. But put it this way - if you eat my cooking it's just as good as my music!

The other project everyone wants to know about is a second album with Pressure. How's that going and why do you work so well together?
Boy it's going good. He has a lot of rhythms to dive into right now. It's not really a speed process. I don't put deadlines on stuff because we could find the album in a week or we could find it in a year. The goal is to supply you guys with good music so that's we're going to do. Pressure is my artist, he is signed to me and he is just a phenomenal talent. The first time I heard Pressure I knew this guy was bad and had to work with him and there aren't a lot of artists that move me and get me to feel like that. He's a phenomenal writer, good delivery, good performer - and that's another thing I stress in my music now: if you can't perform I won't voice you because it doesn't make sense.

Let's just finish by talking about Protoje. As you said, he was instrumental in how you started, so how does it feel to have created an album with a family member that has had such a positive response?
It's a good feeling. When I read your interview I felt good because with most interviews they butter it up when they write it but you just give it out real. All the feedback we are getting from people like David Rodigan just feels so good to know my cousin put in all this work for seven years. It wasn't an easy road for him - I didn't give him an easy road - and everything just worked out for the best. So next it's just more wonderful reggae music, me perfecting my art of production. I'm still in the learning process - I'm never too big to learn - so I'll just keep on making good reggae music so you'll see a lot more good stuff and good artists from Don Corleon records. Reggae music can only go up. It's not going down because we're not going to make it go down. Bob Marley, Black Uhuru and all those artists left this here for us to make something of it so I'm going to make something good.