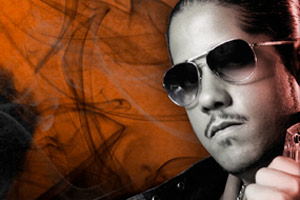 Jamaica's vibrant music industry, one of the most active in the world, artists come and go as frequently as the rising and setting of the sun. Rarely does a singer or deejay emerge to maintain a presence in the mainstream for any prolonged period of time. Quality production, playing a key role in musical success, is very often overlooked. In eras past, the winners were typically associated with producers like Lee 'Scratch' Perry, Augustus Pablo, Sly & Robbie, Dave Kelly and other specialists.

Today, the most dynamic and recognized artistes all have one producer in common: Donovan 'Don Corleon' Bennett.

Talk about Vybz Kartel; mention Jah Cure; utter the name Pressure, Munga Honourable or one of a myriad of other artistes and it is likely that Don has been the wind behind their sails. For many, he is the first gust that effectively made them embark from uncertainty and head towards the limitless horizon. For others, he took their flourishing careers to another level.

Don entered this world in 1978, born in Manchester, Jamaica. His musical career took off in 2000 with the launch of the Vendetta Sound System alongside cousin, Protoje. He would soon make his name in music production, debuting with the Mad Ants Riddim in 2002 – an instantaneous classic that quickly gained worldwide recognition. A legendary aura began to surround him as he released unforgettable riddims like Egyptian and Good To Go. Noted singles such as Elephant Man's 'Pon Di River, Pon Di Bank' and Sean Paul & Keyshia Cole's 'Give It Up To Me' only increased his status as the preferred production professional.In 2005, by then having countless Dancehall hits, Don introduced a modernistic interpretation of the one drop beat when he put out the Drop Leaf Riddim. Boasting tunes like 'Be Strong' by Sizzla Kalonji, 'Longing For' by Jah Cure, 'Footprints' by TOK, 'It's OK' by Bounty Killer, 'For The Leaders' by Luciano, 'After You' by Tanya Stephens and 'Intoxication' by German singer, Gentleman, Corleon's contemporary style had international Roots Reggae lovers hypnotized. He soon followed up with the Seasons Riddim, voicing Morgan Heritage on 'How Come,' Fantan Mojah on 'Thanks And Praise,' Wayne Marshall on 'Happy Days,' Natural Black on 'Far From Reality,' Wayne Wonder on 'I Still Believe' and more.

Corleon has played major and contributing production roles on various Billboard charting albums. Sizzla's Rise To The Occasion, Sean Paul's The Trinity, Rihanna's A Girl Like Me and Gentleman's Confidence are counted among them. Gentleman returned to Jamaica for a few weeks in 2010 to work with Don on his new album, Diversity.

These days, Don Corleon is an undisputed veteran producer and highly respected engineer. When not churning out hit songs, he spends much of his time working with aspiring superstars who display the work ethic necessary to hold their own in the competitive world of music. His next major project is Protoje's album, The Seven Year Itch.