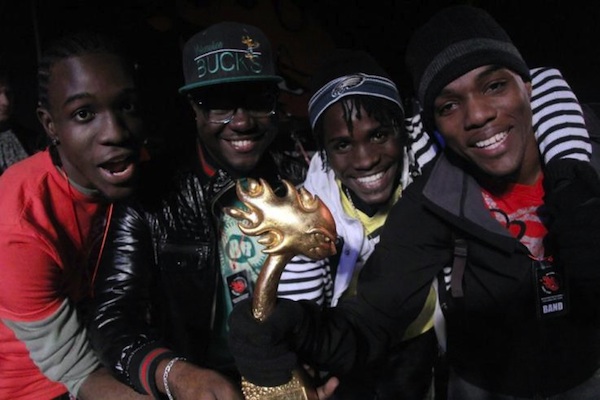 Di Blueprint is a Kingston, Jamaica based Pop, R&B, Reggae Band with the title, "The Best New Band in the World" for 2011 – 2012 having won the Global Battle of the Bands World Finals out of a global field of Three Thousand (3,000) bands.

Di Blueprint was formed by Kedron Kennedy and Vern Hill who met as students at the Edna Manley College School of Music under the mentorship of Reggae Icon, Ibo Cooper (formerly of the band, "Third World"). The band has gone through a few membership changes and even seen the passing of Rameish Folkes their beloved second keyboardist but the present complement consists of Kedron Kennedy (drums/vocals), Vern Hill (Keyboards/vocals), Elton Brown (guitar/vocals) and Alex Gallimore (Bass, vocals).

The band recorded and released their first single "Baby Boo" in 2011 followed by "Your Love" and their summer party release "Party All Night".

In 2011 Di Blueprint entered and won the Jamaica Global Battle of the Bands Competition against a field of 16 local bands. They entered as a band with six member including Rameish Folkes on keyboards and Ron Ho-Choy as their lead singer. In June 2012 Rameish died of complications due to a sudden sickness and in November 2012 the lead singer left the band.

Though devastated by the loss of Rameish, the band went on to win the Global Battle of the Bands finals in London on December 9, 2012 at the Scala live music venue out of a total field of 3,000 bands in the International competition.

Now having the title of being the "Best New Band in the World" Di Blueprint is preparing themselves to record their first studio album in Jamaica and studios abroad through the development package given to them as the prize for winning the Global Battle of the Bands World finals. They will travel in December 2013 to Bangkok, Thailand as the defending champions at the 2012 – 2013 Global Battle of the Bands World Finals.

These four musical brothers have their eyes on a Grammy, world touring and reaching their fans globally with live performances of the highest quality and song writing that is aimed primarily at the ladies while sticking to the "Blueprint" of joyful excellence in music.

"Di Blueprint is the True print".

Major performances/appearances to date include:

• Rebel Salute, Richmond Estate, St. Ann
• Jamaica Jazz and Blues Festival, Greenfield Stadium, Trelawny
• Tarrus Riley and Friends, Kingston
• Television Jamaica, Kingston
• Hype TV, Kingston
• Radio Jamaica (RJR) Wednesday Night Live, Kingston
• Eclectic, Kingston
• Manifesto, Kingston
• Bands Incorporated 4, Kingston
• Jamaica Reggae Industry (JaRIA) Reggae Month Concert, Kingston
• Global Battle of the Bands World Finals (Scala, London)

Di Blueprint is a promising group with a bright future with limitless success at its reach. With friendship as its foundation, and a strong knowledge base and technical competence as invaluable assets, its goal to be as inspiring as it is entertaining will inevitably be achieved.