Review
Album Review: Maximum Sound 20:20
09/16/2013
by Angus Taylor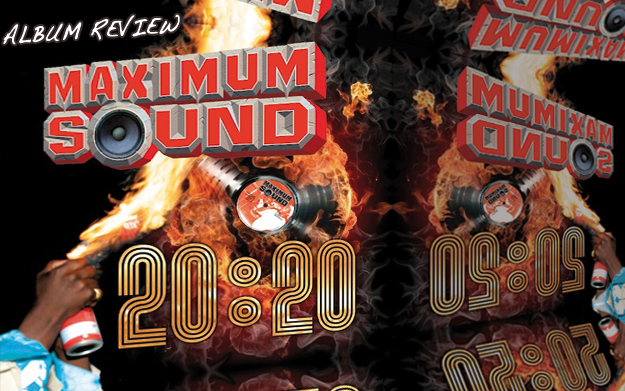 The film director Francis Ford Coppola commented on his status as one of the leaders of the New Hollywood movement of the 1970s saying that he wasn't the oldest of the young guys – he was the youngest of the old guys. The same could be said about Paris-born, London-resident reggae producer Frenchie – who celebrates 20 years of his Maximum Sound label with this 40-track compilation.

You could call Frenchie the first of the successful European producers, who paved the way for the Special Deliveries and the Pow Pows who joined him in the international reggae market of the new century. Yet Frenchie actually moved from France to be closer to the dynamism, innovation and Caribbean culture of London. Throughout his career he has never strayed far from utilising Jamaican talent. For his digital productions he often works with Lenky Marsden whereas his live instrument creations frequently feature Sly & Robbie on drum and bass. He has never been partial to one sub-genre; staying aware of the trends whilst reviving bygone rhythms in the style of the day. Fashion Records, where he apprenticed, did things in a similar way. He arrives between the initial wave of foreign obsessives who got involved in the music like Fashion's Chris Lane and John McGillivray and the next generation that have taken reggae to the point where it is deemed more prevalent in Europe than in the place of its birth.

All of this comes across in the music of Max 20:20. Arranged in chronological order from 1993 to 2013 it has been chosen to showcase popular tunes featuring a spread of big name vocalists on his biggest rhythms. Frenchie is in many ways the archetypal generalist reggae fanatic and his take on the music will appeal to the same. It sits at the nexus of old and new, Europe and Jamaica, reggae and dancehall – and all spaces in between. The artists featured span the 1960s to the 2010's and legends of different generations frequently combine together. There are highly experimental hard dancehall constructions such as the Diwali remix of Capleton's Roughest King, which uses crowd sfx as percussion. There are digital roots relicks of Aswad's Love Fire (Richie Stephens Glass House) and Warrior Charge (Mykal Rose Release Me). As budgets increase and the one drop reggae trend comes in these do-overs become increasingly live instrument based – check Junior Kelly's superb Tough Life on the Take A Ride rhythm. But Frenchie never tries to completely recreate an old sound - he prefers to mix up all eras at once. The purist may question why there are synth strings or heavily chorused guitars on his roots retreads. But he is not aiming them at the musically territorial – so much as people who love the music in general.

By the second disc Frenchie's productions get surer and tighter. Check Tarrus Riley's Rebel on the Skateland Killer rhythm (featuring inventive use of a phrase from Eek-A-Mouse's Daily News, Star and Gleaner) and Captain Sinbad's Capital Offence (repeating the trick with Ini Kamoze's England Be Nice). As well as sequencing and directing musicians, the end of disc two finds Frenchie sampling vintage Bunny Striker Lee rhythms - Creation Rebel and the rocksteady classic Let Me Go Girl. In each case he pairs the original singer with someone of the younger generation – Johnny Clarke meets Fantan Mojah on Rebel with a Cause; Slim Smith is joined by Cecile on Girl You Hold Me.

Frenchie is keen to point out that this is not a best of Maximum Sound - more of a historical overview. The need to balance between showing a spread of artists, styles and commercial successes means often an arguably great tune on a particular backing is not included (for example Warrior King's Oh What A Feeling on the Ashanti Warrior base is snubbed for Natty King's Africa We're From). But the fact that we have so many favourites to argue about illustrates how long the man has been consistently at work. If you want the best of Frenchie then try this year's Captain Sinbad album Reggae Will Mad Unu. It suggests that, despite his frequent interviews decrying what the internet has done to the business, Frenchie is not ready to retire yet.



---
Release details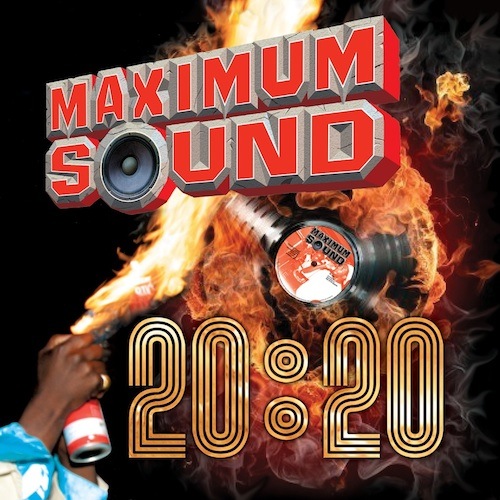 Various Artists - Maximum Sound 20:20
DIGITAL RELEASE [Maximum Sound]
Release date: 09/16/2013
Tracks
01. Bunny General - Spy Fi Die
02. Richie Stevens - Glasshouse
03. Michael Rose - Rush On The Tonic
04. General Degree - Almighty God
05. Michael Rose - Release Me
06. Mr. Vegas - Got To Be Me
07. T.O.K. - Hot Gal Crew
08. Sean Paul - Back Off
09. Red Rat - Bun Dem
10. Junior Kelly - War Now
11. Elephant Man - War & Peace (Jedi Mix)
12. Capleton - Roughest King
13. Bounty Killer - Bad Man Order (Hip Hop Remix)
14. Junior Kelly & Lukie D - Back A Me Yard
15. Jah Cure - Poor Man`s Cry
16. Junior Kelly- Tough Life
17. Da`Ville - The Highest Grade
18. Luciano - Terrorist
19. Richie Spice - Free
20. Vybz Kartel - Fowl Fight ( Re-Fix)
21. Bounty Killer & Lukie D - Kill Another Sound
22. Gyptian - Rise And Live
23. Fantan Mojah - Stronger
24. Morgan Heritage - Guards Up
25. Natty King - Africa We`re From
26. Anthony B feat. Horace Andy - Enter The Kingdom Of Zion
27. Alborosie - Can`t Take What Is Mine
28. Jah Mason - Ganja For Life
29. Capleton - All Is Well
30. Mr. Vegas & Konshens - Help Me Praise Jahovia
31. Sizzla - African Liberation
32. Johnny Clarke & Fantan Mojah - Rebel With A Cause
33. Burro Banton feat. Joe Lickshot - Sound Exterminator
34. Half Pint, Bounty Killer & Assassin - Ghetto State Of Mind
35. Tarrus Riley - Rebel
36. I Octane - My Place
37. Christopher Martin - Make A Sound
38. Captain Sinbad - Capital Offence
39. Slim Smith & Ce`Cile - Girl You Hold Me
40. Konshens & Romain Virgo - We No Worry Bout Them
Featured artists
Sizzla
/
Sean Paul
/
Tarrus Riley
/
Vybz Kartel
/
Richie Stephens
/
Mykal Rose
/
Mr. Vegas
/
TOK
/
Red Rat
/
Junior Kelly
/
Elephant Man
/
Capleton
/
Bounty Killer
/
Lukie D
/
Da'Ville
/
Luciano
/
Richie Spice
/
Gyptian
/
Fantan Mojah
/
Morgan Heritage
/
Natty King
/
Anthony B
/
Alborosie
/
Jah Mason
/
Konshens
/
Half Pint
/
I Octane
/
Christopher Martin
/
Captain Sinbad
/
Ce'Cile