Review
Album Review: Jugglerz City
03/22/2016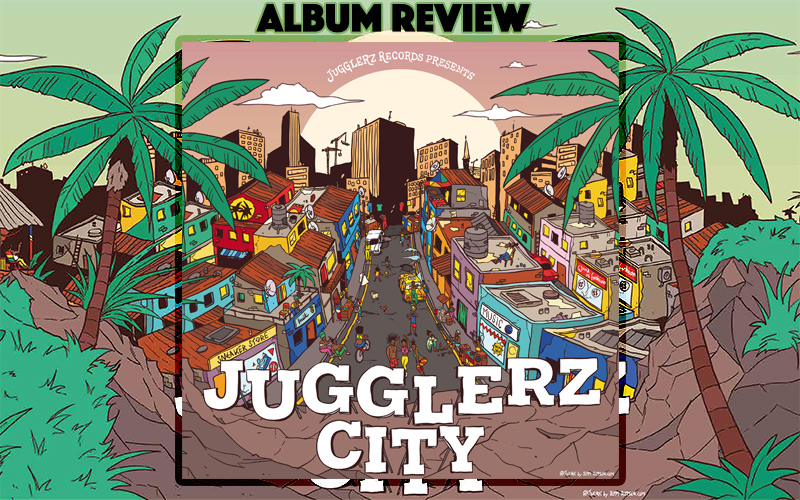 A whole lotta vibes just buss outta Jugglerz yard. Or better, a yard which has grown into a city. A compilation that couldn't be more international, and yet more authentically Jamaican at the same time, Jugglerz City is a mighty one. With artistes from eight different countries, and a production team working from Germany, Jugglerz have shown that what started as a national reggae radio show has grown into an internationally recognized brand. Although there is also a German version of the album, featuring two songs in German language (Bis ans Ende der Welt by Mono & Nikitaman and "E.A.N.M." by Rudebwoy), even artists who usually voice in German/ Swiss German (Miwata/ Phenomden) rely on English lyrics for this international exhibition of contemporary Reggae music. The line-up includes big names such as Beenie Man, Collie Buddz, I-Octane or Charly Black. However, many talents who reached international attention only within recent years are also well represented. The Riddims for Jugglerz City are mainly produced by Jopez, Jr Blender and Riddim Royals aka. DJ Hägi, who along with Meska and Shotta Paul form the heart of most Jugglerz Records productions. Next to veteran German producers like Ganjaman and Uwe Banton, who contributed the riddim for the German based Nigerian singer Kingseyes, some names that should also be mentioned in the context of musical contributions are Donald Dennis, Stereo Luchs, Goodbooy, and the legendary Earl "Chinna" Smith and Dean Fraser.

It is hard to decide which tune to discuss first, but let's start with something familiar before we discuss all the brand new and exclusive stuff! While I-Octane's Everywhere We Go and J Boog's Worth My Time were released around February this year, and Miwata's Daylight only a couple of days ago, Collie Buddz' Nice Up Yourself shone as one of the gems on the Penthouse Riddim already last year around the same time. With its uplifting, positive drive, Nice Up Yourself, without a doubt, mashed up a whole heap of Reggae parties in the last 12 months and will continue to do so in the future. Besides the Bermudian artiste Collie Buddz, another islander on the compilation - next to all the Jamaicans - is J Boog from Hawaii. On an acoustic-offbeat centered riddim, an emotional J Boog scores high in the Lovers Rock league with his mellow, yet contemplative Worth My Time. A long term player on the Jugglerz field, I-Octane, who began voicing Dubplates for Jugglerz as early as 2010, launched a huge dancehall party tune with Everywhere We Go. This song just makes you wanna put on your best outfit and step inna di dance like a real boss… As mentioned above, Miwata did a really good job in terms of writing in English/ Patois. In Daylight, the young German singer inspires with some well sounding lyrics and good songwriting on an urban and modern riddim.


Alright then, lets talk about the brand new stuff: Randy Valentines' "My Team" is a "real team anthem," the UK based artiste flows mad on a Jopez riddim that has a contemporary Jamaican flair to it. With some nicely done, decent guitar harmonies and a marching beat the riddim somehow reminds of Cashflow Records' Sounds of the Heart Riddim, (Vershon - Inna Real Life) while the vibe of the song as a whole makes a strong brotherly statement in a Jamaican style.

Jamaican heartbraker Christopher Martin of course counts on another song about the much-hated, yet constantly aspired feeling. Is It Love is at the same time an honest and poignant complain about, and praise of the four letter word, in which the singer fervently questions the truth value of love. On this song's riddim, Jopez contrasts very synthetic guitar offbeats and one drop drums with soft liquid synth hooks in the background.

In a similar tone of voice and with the same nonchalance as in his much celebrated Anointed, Bugle dedicated Too Beggy Beggy to all the annoying scroungers out there. He uses his powerful and unique voice in at least three different registers to make the vocals melt smoothly with a very urban beat made by Stereo Luchs.

Charly Black voices his Show Me Your Love on a riddim which rhythmically touches on Soca and in terms of harmony, is supported by some delicate acoustic guitars. Personally my favorite line in this song - if not on the whole album - is "me give you Reggae fi your heart in inna your soul you get Dancehall."

Jemere Morgan's forward looking approach to time is Take Me Go Home. A catchy chorus with wholehearted back vocals on a Rockers style riddim. Speaking about catchy choruses, the next song on the playlist by Da'ville does not at all step back in this regard. Can't Break Me Down is an uplifting One Drop seasoned with some very aesthetic and organic synths that create an almost celestial sphere around the lyricist, for whom giving up is not an option. Equally motivational is One Day by Zagga. On an instrumental based on acoustic guitars and some rich Africa-inspired back vocals, Zagga really leaves open what's going to happen on that One Day – somehow, a thematic mirror of Remember the Days on the Chillspot Riddim.

At least on the international version of Jugglerz City, Etana is the only female artiste (on the German version also Mono from Mono & Nikitaman and Karen Elektra from Rudebwoy). In her feature with Beenie Man, an up-tempo Hip Hop inspired tune called Money is The Motive, the duet, with equally smoky voices, sings about the importance of the dollar and some related controversies.

If you're not paying attention to your media player display, or if you hear the song at a dance, you need a good knowledge of how Phenomden sounds in order to identify him on "Turn Back Time." A truly positive love song in a major key with Dean Fraser Sax lines in the back ground. Somebody please turn back the time …

Jah Sun is a "man with a purpose" and in Call me Crazy he encourages us to make the best of us and somehow, you have to take him serious, because the California-based reggae artiste gets it across in a fairly humble way and on a well done riddim by Meska that couldn't do more to support such an essential message.

Gappy Ranks makes a more than politically correct statement on a solid, modern and well produced dancehall riddim, of which the genre could need more! Thank you DJ Hägi (Riddim Royals) for this clearly arranged dancehall instrumental which does everything you need to write a good Dancehall song on it. And the best example is Red Blood by Gappy Ranks. Big up!
Almost an extreme contrast to this contemporary and modern sound in a Dancehall style is Ganjaman's and Uwe Banton's riddim. A smiling one drop with a nostalgic 90s flair in a modern mix that supplies Kingseyes with everything HE needs to write a solid Lovers Rock anthem, which is Love Me For Me.

Always in pain is Romain Virgo, who in Cry Tears For You laments about yet another fading love on a Jr Blender/Meska riddim with a majestic intro, a catchy baseline and some twangy guitar lines. Ziggi Ricardo, however, is luckier in love and floats on a super modern, cloudy dancehall riddim alla Meska Higher and Higher in nebulous, erotic spheres.

Earl "Chinna" Smith is on the list of musicians for this albums, yet he is not mentioned in the individual songs. However, I was suspecting it is his guitars on Luciano's Where are the Hearts (Reggaemiles Riddim), and after requesting this information I shall have been proven right. The guitar licks are credited to none other but Chinna. The song itself is a call for attention to the need for leaders with hearts and the Reggaemiles Riddim is a musically simply pleasing basis for such a statement. Luciano's version of it even has a guitar solo! Yeah!

The German version of the album includes an alternative on the same riddim by Mono & Nikitaman. Bis Ans Ende Der Welt, is an honest love song by the renowned German reggae duo. Also exclusively on the German version is Rudebwoy's E.A.N.M. The cheeky duo Karen Elektra & Franky is not new to the Jugglerz scene and still doesn't mince words. An impelling Drum & Bass beat by team member Goodbooy.

Jr Blender has another highly potent riddim on this sampler. Same Man by RC is a sweet start for its career, since we can be sure it is not the last song that will be voiced on this heavy and laid back Roots riddim. Just like every other riddim on this producer album, it has the potential to form a riddim sampler of its own.

Both, the international- and German sampler, close with a collaboration of Popcaan, Vincz Lee and Cali P. A late-night contemporary dancehall by Jopez with elements like organic, spherical synth pads, deep half-time bass parts, heavy drops and long rises all wrapped into an impressive 2016 sound garment. Definitely a tune to celebrate late nights and early mornings with some rum and good weed.

As mentioned above, Jugglerz City does not only provide 22 high quality Reggae and Dancehall tunes for the relatively young year 2016 and the years to come. It also provides us with an equal amount of high class riddims. We can be sure it won't take long until we hear about a next release which's foundation will always be this enormous milestone in the history of Jugglerz Records that Jugglerz City truly is.


---
Release details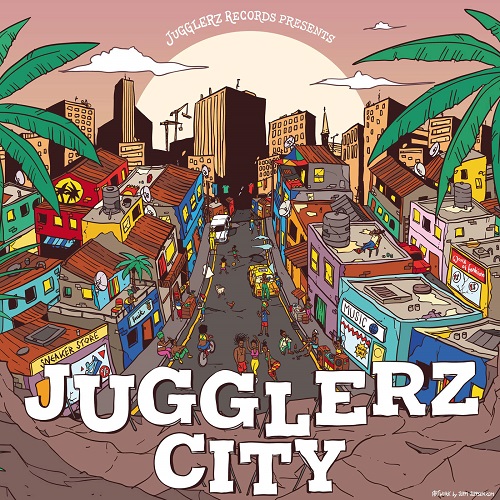 Various Artists - Jugglerz City
DIGITAL RELEASE / CD [Jugglerz Records]
Release date: 03/18/2016
Tracks
01. Randy Valentine - My Team
02. Christopher Martin - Is It Love
03. Collie Buddz - Nice up Yourself
04. Bugle - Too Beggy Beggy
05. I-Octane - Everywhere We Go
06. Charly Black - Show Me Your Love
07. Jemere Morgan - Take Me Go Home
08. Da'Ville - Can't Break Me Down
09. Zagga - One Day
10. Etana - Money Is the Motive feat. Beenie Man
11. Miwata – Daylight
12. J Boog - Worth My Time
13. Phenomden - Turn Back Time
14. Jah Sun - Call Me Crazy
15. Gappy Ranks - Red Blood
16. Kingseyes - Love Me for Me
17. Romain Virgo - Cry Tears for You
18. Ziggi Recado – Higher
19. Mono & Nikitaman - Bis ans Ende der Welt
20. Rudebwoy - E.A.N.M.
21. Vincz Lee - Upside Down feat. Popcaan & Cali P (Jugglerz Remix)
Produced by
Jugglerz
Featured artists
Beenie Man
/
Charly Black
/
Christopher Martin
/
Bugle
/
Collie Buddz
/
Gappy Ranks
/
Etana
/
Da'Ville
/
Jemere Morgan
/
J Boog
/
Jah Sun
/
Kingseyes
/
Miwata
/
Mono & Nikitaman
/
Randy Valentine
/
Phenomden
/
Ziggi Recado
/
Zagga
/
Popcaan
/
Cali P
/
I Octane