Dalton Harris Wins The X Factor UK 2018
12/02/2018 by Gardy Stein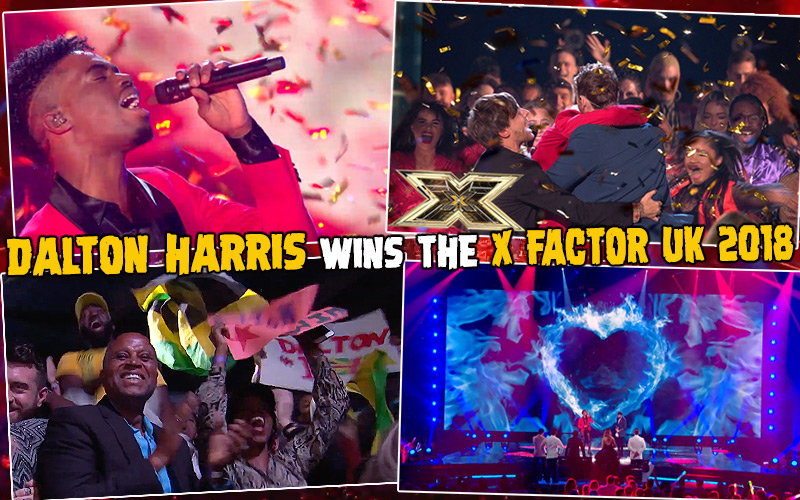 He made it! After six weeks of blood, sweat and tears, the X Factor UK just announced the winner - and it is Dalton Harris! Again, the young prodigy put his everything in this weekend's performance. On Saturday, he started out with A Song For You by Donny Hathaway and topped his own performance by the breathtaking duet Beneath Your Beautiful with none other than Emeli Sande - a dream come true for Dalton!

But the evening held more surprises for him still. In the crowd, his best friend Corie shouted "I love you, Baby!", two members of his former choir sang him encouraging lines and Donovan Germain, who had come all the way from Jamaica to be there at the finals, beamed a huge smile at him. "Dalton has been having this dream of being at the X Factor from about 7 years ago, and he's accomplished it. He's already a winner just by being this far!" he told the moderator after the performance.
IF YOU WANT TO KNOW MORE ABOUT DONOVAN GERMAIN. READ OUR INTERVIEW IN FESTIVILLE 2018 HERE!



On Sunday, then, Dalton continued his course of achievements with an impressive performance of The Power Of Love featuring James Arthur, the X Factor Winner of 2012. Shortly after their performance, Dalton was announced winner to a screaming SSE Arena in Wembley. Completely lost for words, this humble soul struggled to keep his composure after this announcement, clearly moved beyond tears by his victory.

Congratulations!!! As Louis Tomlinson said beore the finals: "I think quite simply Dalton deserves to win because he is one of the if not THE best singer that has ever been on the X Factor."

Convince yourself and watch below Dalton's performance after he was announced the X Factor UK 2018 champion. Click here to watch all his past performances.