Review
Album Review: Daddy Rings – In The Streets
05/05/2016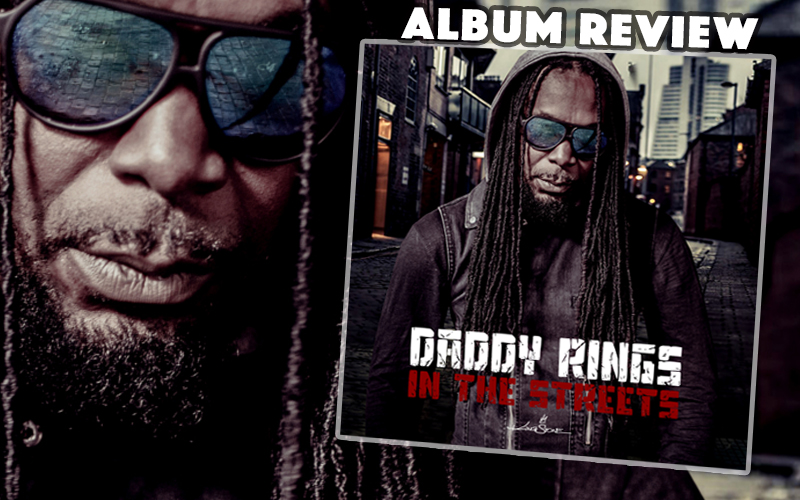 In terms of dropping albums, Daddy Rings' frequency is probably the lowest in all of reggae music, which is quite an accomplishment considering that we are talking about a genre which takes its strength from deep frequencies. However, no frequency can ever be too deep and even every ten years works fine, once the sound waves resonate well with the rest of the world. Indeed, both preceding studio albums of In the Streets, Daddy Rings' current and third studio album released in early May, have authentically picked up the spirits and styles of their decades in order be warmly welcomed by the reggae audiences of their time. In The Streets, now follows in the footsteps of its older siblings and presents a 14 track opus with an equal share of modern roots and dancehall styles which couldn't be more contemporary yet timeless.
Although diverse in musical implementation, a common theme in all of the songs is the well thought out arrangement of lyric lines and melodies. Most choruses seem to be handed to the listener on a silver platter, so catchy and peerless are they in their appearance.
On the opener Don't Say a Word the listener gets 16 bars after a wakening flute intro to groove into the One Drop riddim, before Daddy Rings serves the first of these silver platters with a mighty chorus, garnished with some complementary brass and back vocal harmonies and followed by an expressive and conscious verse.
After a bubblin organ and some spherical synths open for Active, the listener finally benefits from the bass and drum section which comes in unexpectedly, establishing an unstoppable riddim on which the man on the mic requests us "to rise up and seek the truth."
Relationship is the third One Drop in a row on the album and, as the name suggests, makes statements about relationship problems. These statements are again supported by beautiful female backing vocals and formed into a brutally catchy chorus. The line "I deserves more than applause for taking you with all of your flaws" will stay in your mind forever. With Jah People, which flows on an uplifting and soft dancehall beat wrapped into some beautiful acoustic guitar harmonies, Daddy assures the listener that "everything is upful" as long as we surround ourselves with the right people.
You might agree that I wasn't exaggerating when talking about the strong choruses on this album when you hear the chorus of Composure, an optimistic and forward looking song on yet another colorful One Drop riddim. Here, the lyrics encourage us to keep our composure. In other words: keep calm and make reggae. "Good over evil after all!"
As a Jamaican, Daddy Rings naturally feels the urge to give teachings about masculinities… Man Up is a minimalistic Dancehall tune characterized by a grim lead synth hook and the glorification of the usual masculine values traceable in the space of Dancehall. While we could discuss the triviality of many of these values, "be a father to your kids," frankly really is a more than justified imperative, which subtly criticizes the way many so called "real men" deal with the responsibility accruing from their hyper masculine behavior.
A more song-like and thematically more neutral example of a dancehall inspired tune on this album is It's a Jungle out There. With its pumping dancehall groove and pretty acoustic guitars, it also offers a rather minimalist yet powerful listening experience.
Eyes on You is an ode to a "free and single" lady. The song is clothed in a modern sound garment with a strong one, spheric synth pads and and an all in all epic soundscape.
A contrast to this, Challenges of Life is a marching Roots riddim (the first non One Drop on this album) which emanates a majestic and positive seriousness about life.
Exclusively dedicated to Jah Love is I Know Someone, a very spiritual and conscious praise of God, yet without any missionary intention.
It is particularly fascinating that a party tune following on such a conscious anthem does appear profane at all. Untouchable is a happy time Soca based on Steely and Clevie's Duck Riddim.
Daddy Rings' long term comrade Gentleman is the only feature guest on In The Streets. On the same-named song, which was released last December together with a video that does justice to the dark and urban flair of this song, the two breddrin land the hit tune of this album; a credible and serious description of the streets of Babylon.
Again in high spirits, Saturday Night is a weekend party tune which opens with the stereotypical lines "I got some money in my pocket and some weed in my jacket and I'm gonna hit the road tonight." However, no lie, this song makes you wanna "get a piece of Saturday night."
Finally, Ganja Pipe is a real sound system destroyer; a contemporary modification of the Billie Jean Riddim which brings to live the sunset in the hills of Jamaica during a cool evening breeze.
Just like recent Daddy Rings releases resonated well with the world, this one does too. A fyahful 2016 release, the 3rd in 20 years, but worth all the wait.
---
Release details
Daddy Rings - In The Streets
DIGITAL RELEASE [Kingstone]
Release date: 03/25/2016
Tracks
01. Don't Say A Word
02. Active
03. Relationship
04. Jah People
05. Composure
06. Man Up
07. Its A Jungle Out There
08. Eyes On You
09. Challenges Of Live
10. I Know Someone
11. Untouchable
12. In The Streets feat. Gentleman
13. Saturday Night
14. Ganja Pipe
Featured artists
Gentleman