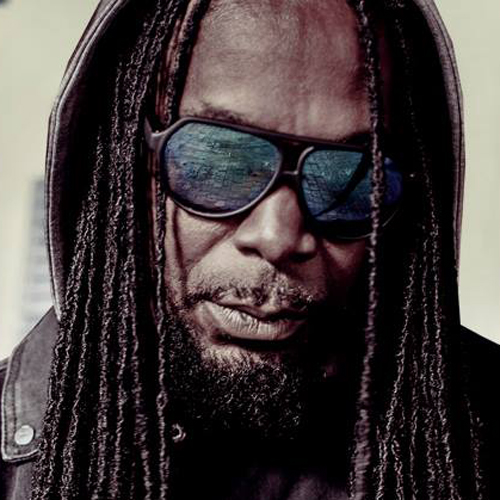 "Put The Culture In The Place Where It Once Was…"

Daddy Rings is born Everold Dwyer in 1971 in Manchester, Jamaica. Like manyyoung Jamaicans he is magically attracted by the music of the sound systems.So he make his first musical experiences on his uncle's sound system.


Whenever the "Culture Shanty Hi-Fi" plays Daddy Rings is not far and wants tohold the microphone. His talent is obvious and through the encouragement andthe reactions of his community he decides to go to Kingston by the age of 18.


As it happens so often he spends the first time waiting for his luck to pass. Withdifferent jobs he keeps his head above the water until a friend introduces him toKing Jammy's. Straight away he discovers the young Deejay's talent and produces15 songs with him. In the midst of the 90s he joins Gussie Clarke's campwhere he unfolds his skills as a singer and songwriter more and more.


Convinced by the cooperation of Daddy Rings and session musicians like SlyDunbar, Dean Fraser and Robert Lyn, Gussie Clarke and the creative team ofthe Anchor-Studios start to produce an album right away. After the work isdone there is only one conclusive title for the work – "Stand Out" – the rightname for an outstanding album.


Jampro (Jamaica's Economic Development Agency) discovers the talent ofDaddy Rings as well and decides to send him to the Midem in Cannes. In theline of the "Reggae Rock Cannes Midem 97" he represents Jamaica and convincesthe audience. The album and especially the Ganja-anthem "Herb Fi Bun"arouse the interest in Daddy Rings by the English label Greensleeves Records.

Greensleeves decides to release the album and two songs from the album asMaxi-Singles. Immediately a combination with Cocoa Tea is voiced on "Herb FiBun" in Jamaica. "Rumours" is another duet recorded with Freddie McGregor.With these recordings Greensleeves believes in a better establishment of theyoung Deejay in the market. The plan works out. With "Herb Fi Bun" and"Rumours" Daddy Rings strikes two international hits and the album is thenreleased worldwide in 1997.

The promo-tour through the Netherlands, England and Germany in 1997 developsto a determing turning point in his career. Daddy Rings uses the chancesoffered to him. David Rodigan is impressed by the talent of the youngJamaican. John Masouri writes a detailed article for Black Echoes, while DaddyRings starts to gather his first European fans with several radio-features and live-show.He spends much time in Germany.

On the Cologne-based Pow Pow sound system's sessions he receives positive attention fast. On the several Mic- Sessions he sets Pow Pow's Resident-Club Petit Prince on fire. The nights inthe Petit Prince remind him of those in his homeland Jamaica and therefore thevibe is right for Daddy Rings. A young Deejay called Gentleman convinces himthat Reggae is real in Germany. Together they hit the stage for Pow Pow andturn the place into a frenzy. In those days the combination "Dem Can't Take ThePowers" is produced and released on the "Four Elements"-Sampler by Germanpopular label Four Music. At Pow Pow the cornerstone is laid for an extraordinarycooperation.

For many years Daddy Rings will be a stage-partner andsong-writer for Gentleman writing the lyrics for hit songs like "Dem Gone". Hisnatural way of dealing with music is very appreciated which is shown by hiscollaborations with some of Germany's most important Hip Hop-artists. Already1999 Daddy Rings inspires Future Rock to a remix of "Tell Me What YuhDealing" which is released on the album "Produced By Future Rock". TheCombination "Pow" with Daddy Rings and the German group Die Firma enrichesthe "Germaican Link Up!"-Sampler (a Reggae meets Hip Hop-project).


Daddy Rings and Jah Meek appear as guest-singers on "Coup d'État" from thedebut album "D.I.A.S.P.O.R.A." of Sékou (member of popular German groupFreundeskreis). On the occasion of the Football World Championship 2002 thefootball-fans Afrob, Gentleman, Max Herre (Freundeskreis) and Daddy Ringsrecord the song "Grande Finale". Even the dancefloor-orientatedTurntablerocker record two songs with the vocal-talent. "Poppin Up" on thealbum "Classic" (2001) and "Rings" on the album "Smile" (2002).But Daddy Rings is also in demand in the Reggae-Scene. The Combination "InaDifferent Time" on Gentleman´s "Journey To Jah"-Album and also "Call Me OnThe Telephone" on Pow Pow's "Celebrate"-Riddim carry the name of DaddyRings throughout the world.

Despite his succesful time in Europe Daddy Rings keeps the faith to his rootsand his homeland Jamaica. The call for an album gets louder but the extensivetouring and songwriting for Gentleman and the requests by many producersleave no time to work on his own album. Anyhow songs from Daddy Rings arereleased regularly. In 2002 "River Jordan" with Gentleman on the BlackScorpio-label. 2003 four songs of Daddy Rings are released on his "AfricanGlory"-EP. This Extended Play receives positive feedback and rises the expectations for an album release. Still the time has not come and so his fans getonly appetizers at this point. "The Wiff" on Pow Pow's 2003 "Shanty Town"-sampler and in 2004 "Anything For Mama" (voiced on the "Superior" Riddim),the tribute to his mother.

In the same year Daddy Rings and Paul Elliott get heavy rotation on the Jamaican airwaves with "Self-Reliance". The producer Steven Stanley releases "Yahe" in 2005. The Videoclip of "Yahe" just as his own production "African Glory" is shown in Jamaica's Reggae TV-stations. The workin Europe also continues: "Caan Hold Us Down" with Gentleman, BarringtonLevy and Daddy Rings from Gentleman´s "Confidence"-album is a successfulsingle in Germany. The combination "Ghetto Youth Rise" with Ras Shiloh isonce more for Pow Pow Productions. This song shall be Daddy Rings last tunefor now for other producers. From now on Daddy Rings has his full concentrationon his own album.

After the work is done the combinations "Thank YouJah" with Mark Wonder und "Youth Uprising" with Andy Livingston are released."The Most High", Daddy Rings long awaited album is released on his own labelAfrican Glory. The 17 songs of the album are on a constant high level. Eachtrack inspires and convinces once and again through Daddy Ring's inimitablevocals and his unique songwriting. The permanently conscious lyrics give thealbum a deep going positive message – putting the culture in the place where itonce was.…