Interview with Dada Yute
12/21/2016 by Angus Taylor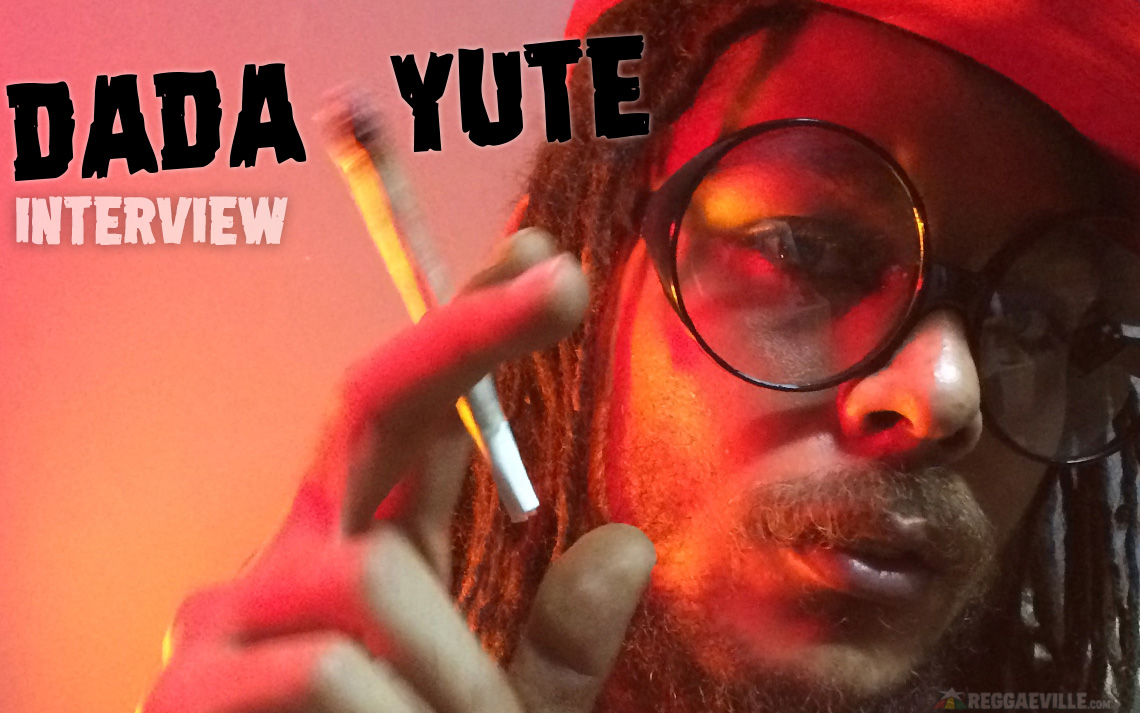 Reggae has been playing in Brazil since the 1960s. It has been popular there since the 80s. But for 21st century Brazilian reggae artists like Dada Yute, that is not enough. He wants the abundance of reggae talent in his country to cross over internationally – with him leading the charge. Where much of Brazil's early exposure to reggae came via visiting Jamaican singers, Dada Yute travelled to Jamaica so he could learn about the music from its source. With his new EP Another Gun Buzz, he feels the time has come for his name to be known around the world. Angus Taylor met Dada Yute at Rototom Sunsplash in Spain, just before he performed as the final day's penultimate act, singing festival theme song Rototom City. They sat down and had this conversation about where he's going and where he's from.


What was your first experience of music?
I was born in São Paulo in 1986, 7th December. I started singing very young in the shower. I listened to my parents say "This boy will be a singer". But I didn't mind, just kept singing radio music. After a while, I saw my potential and started to really work on it and practise. The vocal was there already, it was something I needed to realise. Jah gave me this gift. I just discovered it and made it shine. That's what I wanted to do. Make this gift that Jah gave me shine for the people, so they can see and everyone can give thanks to Jah for what he's done for us.

When did you first hear reggae music?
When I was very young. My cousin gave me my first reggae album by Tribo de Jah, a big reggae band from Brazil. And then I got the first album by Natiruts, another big reggae band from Brazil. Then I started to listen to Black Uhuru, Abyssinians, Peter Tosh, Bob Marley, Bunny Wailer and all of the original reggae music from Jamaica.

How big was reggae in São Paulo when you were growing up?

Big, just like it is today. When I first started, there was an annual festival in Brazil made by Alfredo, a Rasta from the Cultural Reggae Association. He was one of the only Rastaman who was trying to keep this annual show for 50, 60, 80, 100,000 people in São Paulo. It was free, no need to pay. But there was no media, nothing, so nobody knew. There are a lot of big things in Brazil that nobody knows.

Was your early schooling in the music through sound system or live bands?
Live bands. After the live bands I started to do sound system. Because normally you would start with sound system, then the band. I started from the band to a sound. I do both sound system and band today.

How did you join your first group Lions of Israel?
The drummer was my friend. A long time before he started playing we were friends. He started to play music in the band first and then they called me to be part of the band. Because when I started in the band they were big already. I used to listen to their music. So when I started to sing in a band they had a big crowd already and a big stage show. So I just started in this big level. In Brazil they have big concerts. Big shows. Big events. But it's kind of low still. We need to raise Brazil reggae music.

Brazil has a very interesting history in terms of reggae music. Starting from Jimmy Cliff coming over in the 60s and the very particular Maranhão sound system culture in the north-east. Tell me, for the benefit of the readers, how Brazil's unique culture influences what you do?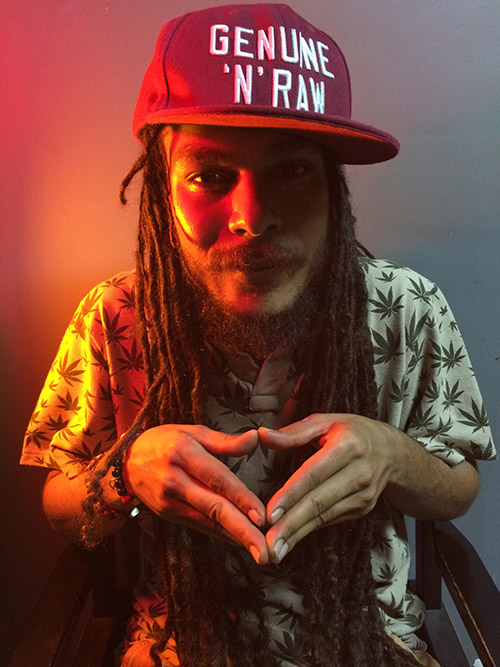 The earliest I know from the elders, the ancient people. I heard them say there is a connection in the north with Jamaica that they can catch the vibration in the radio station. I don't know where or how but it did happen. And they get the music from Jamaica playing in Maranhão. Maranhão is like Jamaica in Brazil. They have a sound system which they call Radiolas. My big experience in Maranhão was with Gregory Isaacs. I was touring with him and Lions of Israel. One of the shows was in Maranhão and Gregory Isaacs is a king, is a don in Maranhão. Everyone loves him and knows his songs. So when we were walking in the sound check he called me and said "Come, youth. Come sing a song with me". I said "Yeah man. I would love it. Which song do you wanna sing?" He said "Ragamuffin". He said "Alright, sing it in Portuguese. Your part." So I said "Gregory Isaacs, the living legend invited me to sing with him in Maranhão. Jamaica in Brazil". Later I was watching his show and I thought "Maybe he won't call me". But he was always looking for me and giving me a sign. When it was time he said "Come out my youth". You know the way Gregory Isaacs talks. He brought me up on stage and made me sing Ragamuffin in Portuguese. This video is on YouTube. It was a very epic moment from a long time ago. I think it was in 2004.

Another epic moment was performing with Lions of Israel at Rebel Salute.
Rebel Salute, Jamaica, 2006. It was my first show out of Brazil. My first international performance. And it was my first time going on a plane. I was very small when I went to Jamaica. I was 18. I was starting in the music as a backing vocalist, as a harmony singer for a group called Lions of Israel. I had just joined the group. When I first joined we were recording an album and then they said "We have a show in Jamaica". Just like that. I had only a few years in the band, just getting my experience.

What was the experience like for you?
The experience was amazing. Aged 18 I did my first international performance for Jamaicans. They were serious looking but they really liked it. The next day we were in the paper so people recognised me in the street shouting "Brazilian!" The show was very nice and then we had one week in Jamaica in the mountains. We never had a chance to go to much to Kingston. That is why I decided to come back to Jamaica in 2008, just by myself and experience more. I went to Kingston, I stayed with Derajah. Derajah is a big artist from Jamaica.

I know Derajah very well. I've been to his house. He's got a big garden and he cooks nice food there.
Yeah, he cooks nice food. Ackee and the salt fish and rice and peas, callaloo, everything nice. He is a personal brethren. He's like my father. He took care of me and showed me everything. We have done songs together. In my last release, my last international mixtape we have a song together. We have a next song ready to be released. The first time I went to Jamaica I didn't know Derajah. I just got to know him when I was planning to come back to Jamaica and I went looking for some new artists. I found Derajah on YouTube and I sent him a message and he answered. When I said I didn't have a place to stay he said "Come, I will be there". Just like that. I just trusted him and he trusted me.

How did you get your name Dada Yute?
Dada Yute is a name that I got going to Jamaica. Good friends, they love me, and as a young father they called me Dada Yute. Because in the early days they used to call me Lid Dada. Quickly, it changed and I preserved the Dada and just put some Yute. Because I am still young, but I will be 30 this year. We're going to have a big party in Brazil. Dada Yute's first bashment party. Maybe we'll have a Jamaican guest. We want to invite the reggae international media also because we want to start this connection.

How did you decide to become a solo artist?
It was not really my decision. Because I really had a dream that I wanted to stay in the band. But things change in the mind because people, they are so volatile, they can change very quick. So I had to continue. Before it happened I had already started some tracks with Gustah. Before I came out of the band I was already going to the studio recording some new tracks, trying my vocals because I was very young and just started to sing. When the moment for me to come out the band reached I had some tunes ready so I just recorded a few more tunes and release my first album which has Mikey General on it and Lukan I and Ras Bernado, the first reggae singer from Cidade Negra, one of the first reggae bands from Brazil. He is the first, original vocalist so he is a big Brazilian reggae legend.

What kind of impact did you have with your first album, Mensagem Real? How did it take you to the next level?
The first album was mastered at Tuff Gong. And, as I said, it had Mikey General, Lukan I and Ras Bernardo. So it was a big look in Brazil. They're not used to having this straight link with Jamaicans. So from that time, I started to visit Jamaica more and started to know other artists, link up with other artists. My first album, the translation from Portuguese is "a real message". Released officially, physically and digitally. You can still download it today.

You also appeared on the Sugar Roy and Conrad Crystal album, Sugar Roy Conrad Crystal and the Great Reggae Icons.
Sugar Roy and Conrad Crystal! Give thanks! I can't forget that. When I first went to Jamaica and voiced a song with Mikey General they saw me because they were working, mixing their album. I went and voiced with Lukan I first and they watch me voicing and they asked somebody "Who is this Brazilian reggae artist?" And they felt nice to approach me an invite me to sing on the album called Great Icons Of Reggae. It has great icons and they featured me and Gyptian as the only young artists. I sang the song which was a remake of The Harder They Come by Jimmy Cliff. It was a boom!

You've also released lots of singles, a mixtape and 2 EPs…
Before the first album I had my first official release on 7 inch on a Digital Dubs rhythm production, and KoogaSound released it - they are from Switzerland in Europe. Side A had King Kong and side B had Dada Yute. That was my real first release. Then I released my album. After the first album I released singles. Then I started to link up with a different artists through King Maraton, who is a Jamaican artist living in Mexico, who I met when I was there with Digital Dubs. He invited me to sing a song on his new album. After that I have been receiving invitations to record with Perfect Giddimani and even Vaughan Benjamin from Midnite recorded with me. Then I released my mixtape. International Call. It had many collaborations - with Derajah, Jah Fabio, Manik B from Mexico. After the mixtape we released the new EP Zion Bird. It was released last year here at Rototom but only digital. Five tracks. Ganja Lips Woman. Love Til The End. Jah Jah Children, which is a Lions of Israel song but I did a remake and called my brethren Michel Irie for a combination. He is a bad deejay from Brazil. A Brazilian singjay. I now release my new EP right now Another Gun Buzz. It has the hit song Rototom City on it.

How did you make the connection with Rototom?
The connection started in Brazil. Freedom Sound, Bruno Huart is where everything started. It was at this small bar on the beach. Bruno, who was over there working in promoting Freedom Sound, did an interview on the radio and he was playing with the sound system. He invited me to play there. I never knew anything about Rototom until I reached there and he started to show me. And he invited Carlo Niekro who is the official Rototom photographer to come to the show because he lives there. He came to the show with a big camera but the place wasn't proper. It was a dark place with too many people to do photos.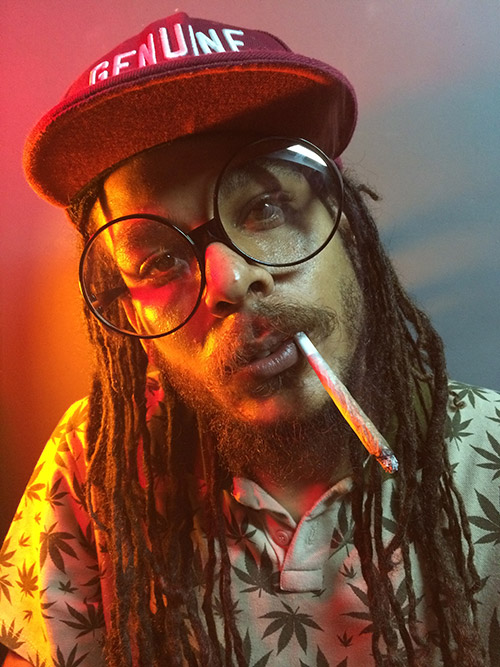 I don't know why he stayed so long there shooting me but he gave me 80 pictures from that night. He stayed with me until the taxi came to take me to the airport to go back to São Paulo. He said "Dada Yute need to go to Rototom. Not to perform but just to see the atmosphere of a big reggae festival in Europe." I said "Alright. Can you give me an invitation?" So he sent me an invitation and in the same reply he said "I sent your video to the people in production. They like you. You want to sing in the showcase?" I said "Yeah man. Of course". So me and my Royal Reggae Band from Brazil made a lot of effort to make it happen, searching for strength from families to brothers and sisters in the streets to get the money to come and make things happen and give Rototom a nice performance. After the first show last year it was a good look and the media talked about us. From out of 250 artists they talked about the Brazilian Dada Yute artist and the Royal Reggae Band. So it was a nice thing. Great step.I wrote the song on the last day. Just inspiration vibes. A seven-day festival and I never been in a place like that so I just got amazing inspiration. One month later Jah Youth production from Hawaii sent me the West End Sun rhythm. I went to Gustah, EchoSound Systems studio, Red Eye Station and voiced it. When I looked at the song I said "What a nice song explaining the vibes of the festival". So I showed it to the people in the festival, Carlo Niekro showed it to Katia Brollo, showed to Bruno Huart, Freedom sounds showed it to Filippo. Filippo said "I like it. I like the music. Very nice. Very good content in the lyrics. We want to promote this so come back this year". So that's why I am here again. So this year we felt like we conquered the reggae city because we did all the stages. It is a seven-day festival and we did more than seven appearances. The beach, the dancehall, the dub, the main stage, the showcase. Tonight we are going to sing Rototom City again on the main stage. We are singing in the changeover before Tiken Jah Fakoly with Kilimanjaro selector Freddy Kruger. Selector for one of the best sound systems in Jamaica. It is Another Gun Buzz.

One thing I've noticed at this festival is I have been given more promos by Brazilian bands than by any other nation. So it sounds like Brazilian reggae is ready to break out internationally.
Definitely. I am the first stone. Which somebody is throwing out of the window to break and make this this river of music that is in Brazil come to the world. I am an artist from Brazil but there are many more. I am working hard to open this door, to open this international link and I am sure that there are other artists in Brazil that will make you all, international media, think "Brazil has something that we need to watch. We need to give some attention on our websites." Because there are no Brazilians at all until Dada Yute broke last year and broke again this year with a hit song, something never done in history. It is something that nobody was expecting. Everybody was expecting a Jamaican but not a Brazilian. But I am the Brazilian Jamaican. Some people call me the Jamaican Brazilian because of the way I grow. Born in Brazil but grow in Jamaica many times. So it gave me a lot of patois and a lot of this Jamaican vibe. But I still have the Brazilian vibe. We are the gun. And the bullet is the word. So we need to bust good words to create good work, better days, reggae for freedom. So this is what we want with Another Gun Buzz. To bust love, freedom, equality, justice - all the good things we feel that we need.

You are filming some of this interview. Are you working on a documentary?
Yes. I am here doing a documentary also. The documentary is called Brazilian Reggae Storm. We are trying to introduce this documentary next year in the Rototom Reggae University. To show the people what can happen with an artist when he gets a good chance in life. What he can do. What he must do. This Brazilian Reggae Storm is showing what I was doing, what I am doing now. Two or three years ago and then Dada Yute now to see the upgrade is real. It can happen.