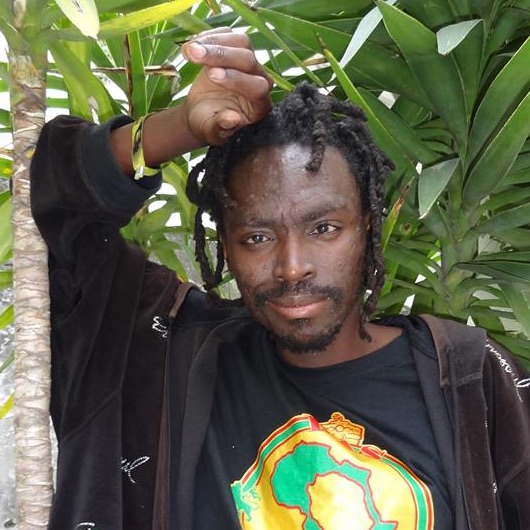 CROSBY "Cross" Siyasanga Bolani is a multi-talented artist and super-producer, whose songs are based on social commentary. He was born in Cape Town into a musical family and grew up in a township called Gugulethu that is known for its superbly artistic vibrations. Ever since his birth, Cross has been poisoned with music, and naturally, he took music as his full time career. Despite of the relatively poor ghetto background, Crosby is one of the most energetic and positive South African artists.
He spends almost all of his time making or performing music. Through his lyrics and action, Crosby has been a great inspiration to a lot of ghetto youth. Over the past ten years, Crosby has been making great hip hop and reggae beats and performed around the world. He's original and fresh voice as well as his positive energy have taken him to perform at the hottest clubs in Johannesburg and Cape Town as well as to Europe where he has already performed alongside many well-known artists.
In 1995, Crosby established his first group called "Def Boys" when he was studying in the Eastern Cape. Still today, the group represents one of the most outstanding hip hop groups on the east coast.
In 1996, Crosby returned to Cape Town and joined his cousin Zoro. Together they established a reggae group called Fabulous Crew, which was later named Chronic Clan. Chronic Clan is dancehall reggae at its best and soon Crosby got to experience his first moments of fame. The Clan was selected in the semifinals of the Shell Road to Fame 1999, and in 2002, Chronic Clan won the S.A.B.C Talent Search. In the past few years, Crosby has concentrated more on his solo career as a reggae artist.
In May 2005, Crosby was was invited into Africa Festival in Wurzburg Germany, which was part of Bob Marley`s 60th Anniversary tour. He performed alongside Rita and Julian Marley and the Gentleman. In July 2005, Crosby was a backing vocalist for Teba (The Skeem) in Finland where they toured the whole country across in two weeks performing at various festivals and clubs. In December 2005, they returned to Finland being re-invited to perform at a charity concert for Aids orphans. In March 2006, Crosby returned to tour Europe at a larger scale. He appeared at some Europe's biggest festivals: Rottertom Sunsplash (Italy), Lake Splash (Slovenia), World Body Painting Festival (Austria), Africa Festival(Germany), Frauenveld Festival (Switzerland). Crosby has also appeared on various South African TV youth shows, such as ONE, Destination S.A. and Street Journal South Africa.
In July 2008,Cros went on a two month tour with Jitsvinger and later on got joined by Goddessa. This tour saw Cros sharing stages with Hip hop heavyweights Talib Kweli,De la Soul, Juelz Santana,Pharoemanch and many more... 2010 Cros was invited to Re-Union island with his crew African Dope Soundsystem to part take in a street festival.Crosby mission is to unite the word with the power of music... @ this time, CROSBY is always in Action on da road and he shares stages with greatest artists in prestigious international festivals ...