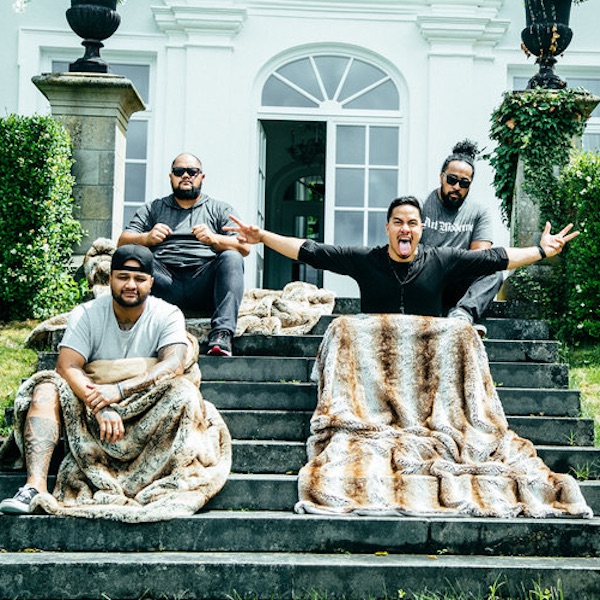 Common Kings produce phenomenal pop hits with rock, reggae, R&B and classic soul influences. Lead singer JR King (Hawaii/Samoa), guitarist Taumata Grey (Samoa), bassist Ivan Kirimaua (Fiji/Kiribati), and drummer Jerome Taito (Tonga) grew up in dynamic households filled with vibrant passion for music.
The Kings individual musical journeys were inspired by artists like Musiq Soulchild, Raphael Saadiq, D'Angelo, Van Morrison, Stevie Wonder, George Benson, Jim Croce, Michael Jackson, The Who, Led Zeppelin, Gypsy Kings, Earth Wind & Fire, Maroon 5 and many traditional artists from the islands.
The band's resulting original sound is a collection of these varied musical and cultural inspirations orchestrated into an array of head-rocking beats, feel-good rhythms, and emotional fervor. Their fun-loving attitude and "good vibes" high energy projects loud and clear during Common Kings' live performance experience.
With lead-singer Sasualei "JR King" Maliga in the forefront, Common Kings possesses one of the most naturally gifted and powerfully impressive singers in the game today. Graced with a distinctive, raw, organic talent, JR's vocal ability appears boundless as he amazes listeners with his welcoming tone, wide range of rich notes, infectious melodies, and soulful passion.
In the studio daily recording their first Common Kings EP, writing like mad with incredible producers and shooting hot new videos, their "formative years" as princes have come to a close and the Common Kings are stepping into their royal rule. You want to follow these leaders.