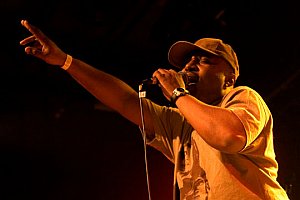 Clinark became the known as 'The Reggae Torch' after a line in his song 'Inspirational Prayer' which goes:
'I just re-ignited the torch as one of your soldiers
Though many trials and tribulations, I've been through.'
Clinark 's story has all the hallmarks of the usual struggles for success and triumph over adversity. Clinark describes his childhood growing up in '70s 'on the Caribbean island of Bermuda, as 'happy with a great community spirit'. As a child Clinark was heavily influenced by his Seventh Day Adventist upbringing and his love of reggae music, particularly, Bob Marley and the UK reggae group 'Aswad.'
Clinark says his childhood was a happy time for him and his mother & father and sister as they would regularly spend time singing and playing hymns. Clinark said he loved Bob Marley so much he would dream of Marley and that the dream often set the two of them sitting on a mountain top conversing. Clinark's late father, Wesley Jr, a lecturer in electronics and piano teacher, taught him to play the piano and encouraged him to sing.
YOUTH CREATION BAND 1982 - 1990
When he was 15 years old, Clinark and six other friends created a band called 'Youth Creation ' which rehearsed in his yard. Clinark sang and played keyboards. They practiced a couple of times a week for months. The band later merged with another band. In 1984 'Youth Creation' played a small set on The Labor Day concert, the response was overwhelming. By now, Clinark played keyboards and shared lead vocals. This was when Clinark's gift of song first came to prominence. Whilst in the band, Clinark also found time for other activities and reached the heights of Bermuda's top football league as a left winger and striker in Bermuda's Southampton Rangers.
The band continued and was successful in Bermuda; they regularly opened concerts with crowds of over a thousand people. This led to touring overseas and a single was released called 'Come in de land'(1985) culminating in an album in 1987 called 'Jah is on our side.' Clinark wrote and sang lead vocals and backing vocals, played key boards drums on 4 of the 8 tracks: 'The love that I feel', 'We must fight against apartheid', World wide problems',' Drug Population.'
Youth Creation toured in the US twice yearly, whilst in Bermuda. They opened for major acts like Steel Pulse, Ziggy Marley, Rita Marley Carlene Davis, Dennis Brown, Judy Mowatt, Peter Metro, Tenor Saw and Yellow Man. The bands line up changed several times over the next 3 years. Clinark was also conscripted into the Bermuda Army part time for 3 years from 1987 to 1990.Clinark say's it was one day a week and some weekends but he said he was still able to carry on with the band.
STUDIO SIX BAND 1990 - 1993
In 1990, Clinark decided to quit the band to form another group called 'Studio Six'. It was a 9 pieceband also made up of a couple of the ex 'Youth Creation' members. Clinark shared lead vocals and played the keyboard. Studio Six continued to be successful and they did the full circuit of clubs and hotels in Bermuda, with a broader spectrum of music, including soda, soul etc. The band broke up in 1993.
JAHSTICE BAND 1995 - 1999
Clinark joined a new reggae band called 'Jahstice' in 1995. He shared lead vocals. They opened for most of the visiting reggae acts including, Beenie Man. The band also played in Reggae Ambassadors Worldwide Showcase in Salt Lake City in North Carolina in 1996 and 1997. They also represented Bermuda at the Caribbean Song Festival in Barbados.
In 1997, the band began work on an album. Clinark wrote some of the songs 'Strugglin,' 'Give Thanks & Praises' and ' More and More.' A couple of other songs 'One Love One Destiny, (which became an anthem for the band) and 'Can't Let Go' also had a DJ contribution written by 'Runksie.' Unfortunately, the album remains unfinished as the other lead vocalist/songwriter left the band shortly after the recording. By then, Clinark's previous back injury had become troublesome and left him having to perform on stage in a hidden back brace. Sadly, Clinark decided to leave the band at the end of 1999.
MILLENIUM SUFFERING
The year 2000 was a more desperate time for Clinark. He was suddenly struck down with a mysterious debilitating illness. This left him incapacitated with sudden bouts of nausea & dizziness and inability to walk. He was unable to work for several months. Doctors were baffled. Eventually, in 2002, Clinark was finally diagnosed as suffering with a severe vertigo symptoms. Clinark sought relief from a naturopath and eventually he saw a gradual decline in his symptoms. He was then able to run a small import business called. Riviera Roots Wear which sold wholesale and retail cultural goods and herbal products.
AFRICAN DESCENDANTS
Meanwhile, Clinark's voice remained in full form. In 2003 he was asked by his life long friend, neighbour and former Jahstice keyboard player and songwriter, Antwon Pitt, to form a duo called African Descendants. The duo created a large catalogue of songs, (some as yet to be released and recorded).
Clinark took the stage name of Dill-in-Jah. Offers from producers in Jamaica, and the reggae fraternity in Europe and USA came in, but Clinark was not yet fully recovered. Despite this, Clinark was still able to put out a sell out single in 2004.
'DEM COME' DREAD UNITY LABEL 2004
In November 2004, Clinark released for the hit single ' Dem Come' (10") which he sang under the name of 'Dill-in-jah' on the 'Dread Unity' label. It's a song about world peace. It was a truly modern day cyber production with Clinark writing and voicing tracks in his native home of Bermuda and the production being done by Reuben in the UK. It caused a great stir with sound systems, fans called him the 'The New Garnett Silk.' They also worked on another Track 'Fire Bun' which is to be released as a single at a later date by the Dread Unity Label. New versions of both songs are on the 'Clinark Live'… album.
JOURNEY TO FOREIGN ALBUM WORK BEGINS
A planned trip for the Clinark & Pitt to record in Jamaica was postponed. So Clinark decided to take up an invitation from his new manager, Juliet Edwards to go to London, England. The plan was for Clinark to record a couple of tracks with her brother's drummer and producer, 'Tony 'Technical- T' Edwards and Rob Edwards Jnr. Clinark traveled to the UK in December 2004. Miraculously, Clinark's symptoms reduced further, the cooler climate suited his condition.
This team eventually came together to form the independent record label, Nurture Projects. Clinark also reverted back to his real name ' Clinarke' as he was often confused with the reggae singer, 'Dillinger' taking the 'e' off the end to help pronunciation.
Clinark's visit produced a buzz of excitement in the studio, producers said of his lyrical style and delivery gave the essences of late great legend 'Bob Marley.' To Clinark this was the most fitting accolade. These short sessions in the studio proved that the fire was just been lit on this talented artist. Clinark says ' We just got together and everything just worked. It was something I had been waiting for, for so long and all the ingredients were there.' A plan was hatched to record an album at a later date. Clinark and Juliet immediately got to work on writing songs for the project. Technical –T taught Clinark how to build his tracks on a program
By the time Clinark left the UK in January 2004 he had already written a handful of songs. Clinark returned to the UK in spring 2005, the team worked on the project throughout the year. In January 2006, Clinark decided to open up a UK arm of his Bermuda business www.rivierarootswear.com, a sports and casual wear shop in with an online store.
Meanwhile the team practiced the songs in north London's Down Beat Studio's in Holloway. They reformed their Highway band with Clinark now acting as lead vocals and keyboard player Technical -T on drums, Rob on bass, Rasta P on guitar. They also practiced weekly in the basement of Juliet's dad's local, The Cricketers pub in Clapton, Hackney. Although it was a supposed to be a closed sessions, local elders and youths drifted in and showed their approval. Naturally, the staff started serving at the bar and Clinark ended up with a captive audience. 'He says 'It was a great feeling to get the feedback from the local people; they particularly liked ' Life in the Ghetto' & 'Fire Bun.'
By April 2006 Technical -T andClinark had produced a demo of an 18 track album called 'Journey.' It is a contemporary roots reggae and lovers rock album. In April 2006 the demo was taken to London producers Mafia & Fluxy. Clinark's own independent labelNurture Projects will be releasing this album later in 2008.
CLINARK LIVE IN HOLLAND WITH POOR MAN FRIEND BAND (PMF)
By now it was February 2006 and Nurture Projects joined a small project with Dutch reggae band 'Poor Man Friend' reggae artist Zema. The remit was to put on a small set of concerts in Holland in April 2006.
PMF consist of a 6 piece band with keyboard player, Marcus Leliveld (aka Kila) as band leader and composer. He worked alongside horn arranger and tenor saxophonist, Phillp De Goey, Setish Brandraban - Trumpet and Tobias Dammers on Trombone. The line up of the band was Howard Englebert on lead and rhythm guitar, Fabian on drums, Papa Jan on bass and backing vocals, Billyman andRas Elijah were on percussions and backing vocals. PMF opened the show with their own set of songs. You can find out more of PMF on their website www.poormanfriend.com
Meanwhile, Clinark and the team continued to work on the 'Journey' album project and started recording with top producers, Mafia and Fluxy. Check out www.myspace.com/mafiandfluxy.The scheduled clashed with the Journey album recording but they managed a couple of rehearsal and finally they all got together for the Holland concerts. The live recording for the 9 track album was at the prestigious Dutch venue 'Groene Engel ' in Oss, was done by sound engineer Sander Hartman. Miraculously his recording captured the first performance perfectly. It was also the first time a reggae show had taken place at the venue. Clinark also performed to large audiences at LVC Leiden, and Paradox, Tilburg, the following week
Back in Bermuda
In August 2006 Clinark took a brief trip to Bermuda where he announced on Power 95 radio, the promo release of the CD. It produced a great response from the public and fans. An interview with Clinark in the Bermuda Royal Gazette brought further interest from the rest of the world. Nurture Projects eventually brought forward the release of this album 'Clinark Live in Holland with Poor Man Friend Band.'
A live version of the 'Dem Come' is on the outstanding live album. The set opens up with an awesome rendition of Bob Marley's ' Heathen' and includes a memorable version of 'The Lord's Prayer. Clinark takes a longer journey, introducing the band and highlighting his mesmerizing vocal skills. Now as this quality recording, reaches play lists around the world already these tracks are becoming favorites; ' Life in the Ghetto,' 'Runaway', 'Colonised.' Naturally,''Beautiful Island ' is the favorite track of Clinark's fellow Bermudians.
Journey to Foreign Album Released 30 Sep 2008 CD & MP3
In Sep 2008 Clinark produced his debut studio album , Journey to Foreign, contemporay Roots & Culture and Lovers Rock. This long awaited debut album is set to be a classic . Also feat. Richie Spice, Luciano, Maxi Priest, Kofi, Brinsley Forde (Aswad) and Irie Love,Troy Anthony, Fantan Mojah and Gramps Morgan & Peter Heritage. The#lead track off the album is 'Life in the Ghetto' feat Gramps & Peter. The album is dstributed by Cousins Records and Nurture Projects.
source: clinark.com