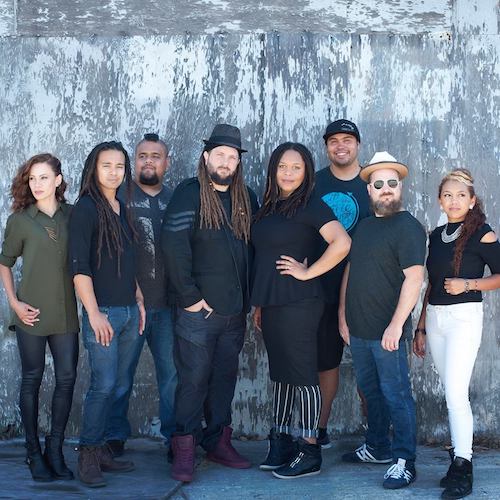 Christafari was the first Christian reggae band. Upon seeing the group's name, and the fact that founder Mark "Tansoback" Mohr sported long dreads, one might deduce that the bandmembers promoted a combination of Rastafarianism and Christianity, but the band's moniker actually comes from the Latin derivation of the Greek New Testament word "Christafari," meaning a group of people who represent Christ.
Christafari was founded in 1990 by born-again Christian Mark Mohr. At one time, Mohr, an aficionado of Jamaican culture and reggae music, was a Rastafarian himself -- mostly, he claims, because it sanctioned the frequent use of marijuana. When he first began listening to reggae, he didn't like it, but a family vacation to Jamaica changed his perspective. By the time he recommitted to Christ and gave up ganja at a church summer camp, Mohr was well-versed in roots reggae and different dancehall styles. Fluent in Jamaican patois, Mohr is known as an excellent toaster and ragamuffin. Over the band's career, over 60 members have appeared on-stage and in the studio.
Christafari's other frequent members include lead singer Erik "Earth Man" Sundin, a son of Salvation Army missionaries who has himself been a missionary in Jamaica and Latin America, and has also worked with urban kids in the U.S. Vocalist/keyboardist Marky "Rage" Sandiford hails from Barbados, where he once earned a "Male Vocalist of the Year" title; he also composes, arranges, and produces for the band. Percussionist Ken "Mr. Mention" Yarnes has been playing drums since childhood and has a music degree from Cal State Long Beach. Guitar player Bill "Painta-Man" Kasper once toured with such reggae acts as Andrew Tosh and Steel Pulse.
Keyboardist/vocalist Rob Ray is experienced in playing a variety of genres, while Johnny "Spragga Boom" Guerrero is the band's all-around musician and was involved in Los Angeles-area reggae. He too has played with some of Jamaica's top musicians. Finally, Vanessa Mohr, Mark's wife, performs authentic African dances during concerts and also choreographs the bandmembers. In addition to founding the group, Mark Mohr has also studied at Biola University and started the missionary organization "Jamaica for Jesus," a group that preaches Christian doctrines on Jamaican streets and leads Bible schools. At Christafari concerts, they also assist those audience members with any religious experiences they may have during the performance.
Musically, the band reflects Mohr's background in roots reggae and dancehall and is noted for its high-energy concert performances. In the reggae community, however, the band has not been widely accepted, and matters didn't improve when Mohr penned a book deriding Rastafarianism. While staying in a Cleveland hotel, dancehall artist Buju Banton showed his displeasure with the band by attacking and cutting Mohr with a knife, but Mohr, in a gesture of forgiveness, refused to press charges. Mainstream Christians have not always accepted Christafari either, primarily because they are unfamiliar with or suspicious of reggae music. But the band works hard at educating its audiences, and it seems to be working.
Their 1995 album, Soul Fire, sold 80,000 copies and earned them a nomination for the Dove Foundation's Urban Album of the Year. In 1996, they were selected to play in the Olympic Village during the Atlanta Summer Olympics. That year they also released Valley of Decision, which they followed three years later with Word Sound & Power.
Gravity landed in 2003 while the dub version, Gravitational Dub, appeared one year later; the children's album Reggae Sunday School followed in 2005. No Compromise was released in 2009, followed by a 20th anniversary world tour.
2012 saw them climb the Billboard charts with the worship album Reggae Worship: A Roots Revival. Another set of worship standards followed when the appropriately titled Anthems landed in 2015. Two years later the group dropped Hearts of Fire, which