Review
Album Review: Chezidek & The Ligerians - Timeless
04/24/2020
by Steve Topple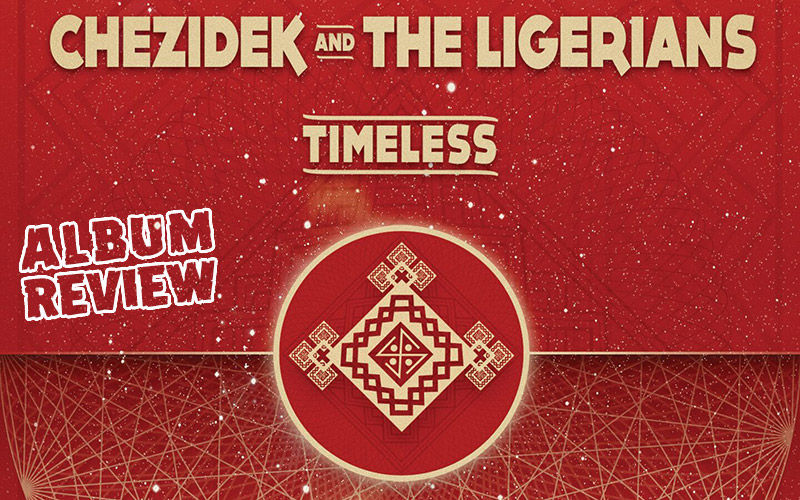 It's always enthralling when French group The Ligerians release new music. To that end, their much-anticipated album with Chezidek has finally dropped. And the tour in 2019 that spawned this partnership has a lot to answer for - in an exceptionally intricate and pleasing way, of course.
Timeless, released via SoulNurse Records and Baco Records, is an extremely well-constructed affair. Predominantly Roots-led, it weaves a musical and thematic tapestry that is full of light and shade. The production by the two acts and SoulNurse Records is top-class. But it's the compositions which really impress; drawing not only on Roots heritage but occasionally some distinctly European overtones, as well.
On the more traditional front, the title track sees Chezidek and The Ligerians deliver a Roots-heavy, Dub-light affair. It draws on devices like the keys' bubble rhythm, the guitars' skank and a drum one drop. The clipped bass has a Rocksteady rhythm, smoothed out by a fullness of timbre and resonation. The inclusion of a melodica increases the authentic feel. But Chezidek and The Liberians have also added some more Electronica-sounding synths; hinting at the French/European influences and setting the tone for the rest of Timeless. Let's Say No moves this authentic sound further forward, with the inclusion of some heavy Doo-Wop backing vocals for good measure.
Expanding up and to the side of this is It's Alright. All the usual Roots devices are there. But the instrumentation on the track is highly complex. It's exceptionally funky: heavily arranged electric guitars riff between semitones and beats; the use of a self-resonating filter to create that classic Electronica synth 'woo' sound is particularly delicious, and the multi-layered organs just add to the complexity. Ready for the Show is in a similar vein, albeit with a breezier, lighter feel - notably the high-passed, raspy electric and bass guitars, slapping a call and response duty to Chezidek's vocal line.
Beat Dem goes yet another step forwards and moves into Rub-a-Dub territory; kind of. It's a percussion and bass heavy affair, with the former sounding like it's been heavily EQ'd (by engineer Gabriel Bouillon) to create a fat, rounded and driving sound, in keeping with the genre's heritage in Sound Systems. And Chezidek's vocal is pure singjay, in the historical sense of the style. But Beat Dem is not stripped-back, like more traditional Rub-a-Dub is. Those funky electric guitars are back, the keys bubble and riff and European Electronica is nodded to again with the use of synths. It's a thoroughly pleasing piece of work, brining Rub-a-Dub bang-up-to-date.
Variations on Soul also feature heavily. No Solutions in Their Lies is one such example. The driving force of the track is Roots. But the inclusion of a prominent Hammond organ, which has the feel and arrangement of a Revival theremin, tacks a funkier track. Also, the composition of the main melody using Soul-esque, drawn out, quaver-heavy rhythms, is away from the usual beamed Roots arrangement. No Solution in Their Lies ends up being a delicately composed hybrid affair.
Over the Mountain takes this idea one step further. Roots musical devices are used and Dub rhythmic arrangement and use of reverb also feature. But the Ambient/Electronica use of synths, production and engineering/mastering (from Bouillon and Paul "Pilah" Kosmik respectively) adds additional dimensions. The use of another smooth, rhythmically drawn out melody is less Roots, more Soul. The bass is highly syncopated and somewhat ambiguous. And the percussion, while being an upbeats-focused one drop is more embellished than usual. So, if you stripped out the skank, bubble rhythm and reverb, Over the Mountain could easily be a 21st century foray into Neo Soul.
The cultural 'roots' of Roots are explored on I Love Jah. It's true to the genre, but the African influences are also striking; not least in the percussive instrumentation chosen, like the djembe from Bongo Ben, and their arrangement. We're then taken back to that French Electronica sound again, with more, intricate synths diving in and out of the mix. It's a highly smart composition.
But the final flourish of Timeless is perhaps musically its biggest deviation from Roots. It Comes Down to Love is a traditional African/Soul/Gospel hybrid, and because of that unexpected musical construction it's a moving surprise. Percussion from the Motherland, organs and guitars from Motown, some arrangement from Jamaica and vocal lines from church serve to make It Comes Down to Love an enthralling and all-encompassing end to the album.
Lyrically, Chezidek has built a strong narrative throughout Timeless. The tracks ponder themes of love, the system, spirituality and personal growth. But there's little negativity in sight. The album is brimming with positive yet searing vibes, whose heart is in social justice. And vocally, Chezidek is sublime. His tone is rich; vocal runs dextrous; he flips between an impressive high tenor and falsetto effortlessly and his use of dynamics and intonation bring the lyrics alive.
Timeless is an extremely classy piece of work from Chezidek and The Ligerians. It's a perfect and pertinent example of how to use Roots as a starting point, and deliver a musically intelligent and intricate project, which still hammers home important narratives. There was clearly something magical that happened on that 2019 European tour. Because Timeless is a gorgeous inclusion in both acts' catalogues. Vive la Reggae!
---
Release details
Chezidek & The Ligerians - Timeless
DIGITAL RELEASE / CD / VINYL [SoulNurse Records]
Release date: 04/24/2020
Tracks
01. Beat Dem
02. It's Alright
03. Over The Mountain
04. Timeless
05. Let's Not Say
06. No Solutions In Their Lies
07. Ready For The Show
08. I Love Jah
09. It Comes Down To Love