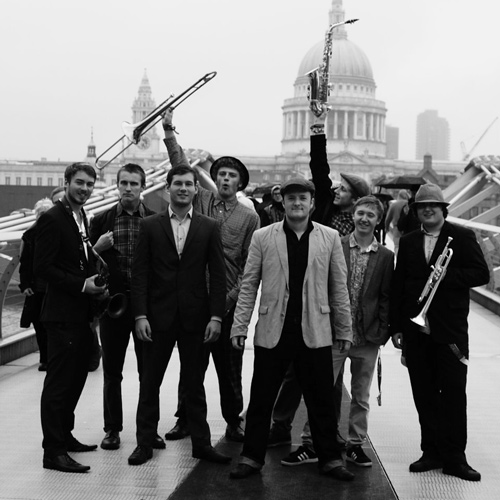 This mischievous rabble of young lads from Lewisham is wreaking havoc across London, with their lively new single, 'Bad Habits' saying "fuck cool, let's laugh" in the timeless language of British Ska music, brought up to date by eight "Real musicians, real band, real brass section… fabulous & so refreshing" David Rodigan, BBC Radio 1xtra
'Bad Habits', out on April 1st, is the debut single from Chainska Brassika's forthcoming debut album, which they're working on with Nick Manasseh at 'The Yard' under the Westway flyover.
In 2013, Chainska Brassika released their debut EP, Unwind, championed by David Rodigan MBE.
They have supported Madness, The Skatalites, Gentleman's Dub Club, Easy Star All Stars to name a few, they've had knees flying at Glastonbury Festival, Boomtown, Bestival, Notting Hill Carnival, The Isle of Wight Festival and toured in Italy. Summer 2015 announcement coming soon...
"Love music like that, makes you feel so so happy"
Simon Raymonde, Amazing radio.
"ChainSka is one of the most impressive and promising upcoming acts in the reggae/ska genre that I have seen or heard in while. Refreshingly unique and our audience loved them as much as we did." Ken Stewart, The Skatalites
"Love music like that, makes you feel so so happy" Simon Raymonde, Amazing Radio "Growing artistically, stylistically & musically by the day" Gaz Mayall