Review
Album Review: Censi Rock - First Delivery
02/01/2014
by Gardy Stein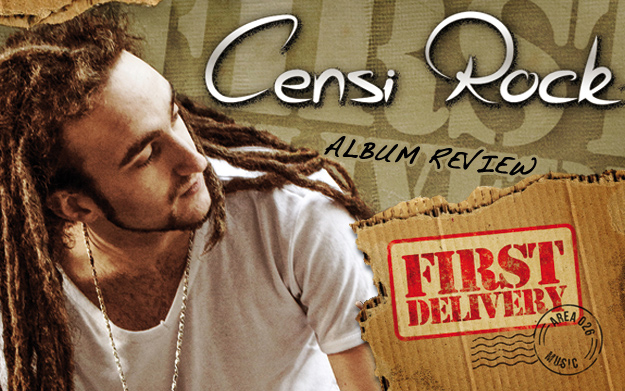 What is going on in the Netherlands? While the little flat country has become known as a warrantor of good quality herbs for neighbouring states with less liberal drug policies, I would have been hard put to name any equally praiseworthy Reggae-Export… apart from Ziggi Recado maybe. And now, hardly a month after Reggaeville reviewed the exceptional debut album Who Am I by Rass Motivated, there is another Dutch artist preparing to hit the ears of the international community. Erik van Yperen a.k.a. Censi Rock presents his First Delivery, fresh out of the stove of Area 026 Music.

To type his complete biography here is unnecessary, because this young man is doing a great job introducing himself and describing his hitherto journey in the title track. Among other things, we thus learn that he is from Alkmaar, that he started singing in church at the age of seven and that he voiced his first riddim seven years later.

This personal tone pervades the whole album and makes it an intimate, authentic experience. Apart from the lyrics, a major stake in this pleasurable feeling certainly has the music. While most songs are supported by riddims from R.D. Musiq and Houston Music, it is the handmade instrumentals (played by musicians too numerous to be mentioned here) in songs like No War, Now We Meet Again or Weh Dem A Do that cause the real magic to unfold. Obviously, producer Patrick "Mr. Patze" Esajas (who even features on Haffi Bun) as well as masterer Erwin Maas and the diverse mixers know what they're doing!

Although the lyrics are a little contradictory at times (from telling the officer "just because me have Dreadlocks, it doesn't mean me hidin weed ina me socks!" in Dreadlocks to praising the Ganja in the next track or in Roll Up: "Mi love mi Marihuana"), they are always credible and invite us to share a moment of the singer's reality. And with the accompanying music, it is a real pleasure to follow this invitation. Asked for his favourite tune, Censi says it's Baby Don't Cry, "because I put a lot of feeling in it". Sorry ladies, it seems as if this rising star is already taken…

Next on the CD we'll hear Mama, in which – again on a very personal level – Erik speaks to his mum, reassuring her that he'll make his way in life, even if it's not what she might have planned for him. Individually though this tune is, can't we all identify with these words to a certain extent?

The last feature of the album (besides the aforementioned Mr. Patze, we have heard Joggo on track #6 and Sylford Walker on #8) is Confronted, another serious piece that brings to our attention the familiar voice of "the people's choice" Ray Darwin.

While the pensive, accusatory touch in Down Ina Di Ghetto, No War, Earth Cries or Wha Dema Do might in other circumstances have served to bring down the overall mood, uplifting tunes outbalance them. First in line here is the very danceable Rock And Come In, actually the second single release of the album (number one was Haffi Bun - it came out last October with a corresponding video on which you can hear the sweet intro of the African Beat Riddim that didn't make it on the album version).

In case there is anyone who is not convinced up to this point, it's the last track that will win you over. What's Life captivates us at once with the up-tempo, Ska-inspired beat as well as the message contained: "What is life when you got everything you need, but you don't feel satisfied?" sings Censi in his characteristically crisp voice – a question to all those who are prone to high-level whining. But hear for yourself. First Delivery will most certainly satisfy you, and while the songs slowly trickle across the borders from Holland, we'll hopefully get a chance to hear them live during the coming festival season.

Dank u wel, Censi Rock!


---
Release details
Censi Rock - First Delivery
DIGITAL RELEASE [Area 026 Music]
Release date: 02/01/2014
Tracks
01. First Delivery
02. Dreadlocks
03. Haffi Bun feat. Mr. Patze
04. Down Ina Di Ghetto
05. No War
06. Now We Meet Again feat. Joggo
07. Rock And Come In
08. Roll Up feat. Sylford Walker
09. Baby Don't Cry
10. Mama
11. Confronted feat. Ray Darwin
12. Earth Cries
13. Weh Dem A Do
14. What's Life


Featured artists
Joggo
/
Ray Darwin