Enough is Enough - Bunny Wailer's Son Releases Statement
04/07/2021 by Reggaeville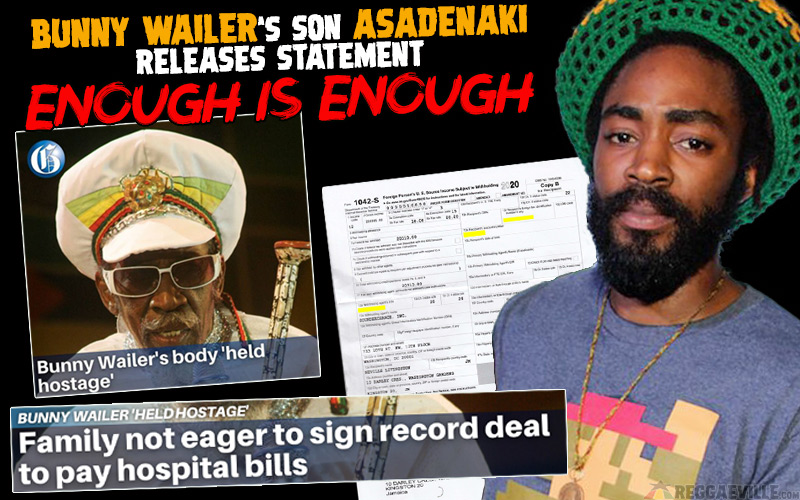 Abijah Asadenaki Livingston "First I lost my stepmom, but she affi Find!, then I lost my father…trying not to lose my mind! Now they want I to sign on the dotted line…Blind! Smh In an effort to force us, they reveal our father's hospital bill to the public... OK Revelation Time!" [Instagram, April 6, 2021]

Since Neville O'Riley Livingston aka Bunny Wailer passed away on March 2, 2021 there has been a tremendous amount of condolences and tributes to pay respect to the founding member of the Wailers [Read RIP BUNNY WAILER - RASTAMAN FLY AWAY HOME]. Not only because of the current Corona pandemic, but also because of internal controversies, it is still not clear to this day when Bunny Wailer will be buried. We have reported about the controversy on March 12, 2021 in our news OFFICIAL STATEMENT FROM THE CHILDREN OF BUNNY WAILER.

Recently, new articles have brought more controversial issues to light and Bunny Wailer's son Asadenaki has been forced to issue a statement via Facebook on April 5, 2021. Read below the full statement. Additional we have compiled a list of all relevant articles, which have been published since April 1, 2021. We will also include articles, which have been published after our news.
ENOUGH IS ENOUGH
"The article that was published in The Sunday Gleaner 4/4/2021, titled "Bunny Wailer held hostage" has motivated this statement.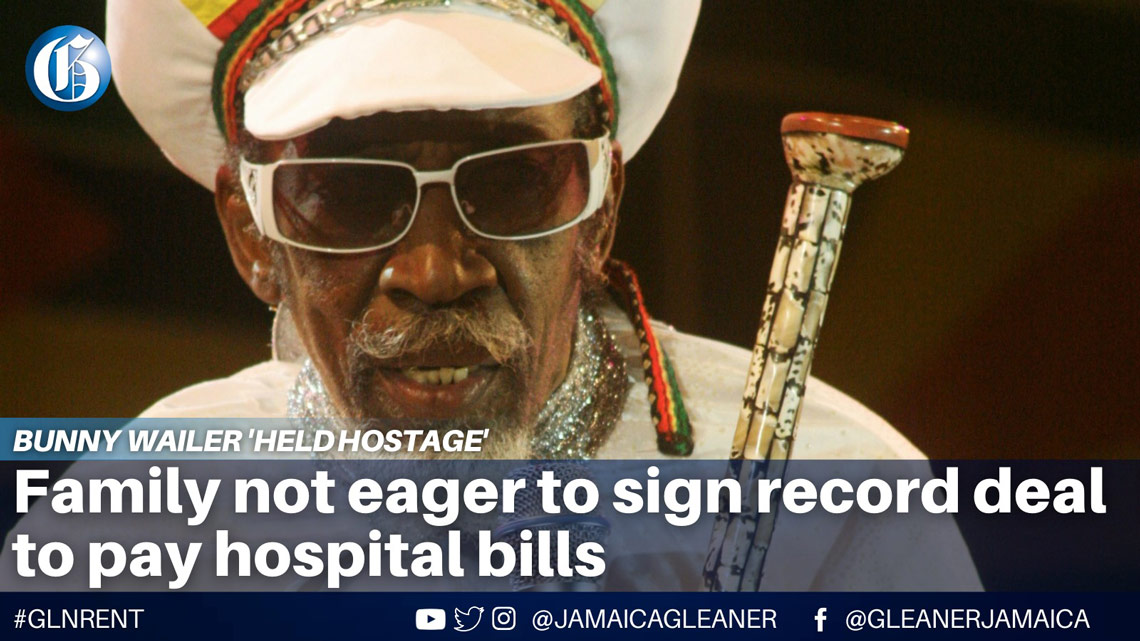 I would like to thank the author for aiming to shed some light on a troubling situation, but I want to provide more clarification regarding the narrative surrounding my father, The Hon. Neville O'Riley Livingston and the state of his affairs concerning his medical bills and funeral.
Neville O'Riley Livingston's 2020 tax return from Soundexchange Inc. reveals a gross annual income of USD $203,095 equivalent to over JMD $25,000,000. This is the total from monthly deposits and represents the income from just one of his several royalty distributors. When we discovered this information we were shocked as it did not reflect the narrative being told to us, but we now understand why our requests of transparency had never been fulfilled.
My father's former manager, Maxine Stowe, is the only person other than my father with access to his accounts. When questioned by our family on March 4th 2021 about my father's latest February royalty, she assured us that it along with all future collections would be managed by JahB's local and international lawyers and kept in an escrow account. When the lawyers were contacted the local lawyer responded that "he is not in possession of any documents dealing with the assets of Neville O'Riley Livingston deceased". The US based attorney stated that he has no access to the Soundexchange Inc. deposits.
Following up on the matter, we contacted Soundexchange Inc. on March 25th and were informed that they had made direct deposits of $10,174.41 USD on February 26th and $30,005.61 USD on March 25th 2021 to the same account they've always deposited to. Since then we have made several attempts through our attorney to get clarification from Ms. Stowe through her representative Roderick Gordon as to the whereabouts of these funds; which in total can cover my father's $5,275,763.61JMD or $35,545.46 USD medical bills. We still have not received a reply from either Ms. Stowe or her attorney to this day. The hospital's business office who is in constant communication with me informed me that they have been trying to reach Ms. Stowe to no avail. My father's US based attorney sent us the estate bills detailing my father's medical and legal costs which included medical costs incurred since last year. The bill somehow included overdue balances for Maxine's lawyer Roderick Gordon and Claude Mills as PR who has been writing biased articles in a local online outlet.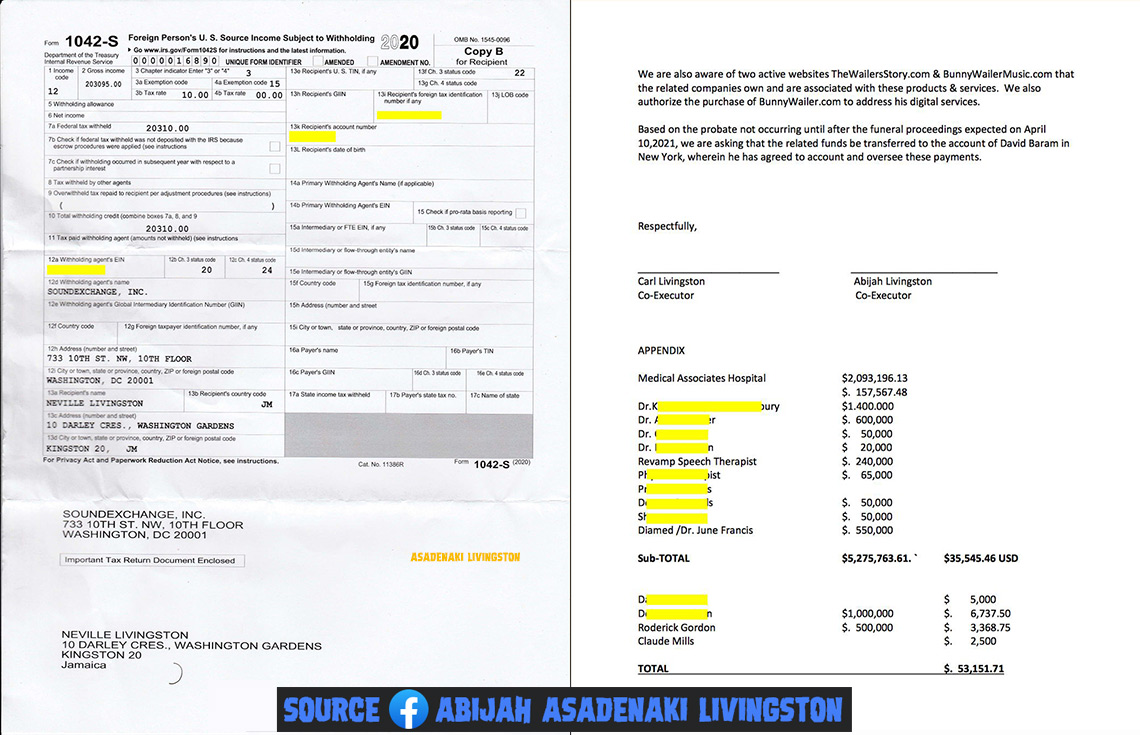 My siblings and I are not against any deal with VP Records. However, with the responsibility that my father has entrusted me as an executor, I cannot blindly sign any agreement concerning his intellectual property without reviewing the details of the contract especially knowing how protective my father was of his works. After several requests, neither I nor my attorney has received a copy of the contract for review. While VP records patiently awaits a resolution, other parties involved have been trying to pressure me to sign an approval document without seeing the contract. This seems to be a calculated plot, with the looming importance of burying my father and avoiding public humiliation. However, children of the Most High can never walk in shame.
During this difficult period, I am extremely grateful that my siblings and I are united. The fact that my older siblings and I have stepped up to the responsibility of supporting our younger siblings, including my father's 13-year-old daughter honors the spirit of JahB. As hardworking individuals responsible for our own families we have tried to establish a payment plan with Medical Associates, but they are demanding full payment due to their history of patients not clearing up their accounts. It doesn't feel right to owe this institution as I truly appreciate the top class service of their staff especially now that I know funds are available.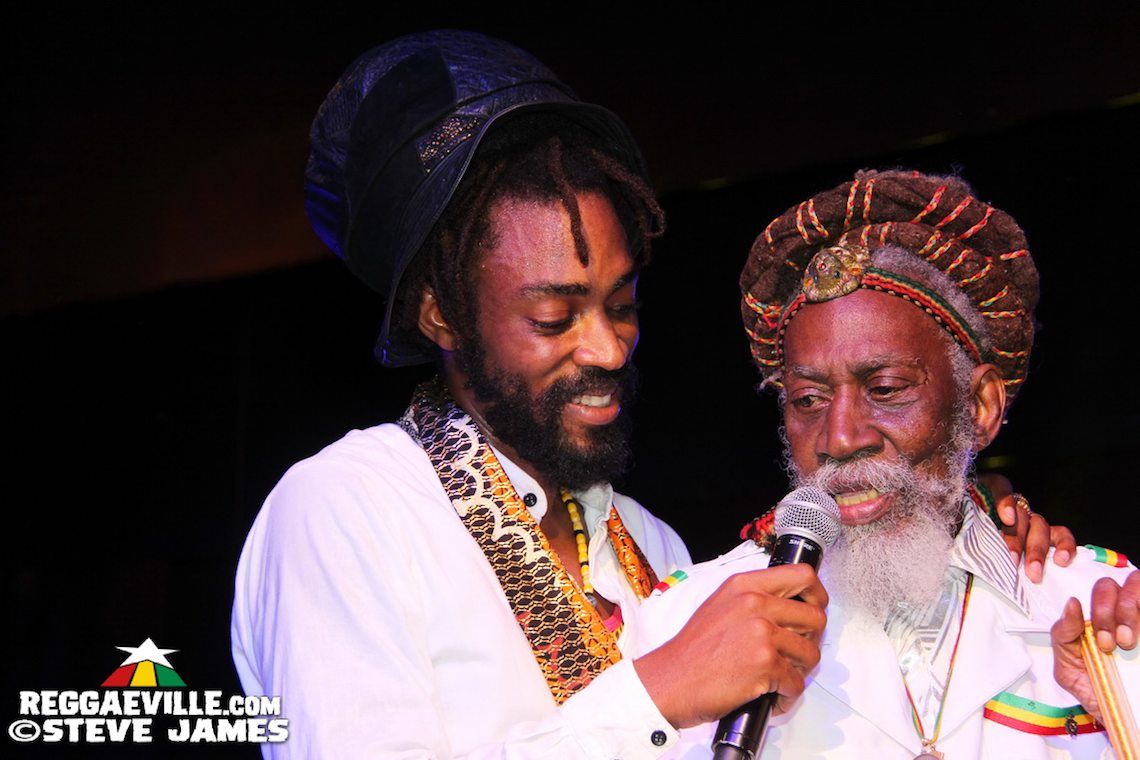 It has been over a month since my father's passing yet my father's former manager is still in control of his accounts. Why have these accounts not been turned over to his lawyers? The lawyers would be able to pay the hospital bills directly, the funeral home directly and any other costs associated with his funeral can be covered by his children. We would love to be able to cover all expenses ourselves, but the reality is we are unable to, but shouldn't have to, since our father's hard work has provided the funds to pay his expenses. We are calling on the Jamaican authorities to assist us in resolving this issue.

My father, a loving yet stern, spiritual individual was grounded by his Rastafari faith. He never placed emphasis on money or material things. Instead he valued people. Bunny Wailer lived a philanthropic life and has given more to the people than he kept for himself thus receiving a label he truly embraced; Don Dada.
The local and international impact of his music that was centered on Truth, Human Rights and Justice, was coupled with the Love and joys of Dancing and Rub a Dub, to get a release from the systematic pressures and stresses of "Babylon".

Therefore, to honor and represent the LOVE shared between our father and the massive Reggae family, we are now focusing on I'lebrating his 74th Earthday on April 10th with a ROYAL virtual tribute.

Rastafari - Abijah Asadenaki Livingston"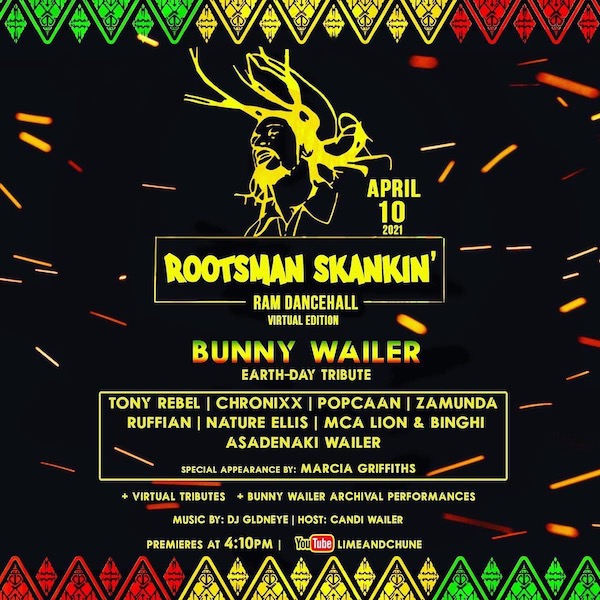 IN THE PRESS
April 7, 2021 by Unknown Author - LOOPJAMAICA.com
BUNNY WAILER'S ELDER BROTHER CARL URGES LEGEND'S KIDS TO 'WAKE UP...'

April 6, 2021 by Claude Mills - DANCEHALLMAG.com
BUNNY WAILER SPENT US$615,000 IN MEDICAL EXPENSES 'TO EXTEND HIS LIFE'
April 6, 2021 by Claude Mills - DANCEHALLMAG.com
BUNNY WAILER'S SON, ASADENAKI, SAYS FAMILY "PRESSURED" TO SIGN VP LICENSING DEAL
April 6, 2021 by Unknown Author - JAMAICA OBSERVER
BUNNY WAILER'S LAWYER CLEARS THE AIR
April 6, 2021 by Yasmine Peru - JAMAICA GLEANER
ENOUGH IS ENOUGH' BUNNY'S SON WAILS, REVEALS JAH B'S 2020 EARNINGS
April 5, 2021 by Claude Mills - LOOPJAMAICA.com
NO ISSUE WITH BUNNY WAILER'S HUGE HOSPITAL BILL, SAYS LAWYER
April 4, 2021 by Yasmine Peru - JAMAICA GLEANER
BUNNY WAILER 'HELD HOSTAGE', FAMILY NOT EAGER TO SIGN RECORD DEAL TO PAY HOSPITAL BILLS
April 4, 2021 by Claude Mills - DANCEHALLMAG.com
BUNNY WAILER FAMILY HIT WITH $5 MILLION HOSPITAL BILL, STOWE'S LAWYER SAYS "THERE IS NO ISSUE, BILL WILL BE PAID"
April 4, 2021 by Howard Campbell - SOUTH FLORIDA CARIBBEAN NEWS
NO FIRM DATE YET FOR BUNNY WAILER'S THANKSGIVING SERVICE
April 1, 2021 by Unknown Author - JAMAICA OBSERVER
WAIT-AND-SEE FOR BUNNY'S SEND-OFF

April 1, 2021 by Claude Mills - DANCEHALLMAG.com
REGGAE LEGEND BUNNY WAILER LEFT SIGNIFICANT PORTION OF ESTATE TO RASTAFARI COMMUNITY
April 1, 2021 by Claude Mills - DANCEHALLMAG.com
DELAYED BURIAL OF REGGAE LEGEND BUNNY WAILER PUTS STRAIN ON FAMILY

WATCH BELOW REGGAEVILLE VIDEO NEWS "RIP BUNNY WAILER - RASTAMAN FLY AWAY HOME"