Bunny Wailer Plans To Sue Adidas for $100 Million
03/11/2013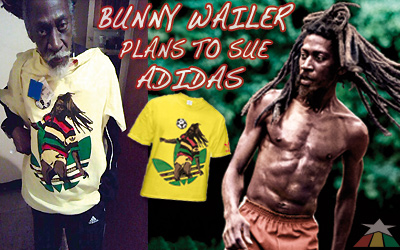 Back in january the big headline was Bunny Wailer sues Snoop Lion!

Most recently there was no update about that controversy, but today we received an email from Bunny Wailer providing the following statement:
BUNNY WAILER/RASTAFARI COMMUNITY MAKE DEMANDS ON ADIDAS FOR U.S. $100,000,000 FOR ILLEGAL EXPLOITATION OF HIS IMAGE AND LIKENESS ON T-­SHIRT 1995–2013 AND ADIDAS RASTA AND REGGAE LINES.





Reggae's Living Legend Neville O'Riley Livingston O.J., C.D. aka Bunny Wailer intends to sue Adidas for U.S. ($100,000,000) one hundred million dollars. In 1995 Carlton Thompson, a retail distributor of Reggae music in the U.S.A. pointed out to Bunny Wailer while he was on tour in 1995 and again in 2001, that Adidas had put up his appearance playing soccer in T-­Shirts and was selling as it would seem globally based on the distribution that he Carlton Thompson had access to there in his town of California. This timeline is identified with the various World Cup Events since 1994 now presenting itself for 2014 where Adidas has been in the business of co-branding the World Cup Soccer with Reggae and Rastafari Culture reaching a height in 1998 with the Reggae Boyz in France. Being on tour Bunny Wailer was unable to address the matter there and then but later in 2007 wrote to Adidas, after years of relating to the said illegal distribution of the Bunny Wailer image on Adidas T­-Shirt.


The communication between Bunny Wailer and Adidas began and ended in a disrespectful manner of Adidas acknowledging the existence and use of the illegal image on the shirt, but only offering Bunny Wailer U.S. ($3,000) three thousand dollars for compensation claiming Adidas illegal distribution of the Bunny Wailer image on T-­Shirts globally only occurred in the summer of 2007 and that they mistakenly used his image as a non-­descript and unrecognizable Rastafarian playing football. Since 2007 BunnyWailer being insulted by Adidas disassociated himself from being treated less than the recognizable global figure as a three time Grammy awardee, recipient of keys to the cities of the U.S.A. and Honourable Minister of the Order of Jamaica and Distinction Commander Class respectively,is presently motivated to defend and protect the integrity and dignity of Reggae's living Legend Bunny Wailer even in the form of playing soccer.

Adidas disrespect to Reggae's living Legend Bunny Wailer will therefore be addressed accordingly. Bunny Wailer and Solomonic Productions Ltd. will therefore be looking to suing Adidas for U.S.($100,000,000) one hundred million dollars for this illegal violation of Bunny Wailers image and likeness being sold by Adidas on T-­Shirts globally that will surround related punitive damages.

The Rastafarian colours of the rainbow are expressed as the red, gold and green incorporating the IP of the culture and colours of the Ethiopian flag of all Rastafarians globally, including Bunny Wailer, who is a living Elder of the Rastafarian faith. The Rastafarians colours marketed as 'Adidas Rasta' and 'Adidas Reggae' are used in a whole range of products without any approval or benefit to the Rastafari Community. The customs and practice of all Rastafarians globally will be defended through the IPR's of the Traditional Knowledge and Expressions, through the Rastafari Millennium Council, Divine Order of the Nyahbinghi, who protect the name, colours, images, likeness and looks of all Rastafarians governed and ruled by H.I.M. Haile Selassie 1st Jah Rastafari Selah. Snoop Lion, himself under fire for similar illegal use and appropriation of Rastafari Symbols and Merchandising, is also currently working with Adidas on his 'Reincarnated Project' and coming out with his own Rastafari infused line under Adidas, and commercials, making this company one stop central of Rastafari Cultural Abuse! It is the heights of Corporate Social Irresponsibility that these Corporate and Media Giants are abusing the Rastafari Jamaica based culture and Community and bring into view the recent Saturn Coffee Commercial where Rastafarians Globally in all the major urban centers, of the World, especially Brazil, rise up to demonstrate against this arrogance and lack of benefit sharing.

See Adidas In The Public Court!