Bunny Wailer vs. Snoop Lion
01/25/2013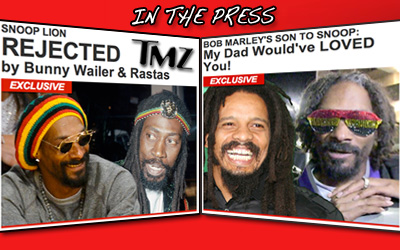 Surely not a special thing for Snoop Lion aka Snoop Dogg, but this is the first time Bunny Wailer is featured in the celebrity gossip/news website TMZ.com.
---

UPDATE January 29th
EXAMINER.com reports:
SNOOP LION TO MEET WITH RASTAS TO SETTLE DIFFERENCES
Snoop Lion will reportedly fly down to Jamaica in February to meet with Wailer and the Rasta Council in an attempt to hash out a truce Last week, Wailer blasted Snoop in an interview with TMZ for using the Rastafarian culture to help him sell records, accusing the artiste formerly known as Snoop Dogg of failing to meet the 'contractual, moral and verbal commitments' of being a Rasta.[…]
read the complete article @ EXAMINER.com


---

On Wednesday, January 23rd, TMZ headlined
SNOOP LION REJECTED BY BUNNY WAILER & RASTAS

[TMZ.com] Snoop Lion, nee Snoop Dogg, has done the seemingly impossible -- pissed off a bunch of ganja smoking Rastafarians -- who claim he lied about becoming a Rasta just to make a movie and sell records ... and now they're threatening to sue.


Bunny Wailer -- an original member of Bob Marley and the Wailers -- tells TMZ he's heated about the docu-film "Reincarnated" ... which documented Snoop's immersion in the Rasta culture as he recorded his first reggae album in Jamaica last year.

Wailer claims Snoop has engaged in "outright fraudulent use of Rastafari Community's personalities and symbolism" -- and has failed to meet "contractual, moral and verbal commitments."

And it's not just Bunny who feels burned -- leaders of something called the Ethio-Africa Diaspora Union Millennium Council (aka Rastafari Millennium Council) -- fired off a 7-page demand letter to Snoop.

In the docs they claim to have made it clear to Snoop that "smoking weed and loving Bob Marley and reggae music is not what defines the Rastafari Indigenous Culture!"

Bottom line ... they want Snoop to stop using the name "Lion" ... pay up the "financial and moral support" they claim he committed, and issue a public apology.

If Snoop refuses -- FIRE WILL BUN FI HIM!! Or in layman's terms ... they're gonna sue his ass. We called Snoop for comment, and so far no word back.[…]
---
That story spreaded like wild fire all over the internet.. most recently TMZ [1/25/2013] run another news:
BOB MARLEY'S SON TO SNOOP:
MY DAD WOULD'VE LOVED YOU!
[…]But Rohan says those guys have it all wrong -- telling us, "Our father's name should not even be mentioned in this issue because like a true Rasta, he would have embraced Snoop's reincarnation and welcomed the positivity."[…]
full news @ TMZ.com
---
Also in reply to the TMZ news about Snoop vs. Rastas, Rita Marley posted a photo with Snoop Lion saying:
KEEP UP THE GOOD WORK SNOOP LION. ONE LOVE.
---
BUNNY WAILER: "I Can See Snoop Dogg trying to change his name to lion, because Bunny Wailer called him a lion! And he has not responded in the manner that a lion should have responded being given the title.. transformed from a dog." [quote from Linkage Radio interview January 2013]
Below we have compiled some video clips related to this issue with statements by Snoop Lion and Bunny Wailer [all recorded before this recent news]. It even features a short clip of Snoop meeting Bunny Wailer in Jamaica: