Buju Banton Unchained From Prison On December 8th 2018
12/06/2018 by Gardy Stein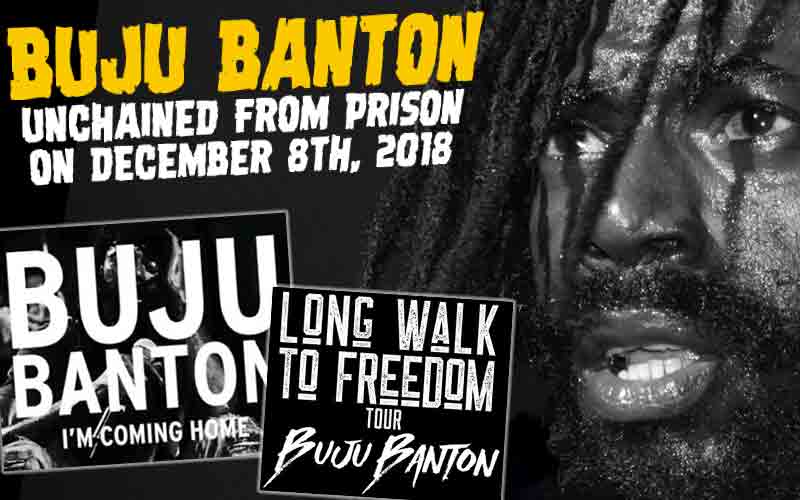 "I WANNA RULE MY DESTINY!"
One of the most evocative tracks Buju Banton ever recorded, Destiny sums up the basic desire of every human being for freedom and autonomy. And, in just two days, Mark Anthony Myrie will be a free man again, free to rule his destiny!

Upon his release, he' ll first have to pass the Immigration and Customs Enforcement (ICE), as the drug-related charges that brought him behind bars also made him lose his legal status to travel and work in the United States. According to his publicist Ronnie Tomlinson, "Buju has made sure that his stay with ICE will be as short as possible. He has opted for voluntary deportation. He should be home in very short order after his sentence ends." [source: Loop Jamaica , October 25, 2018]

Banton is thus returning as soon as possible to Jamaica to join friends and family; his fans, however, will have to wait a little longer before they hear new music from one of the most celebrated Reggae and Dancehall artists of our times. That something big will be on its way is clear - but what and when? Rumours about an album have been cooking for a while now and were heated up by Urban Islandz, who cite an unreveiled source "inside the singer's camp" saying that "an album could arrive early next year or later in the year," [source: Urbanislandz, November 28, 2018]. More concrete seems to be a statement made by Blacker Dread, the legendary UK reggae producer who has worked with Banton before and contributed the track Innocent on Buju's Grammy-winning album Before The Dawn, for instance. "I have a 13-track album with Buju Banton that we recorded just before he was incarcerated," he announced in March 2018, adding that "I didn't think it would be right putting it out without Buju being around." [source: Billboard Magazine, March 30, 2018]

Speculations about an upcoming Long Walk To Freedom tour, a name inspired by the book written by Nelson Mandela after his release from 27 years in prison, have been equally persistent. While, earlier this year, his first show was announced for Trinidad & Tobago on April 22nd 2019, Donovan Germain has stated that Buju's first performance will be in his home country: "I cannot give any details at this time, but I can confirm that his first show will be in Jamaica." the well-known producer and former manager said [source: Loop Jamaica, September 21, 2018].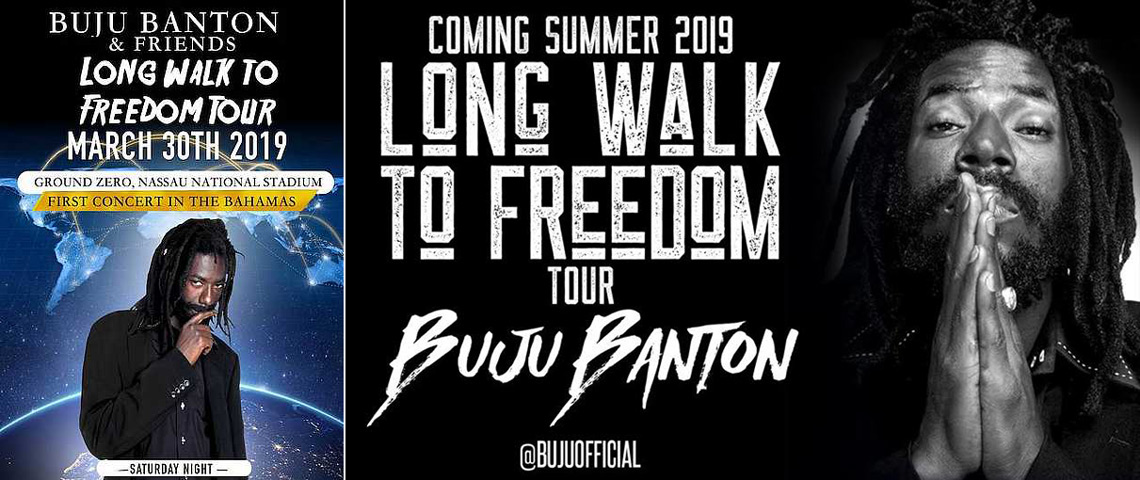 Other confirmed shows seem to take place at the Nassau National Stadium, Bahamas, on March 30th (source: Loop News Barbados, September 21, 2018) as well as in Barbados on April 6th (source: Barbados Advocate, December 3, 2018), and even Europe might be on the list in summer, as a post of the SummerJam Festival Facebook Page excites fans.

No matter where the artist will appear on stage first - it is certain that it will be one huge party! While we are waiting for updates on this, let's turn to the parties expected in the closer future - on the weekend ahead! Asked for any official preparations to welcome the artist back to the island, the Minister of Entertainment and Culture, Olivia Grange, has stated: "The government will not be organizing an event to mark the return of Buju Banton to Jamaica." [source: Loop TT, November 29, 2018]



Ok, so the government might not celebrate - but his fans all over the world sure will! Trinidad & Tobago announces a Reunification Roadshow with local and foreign Reggae acts [source: Loop TT, November 29, 2018], other parties are taking place in Haiti, Canada, Italy, Germany and Netherlands. There is also an event called The Release Watch Vigil that announces a Nyabinghi circle and other events in the Caribbean.

Yes, we are all excited. And yes, we will keep you updated on any news!

PAST REGGAEVILLE.com NEWS:
BUJU BANTON SENDS MESSAGE TO FANS DAYS BEFORE HIS RELEASE [Nov 15, 2018]
BUJU BANTON RETURNS - THE COUNTDOWN BEGINS... DECEMBER 8, 2018 [June 8, 2018]
BUJU BANTON'S RETURN - LONG WALK TO FREEDOM TOUR 2019 [April 23, 2018]
SEAN PAUL VISITS BUJU BANTON IN PRISON - BUJU IS IN GREAT SPIRITS [OCT 3, 2017]