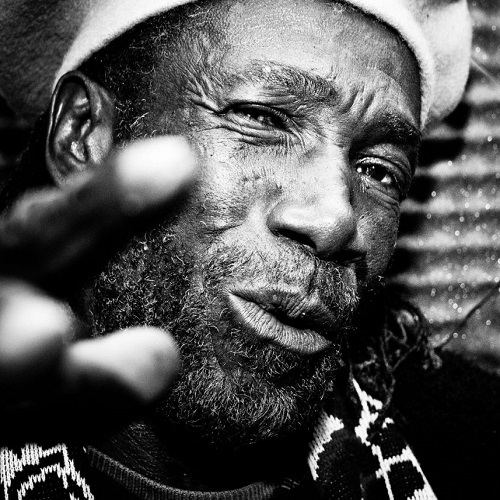 Born in Trenchtown Kingston Jamaica, Delroy Michael Fowlin AkA Bronco Knowledge grew up around the greats Bob Marley, Peter Tosh,Bunny Wailer,Joe Higgs,Alton Ellis,Wailing Soul,Black Uhuru,Jonny Clark, Leroy Smart,Dennis Brown,Gregory Isaacs and many more.
It is by growing up in that rich cultural environment that he created his artistic identity.

By the age of 13, he was dancing in groups like Firing Squad and Scorpion Crew on S90 Skanks alongside Big Youth and on Skylarking alongside Horace Andy.

By the age of 17, Delroy Bought his first guitar and learned to play his first cords with Tata Keith more known as Vincent Ford who wrote" No woman no cry" for Bob Marley.He learned percution with his oncle Scully another reggae legend.

With his cousin Anthoney Doyley and friends Michael Smith,Michael Samuels, Earl McFarlane, Bronco formed a group called "Knowledge".Together they recorded for Tappa Zukie their first album "hail Dread" in 1977 with Musicians like Aston Family Man, Robby Shakespeare,Sly Dunbar, Earl Chinna Smith and Dean Fraser.

In 1979, Tappa Zukie then in England signe a contract with A&M Music Label for the Distribution of "Haile Dread" that will be redistributed by the french Label Makasound in 2001.
`
Knowledge produce the albums "judgment" and "Strive for the highest".In 1981,the group travel to Trinidad and Tobago with Earl Chinna Smith and the high Times crew and artists like Mutabaruka, Prince Lincoln and the Royal Rasses, Pablo Moses, Pablo Black, Freddy McGreggor,Augustus Pablo, Judy Mowatt and many more.

During the 80s two of the original members passed away Earl Mc Farlane AKA Rockman and Michael Samuels AKA Locks.

In 1988, Anthoney Doyley left Jamaica for England and didn't communicate with the other members of the group.
It is in those times that Delroy started produce himself as "Bronco Knowledge" and performs at the Ocho Rios Reggae Bash alongside Tony Rebel, Garnet Silk, the Melody Makers and many more.

In 1993, Bronco Knowledge performs in the Ghetto Bash organized by Bunny Wailers with some of the best musicians in Jamaica.

Between 1993 and 2000 Bronco produce an album called "tell me something" In studio like Lago Studio, Tuff gong, Dynamic Studio, I and I Studio and Music Works.
This album will be distributed by jet Star.