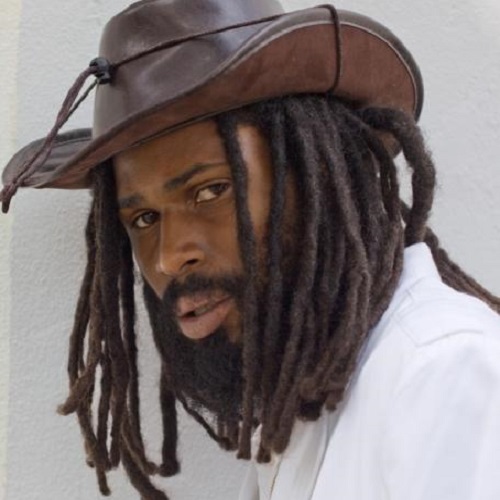 Astute Aaron Kedar knows a thing or two about singing reggae, training, exploring and recording his voice – testing his limits, finding his style - since he was a young boy growing up in a house filled with music of all genres.
As Bongo Kanny – releasing his single "Alien Invader" for Map Music in the summer – Kedar shows off a skilled combination of observations, influences and unique delivery culled from everything he has ever done before.
Highly rated on the worldwide Roots Reggae scene, Aaron Kedar's previous credits include working with Ruff Cutt, the Sun cycle crew and even the Royal Philharmonic Orchestra. Now breaking out as a solo artist in his own right, the North London-based Rastafarian singer is now ready to bring his shrewd social commentary and huge vocal melodies to a bigger audience.
The name Bongo Kanny started taking shape in his teens, Kedar, aged 14, searching the dictionary and being captivated by the definition of 'Canny' – knowing, prudent, careful and wise… Bongo was a new addition Aaron landed later from other artists and DJs on a visit to Jamaica. He explains: "It's a term they give to elders, they said it suited me because of the way I conducted myself, I think I was seen as grown up."
Softly-spoken and comfortable in his own skin, Kedar gently pushes home the point that creating this music is the culmination of his life so far; experiences that go way back to the beginning of his own personal life development. Instead of writing a teen angst-ridden diary, he voiced his growing pains and frustrations through speakers. "I've always taken myself seriously as a vocalist, since a young age. It helped that I was always surrounded by music – my dad plays the bass – and I was always taken to band rehearsals. I don't know what happened to me, but I've always felt this deep deep love for music, this passion inside of me," he says.
Describing his music as pure roots reggae, Kedar says it was all a painstaking process of elimination when he was first starting out, testing his vocals, listening back, testing again, toying with microphones and turntables in the house. He says: "I chose roots reggae because it's where I'm allowed to be honest the most, that's my nature. That's why I don't make R&B, I don't make rock music. I could easily do those things, all types of music inspire me, but I found that it doesn't fit or suit who I am, my voice."
A wise nature is certainly a bonus for a lyricist who keenly observes the world around him and yet never writes down or records any notes before recording songs. Consistently stretching his curious mind and analyzing his viewpoints, Kedar hopes hard-line topics like the fate of Africa as a nation or outsider politics in the UK can sit side-by-side with party vibe songs. "The music should always help people should feel good, even if they have something to think about when they get home," Kedar says.
"'Hard Road' is about me expressing to the people who have suffered in the world. Africa for example is still fruitful – there are possibilities there and people must not be afraid of Africa" Kedar enthuses about his new title track.
"People have this vision that it is just a dark and corrupt place, but I've been there, I've seen ordinary people just living, under stress and strain, surviving normal life. I want to remind people not to be swayed by the mass media. I want to be a form of media too. Music is a huge influence on behaviour in people's actions and reactions. I want to create positive reactions too."
Debating whether it was a conscious or sub-conscious decision to finally sign to the Map Music record label, allowing himself to be marketed for the first time, Aaron Kedar hits the crux of it when he says: "Music always has been a powerful means of communication – I want to communicate with everyone."
Stepping up to the mantle as a prominent artist in his own right, Kedar says it's still thrilling when he plays live shows with his band. "I've played a lot of gigs over the last 10 years, all over, in Germany, France, Switzerland, EXIT festival in Serbia, Spain… I love performing live, it's one of the highlights. I can just put 'me' out there and with the band behind me we can really show off the energy, sharing the musicianship, changing up the musical flow to fit the mood," he says with real passion. With the new EP in the bag and a debut album in the works, it surely can't be long before BoNgo KaNny gets to spread his words of wisdom and of course his unique 'riddims' to the masses in the UK, Europe, Jamaica and beyond.
Recently signed to Born Free Records May 2014