Interview with Bonafide
12/22/2013 by Justine Amadori Ketola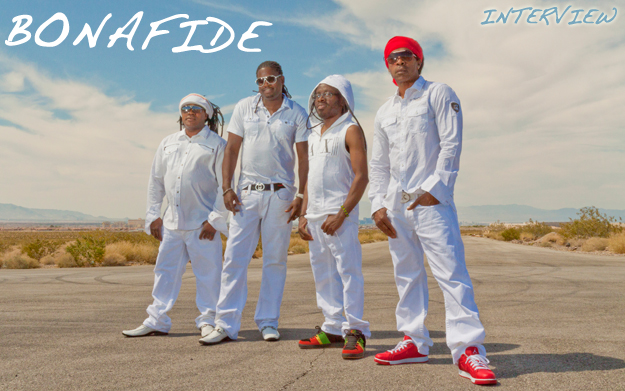 Bonafide is a Las Vegas, Nevada based reggae band whose origins are in Jamaica. Founded by three brothers, Junior Roots on lead vocals, Ricky Dread on keyboards and Wayne on bass, and rounded out by Dwayne on drums and Kerry Ranks on Deejay style vocals, their vibe is decidedly congenial and positive.

Reggaeville linked with the band by Skype when they were in Saint George, Utah for a performance. The conversation, although peppered with side jokes and great laughs, was centered in the band's genuine interest in making the world a better place, their work in Las Vegas and beyond, and what they see is the urgent necessity to preserve live reggae music as an art form.

The band's recent release, ONE WISH is out on their own B-RAZ Records imprint.

When did you get your start? Was that in MoBay?
Junior Roots: We have been playing all we life, cause Ricky, Wayne and me we're brothers and Kerry Ranks is our adopted brother from Clarendon. It's a family thing, basically, I think we were meant to play music together, so we say we play music all a we life.

So you have all been up in the United States for a while, when did this migration happen and when did you end up in Las Vegas?
Junior Roots: Its music, that's why we are in Vegas, that is what leads us. We were meant to come to Vegas, because if we didn't come we wouldn't meet Kerry Ranks and Rudie (Dwayne) Drums, so that's the whole connection. It means that you have a lost brother, and God just put these pieces together. Through music, why we get the opportunity, if we didn't love the music, we wouldn't get the opportunity to be in America and doing what we're doing.

So last night you performed in Utah with Fiji for a release party event, what was that like? Do you perform often in the Polynesian community, which is so strong and vital and who have so much love for the music?
Kerry Ranks: Yes we do, we do a lot of stuff with Fiji too, 'cause that is one of our other brothers that kind of took us and we work together very well. So we have been in the Polynesian community for a while, but now we are releasing the album, we have to give back to them, 'cause they have been showing us so much love over the years, so we came to St. George (Utah) and man, I was blown away by St. George. It was good, good vibes.
Junior Roots: As far as the Polynesian community, we started the album when we worked with J-Boog on his first album, 'cause we have done a lot of production on J-Boog's album and we played a lot of stuff on it. Rick produced for J-Boog and for Fiji. The album before this one that Fiji put out, Rick probably produced about 8 tracks on it. So those guys are like family to us. The Polynesian market, the Polynesian community thought of us like family, they treat Bonafide like we are one of them.

You have that R&B sound that big sound that they gravitate towards, the intricate, strong vocal sound, very tight production.
What is the scene like now, where do you have the most success and what times of year do you perform consistently, what type of venues? We know Las Vegas as a world class destination for entertainment.
Junior Roots: Vegas is one of the places that embraced us and showed so much love to Bonafide, I am not just talking the people that come to see us, but I am talking about all the radio stations, TV stations, they gave us so much love. I want to tell all the musicians dem, you have to believe in what you are doing, not just be looking for the quick money. We believe in the music, as long as you stay focused on the music, everything good, so that is what we do. Keep the focus on the music, and that is how we built this huge fan base in Vegas, that we can share with other people.
In Vegas, we run things, any show Bonafide is on, you talk about from 2000 straight, thousands of people come to see us. We were doing that on a consistent basis at the Fiesta Casino where we were playing and it was packed. We used to play there on Fridays and so people used to see hard work pay off. That's why we always tell anybody 'cause a lot of people see us and we say 'It's a lot of hard work, you have to love the music, and love the people who come to see us.'
You know why I love the Polynesian community, the musician dem in the Polynesian community? Their humbleness towards their fans teach us so much, cause a lot of our brothers and sisters from Jamaica don't have that humbleness to show to the people who support dem. So in Vegas, we show that love, we talk to anybody, in Vegas, they know us as family. That community in Vegas is like a family community.

When did you start recording your album One Wish?
The recording process was a long one, we started this album with Fiji, the first track, me and Rick and Kirk who plays drums for Beres Hammond, we all started that process together. It's been a long journey, Bonafide band, we are humanitarian, so the album itself, we are going give proceeds from the album to the Las Vegas community, to people who lost their houses. (In the U.S. mortgage crisis). It's a serious situation, so why not name it "One Wish". What would be anybody in America's one wish? To get back their houses that they lost, to recover from this situation that is going on right now.
We want to be a lead in Las Vegas and so to Jamaica. If we can help people in Las Vegas, how much people we can help where we come from. So Bonafide band, we want this group to be humanitarian, not just about music, 'cause we have to leave a footprint on this earth.

How did the collaborations come about, did you record the tracks and then propose them management/artists, how were they formed?
Kerry: Sometimes we get the track and we listen to it and doing music, and realize, 'man that track would be perfect…' I remember when Junior came to me and he was like, 'We got this track, Vybz Kartel would sound really good on this track and then we sent him the track and he loved it right away. You know it's hard to get him, he doesn't really do a lot of stuff for other people. But he said, once he heard that track (Leaving Come the Morning), he fell in love with it and he wanted to work on it. That's how it goes, then the other track with Etana, (I Wanna Be The One) it was the same, she could feel it. It just comes together, once you give a track to the artist and they are feeling it, you know they are feeling it, it just works out.
Junior: The only track we did that we did start from scratch, was the one with Damian Marley. I had the track that was Start N Stop, which we took to Lion's Den, that is Stephen Marley's studio in Miami. When I go there again, Damian says, 'I love this track, but me and you can come up with a track right on the spot.' So that track came up right on the spot. I was supposed to leave Miami Sunday and he called me Sunday night and said, 'Bwoy you have to stay in Miami a couple more days.' So me and him had to sit around a table and write a song together.
Start N Stop was written by us and Damian Marley right on the spot. That was the only collaboration where someone had a big contribution to the music part. Damian Marley is the best person to work with, he loves music so much, that guy love music, so, so much. I learned so much from him, how he come up with that track, Stephen too, 'cause all of us were there.

Who creates the rhythms, how is the recording process evolving over time?
Ricky: Some days, we can just wake up in the morning, in a hotel room, things are so easy nowadays. I just love technology, where it is taking it. Real easy, so Roots might have a vibe, so just say 'let's get together and do this', or I might have something to start with and we just go from there you know.
Junior Roots: Most of the tracks we come up with together, it's a group effort, everything that Bonafide does.

It's clear that you have been in Jamaica for promotional exposure, giving interviews on Irie FM and the like, what other performances or exposure have you had there or other places that was a highlight in your career in the last several years.
Junior Roots: The Jamaica thing was like the biggest thing for us, because the love we get there was unbelievable. You have been in the reggae scene and you know how the Jamaican audience stays, it's a really tough audience. We played on Sumfest about five times, this year we are doing the biggest one day festival in the world, in Jamaica: Sting. This year they are doing a live stream of Sting and they want some good reggae music to show to the world, so they contacted us and told us that they wanted us to be a part of it. I think we are going on about 11:45pm.

Why do you suppose they are doing that? Perhaps they are taking the Reggae Revival seriously, and they are ready to bring back these brilliant musicians, and clean up their act a little bit, and not have a bunch of hype going on?
Junior Roots: I just had that conversation with them, because they said, 'You guys have to be part of the revolution, you've got to teach people that dancehall, or that crazy, crazy stuff is not all of it, you have to love the whole ting.' Because I love dancehall, Bonafide is a dancehall, roots, lover's rock reggae band. So if you listen to this album, it has everything, that's what we want the Jamaican audience to know, especially Sting audience.
Kerry Ranks: I don't think the younger audience, know that music, they are not getting it, we've got to get it out more to them, so they can understand and know their roots.

You can show that there is something for everybody.
Junior Roots: For Sting to contact a group like us, to bring that to their audience, is a big thing for us.

You have a commitment to charitable work for the less fortunate, what does that involve at present and what can you say to your musician fraternity about this work and what you see as what we need to be doing going forward?
Kerry Ranks: We like to lead by example, 'cause you can't really talk adults into doing anything that their mind is not given, so you want to lead by example, hopefully some jump on board the train.
Junior Roots: We live in this world where we, if all of us don't start helping each other, this world is going to be wrecked. All of the musicians dem, everybody who is seeing this, just think about this. If all of us started to look out for the person beside us, how better this world would be. If I am thinking about bass man, and bass man thinking about Rick and Rick thinking about Omar thinking about Drum and this goes on and and on, how much better this world will be. That's why I say, we don't want Bonafide to be a band that people just love us for our music, we want them to love us for what we do, in the community. That's what we want, if anybody can follow that, let's go.

What do you see as your role as the next generation of musicians, how do you make it work on the road?
Junior Roots: Because we are brothers, we could even bunk in one room, that really helps.
Kerry Ranks: We know touring sometimes its rough, and promoters are hard up sometimes, you can't bring your whole band. So it is kind of taking away from the live music, and people are bringing their tracks. It's easier for people to bring tracks. So what we want to do is bring back the live music, the real live music, through reggae music. Because that is what made me fall in love with reggae music, it's the drum and the beat. If I go to a show now and the artist is using tracks, I am going to walk out to be honest.
Junior: We have got to save this music, or we will lose it. We are losing it to this computer generation that be like, 'OK, we don't need anybody because we can just press play.' Audience, when you go to the audience and see that, turn your back. We've got to save the music, we've got to stand up for this. Not just musicians, but the whole world have to stand up for this.
Ricky: My concept of it is: promoters rate good music, that's how I look at it. It's all about just bleeding the music out and taking all the money for himself.
Junior: When I was coming up, Steel Pulse, I looked up to those guys, I wanted to be like them, I wanted to play like them, because they wanted to play. Now, who do the kids want to be like, who do they look up to? That's why I have to say, these artists that are around, they still have a lot of work to do. We try to do it, but it takes more than us to do it.
Drummie Dwayne : We appreciate what the founders have established for us. What we ourselves try to establish is the new generation, it is more the appreciation generation, this is the concept that Bonafide is. When we approach the stage and we approach a show, we approach the people with the understanding that there were founders.
Junior Roots: So we want to be like them. When you go to a concert, it's to see a live presentation. Bring back the live music, all the people that made music so we can do this, big up, respect to the fullest to them.

This seems to be a result of a shift towards, DJ and soundsystem culture in the music for reggae in particular.
Junior Roots: Not to dis the DJ's because there is a piece of hype for everybody, but you can have the DJ's you can have the live band and still make money. When you try to make so much, then you are killing the music. You are killing the music, because people are getting used to people performing to tracks or not performing live. The promoters are seeing people come and perform to tracks with themselves and fifteen people behind them. Why don't you just come with yourself and a track? We want to just tell people, live music is just live music, you want to see people, what the job we are doing in the studio, we are bringing out to the stage. That's what live music is. That's how music should be in our world.

What type of message do you have for the Reggaeville massive? What is your wish for this album and what do you want to see for the next few years?
Junior Roots: We want that revolution, and we start it right here. We want to start the "One Wish" revolution. We are not only talking about the music, we want to make everybody's one wish come true. We want everybody to go to our Facebook: Bonafidereggae we want everyone to follow us on Twitter so we can build this revolution. Don't be afraid, we can do this, we don't need government to make changes, we can make changes. So that's what we want, we want as I said earlier, 'Music is fine, we are musicians, we can do that.' But the hardest thing in life is to make changes, we want to make changes, we want to make a difference. So how are we going to make a difference? It's all of us coming together, we want to make a difference.

When will you go down to Jamaica for Sting?
We will go down to Jamaica, to Clarendon first, because he (Kerry Ranks) is going to pay us big money (laughs) to come to his community, to perform for them in James Pen on December 20th, we are going to make their wish come true.
Our next shows are at Pure Aloha in Vegas in October, a massive show that is a Polynesian community event. This is our first time in a long time playing this event, there will be about 8,000 people at the show.
The next thing we are doing we are shooting a video for Jah Blessing 'cause that is the type of message we want to spread to the world. Look out for that video, its coming soon. It's going to be shot by Kerry Ranks, who is also a pro video man.

What is the storyline for the video?
It's going to be crazy, we will do some in Vegas, some in Jamaica, and in Hawaii. We will also be in Hawaii in October, so we will shoot some of it in Hawaii.

What will you do in Hawaii?
Junior Roots: Performing with Fiji and promoting ONE WISH. The Hawaiian people 'dem been waiting on this CD for a long time, so they want it and we are going there and introduce it to them. The people are asking us, 'When are you guys gonna put out the CD?'

Ricky Dread: Well it's out now so everyone go out and get One Wish on iTunes, Amazon, all the outlets.

Junior Roots: We want to big up all of you guys for having us on the site, we are humble guys and we appreciate every love we get. That's how we grow up and we need it, we need everybody love. Reggaeville, big up!

World of reggae in one village, we are all like one big family!