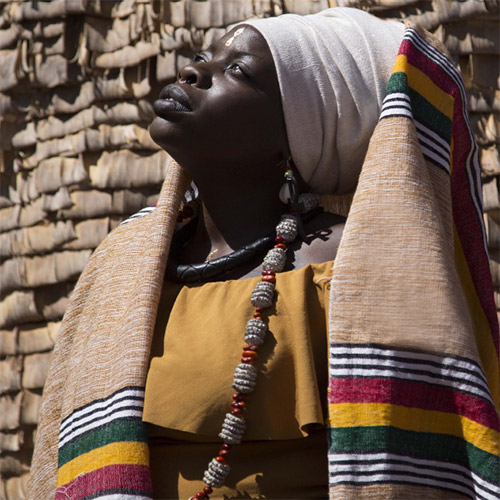 Born 16-11-1989 in Kenya brought up in the Netherlands since 1995. Black Omolo has been making music since she was 5 years old. She came in contact with several different music styles, when she was singing in the church choir and by taking private lessons. Growing up, she listened to music by singers like Lauryn Hill, Tracy Chapman, Erykah Badu and Anouk (Holland). Black Omolo also got inspired by her Mother, life, ancestors and experiences. Omolo was getting more conscious about life. She got a Spiritual connection and started Living, Feeling and Breathing Rastafari Energy. She got a sign and more connected to her ancestors where her spirit drove her straight into Roots Music.

Black Omolo started with singing backing vocals, it didn't take long for her to take her place as a lead Artist. Her Strong Appearance and energy was right there ready to shine!.

While working with her Dutch reggae band 'Gideon Grounds' for 7 years, Black Omolo Released her first Release called "LOVE YOUR LIFE" on November the 16th 2013. In Nov 2013 Black Omolo toured for 3 months in East Africa. In Kenya the Empress is rapidly taking her place in the hearts of her own people with her music hitting the airwaves and her massive live performances.

After touching Europe in February 2014 Black Omolo Has been shining on different festivals and concerts in Europe Reggae Geel, Zwarte Cross, Amsterdam HMH Reggae Festival, Mek It Burn, Rototom Sunsplash, Hootananny London and More....

Black Omolo has been working with different Sound Systems like King Shiloh, Black Board Jungle, Black Rose, King Alpha, Pacha Mama and Many More. Recently Black Omolo did a collaboration with Warrior king to be released later this year.

2015 Black Omolo did her European Summer Tour Called Love Your Life trough Denmark, Austria, Slovenia, Czech Republic, Belgium, and Spain promoting Her EP (Love Your Life).

October 2015 Black Omolo made her first trip to Jamaica, Where she got the opportunity to introduce her music on the Island true Performances , Interviews and connecting with different artist, producers and studio s. Black omolo Recorded her latest Video More Positivity and did a collaboration with Exile D Brave & Kazam Davis, soon to be released. Her 2 week visit was good spend with hard work.

March 2016 Black Omolo traveled to Brazil with King Shiloh system where they had a 2 weeks tour in Sao Paulo & Rio de Jeneiro. In this tour Omolo left a good and positive stamp in Brazil.

April 2016 Black Omolo kicked of her 2 months Healing of the Nation Europe tour featuring Kazam Davis and Infinite two Artistes from Jamaica. The tour was a success in Acoustic and Sound systemwize.

July 2016 Black Omolo visited the motherland (Kenia) where she warmed up the massive for her coming back tour December 2016, here she will introduce her new Ep "Roots N Dub" to be released in November 2016.

August 2016 Black Omolo made a next trip to Mexico with King Shiloh Soundsystem where they had 2 great shows and Recordings for new project.

Black Omolo has been working hard to spread the message and positive vibes all over the globe. For Now we are all waiting on her new releases, EP (Roots N Dub ) november 2016. As well we are looking foward on the new releases from diffrent productions : King Shiloh Music, King Alpha , Higher Region, Nyahbin, Hardlife, Omani padme hum, Lions Den....

Black Omolo is Growing More and More as she is preparing herself for more works around the globe.

Beside the Music, Black Omolo did study art culture and entertainment, social work, pedagogy & psychology. She is a wonderful Mother of a 9 year old boy. She started her own company involved in making natural skin & hair products, which is part of her merchandise. On top of that she also does developments & charity work for OneloveSelfhelpgroup in Kenya & The Netherlands. She is an active and strong rising lioness, ready to conquer the globe and reposition herself musically and culturally.