Sting is Back - Online Edition 2020 with Beenie Man, Bounty Killer, Koffee & Cardi B
11/17/2020 by Reggaeville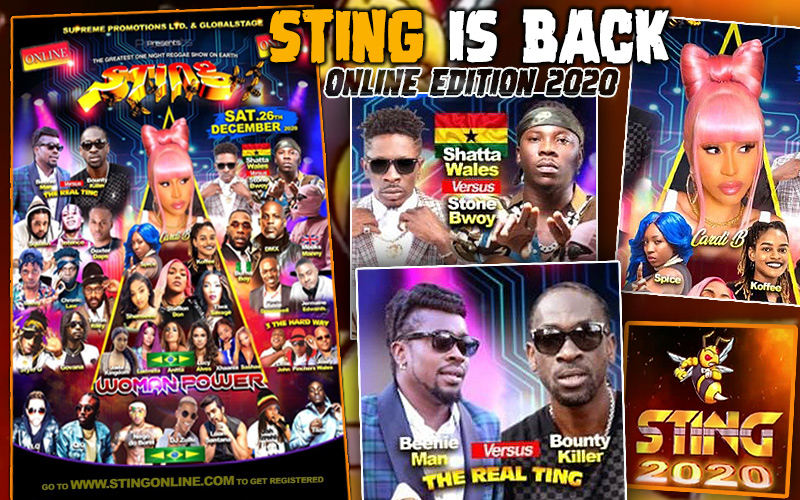 NO STING 2020! CONFIRMATION - 12/18/2020: "Sting promoter Isaiah Laing has announced that he and his team have decided to discontinue plans to host a virtual edition of the event this year." Source: JAMAICA-STAR.com

UPDATE - 12/15/2020: Till today there has been no official confirmation about this event, so it's obvious, that this virtual comeback of STING will not happen!

Sting, the so called Greatest One Night Reggae Show on Earth, is back! After a four year hiatus, Sting will take place on Boxing Day December 26, 2020.

The last staging of Sting was in December 2015 [REPORT HERE]. The 2016 edition was cancelled [IN THE NEWS] and since then there have only been rumors of a new edition of Sting.
The return was in the making since earlier this year. Sting founder Isaiah Lang (head of Supreme Promotions) told the Jamaica Star back in January [WATCH THE INTERVIEW], that it will be back in 2020.

But because of the current pandemic, the return obviously will be different than planned. Sting 2020 will be held as an online pay-pay-view event. Today the poster was posted on social media. It's not clear if that was a leak, but the lineup on the poster looks promising. According to Isaiah Laing he had plans to book Buju Banton, but he is missing on the poster. Laing told the Jamaica Gleaner in August: "I have approached Buju so far and I am confident he will be coming back to us. Things aren't finalised yet but we are in discussions". See the full lineup below:
LINE-UP
Beenie Man versus Bounty Killer
Shatta Wale (Ghana) versus Stonebwoy (Ghana)
Squash, Intence, Dexta Daps, Daddy 1, Chronic Law, Tarrus Riley, Stylo G, Govana, Burna Boy (Nigeria), DMX, Meeks Manny (GB), Kevin Downswell, Jermaine Edwards, I.Q., QQ,Nego Do Borel (Brazil), DJ Zullu (Brazil), Luan Santana (Brazil), Jah Izrehl, Taze

WOMAN POWER
Cardi B, Spice, Koffee, Shenseea, Stefflon Don, Tiwa Savage, Jada Kingdom, Ludmilla (Brazil), Anitta (Brazil), Lucy Alves (Brazil), Xhaania, Shashae
3 THE HARD WAY
Little John, Pinchers & Josey Wales
Details about the price for the Pay-Per-View stream have not been published yet.
FUN FACT: The poster tells the fans to visit STINGONLINE.com to register for the stream, but that website is not online yet. In fact, it's for sale: available for $2,288!
STING 2020 IN THE PRESS:
COVID won't stop Sting - Laing says virtual edition of event set for Boxing Day [Jamaica Gleaner - August 14, 2020]
Sting to make big return in 2020 - But founder Isaiah Laing plans to take back seat [Jamaica Star - January 17, 2020]

Watch below the official Sting 2020 teaser, which was uploaded to YouTube end of October: