Review
Album Review: Bazil - Grow
11/22/2019
by Gardy Stein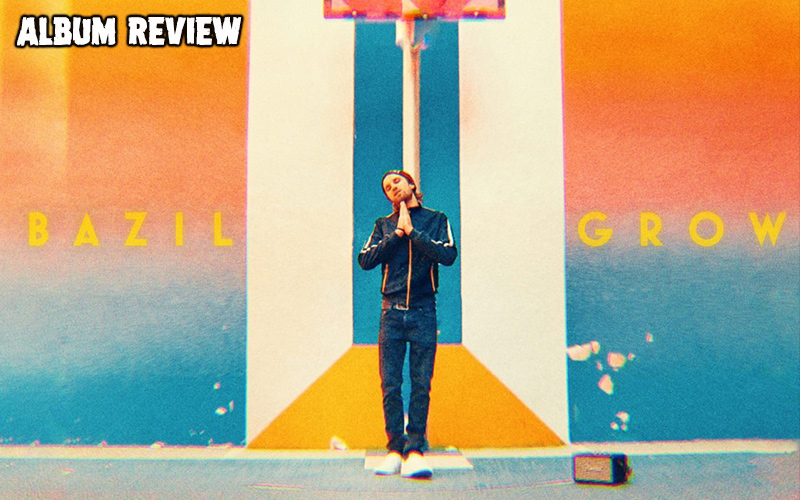 Straight to the heart! New music doesn't often sweep me off my feet on first hearing, but upon pressing play on Bazil's new album Grow, that's exactly what happened. The French singer is not really a newcomer, having picked up the mic in 2003 at age 15 and, travelling the world ever since, expanded his skills in various productions, and the 14 tracks on this release bear proof of the versatility he has acquired over the years.
To find the right sound, Bazil teamed up with drummer and producer Alexis Bruggeman, and what the two of them came up with is nothing short of amazing, a magic most present in the opening piece Again. Imagine your favourite Dancehall-track slowed down sufficiently to allow for a laid-back ride through captivating words and sounds - exhale and enjoy!
I never know se Bazil music Sweet So... the following song introduces us to yet another side of the artist, painting a bright, colourful picture both in riddim, lyrics and video, in which Bazil invites us to join him on a sunny afternoon at the lake. Another girl's tune, The Crown describes the virtues of a beloved being, and while the artist's vocice is as convincing as ever, my musical fascination fades a bit with the omnipresent, high-hat-focused modernity of the beat which is even more pronounced in Worry Bout or No Freddy.
Good thing it comes right back in the off-beatish, relaxed riddim that goes so well with Bazil's vocal style in Safe Travel, a different type of love song. More fascinating details are to be discovered in the remaining songs, such as the sudden change of tempo in Young Star at 1:58 or the Rocksteady-imbued plea for a more colourful and unificated life in Style Up.
Surprising as well is the clear resemblence to Damian Marley's voice and flow at times, especially in the title track Grow and, to a lesser degree, the pacy Downtown which is one of the two combinations of the album, featuring compatriot Nâaman. The second is Paris To Moris, in which Bazil is joining forces with Mauritian singer Natty Gong. With Girl From The Ghetto, the album finds an uptempo close, and we accompany Bazil on a memorable trip to Jamaica. "No matter where you come from, no matter where you go, it's just who you are in this world!"
This release right here might succeed in concluding what Bazil's prior works High On Music (2015) and East To The West (2018) started: finding a style he feels at home with and establishing him as a credible international artist with a bright future (and many enamored fans) ahead of him. Well grown, Bazil!
---
Release details
Bazil - Grow
DIGITAL RELEASE [X-Ray Productions]
Release date: 11/22/2019
Tracks
01. Again
02. Sweet So
03. Downtown feat. Naâman
04. The Crown
05. Style Up
06. Paris to Moris feat. Natty Gong
07. Worry Bout
08. Safe Travel
09. Grow
10. Fire Dance
11. Young Star
12. No Freddy
13. Good Light
14. Girl from the Ghetto (Remix)
Featured artists
Naâman