Reggaeville.com presents... Rodigan - A Reggae Life (Documentary 2014)
12/18/2019 by Ulli Güldner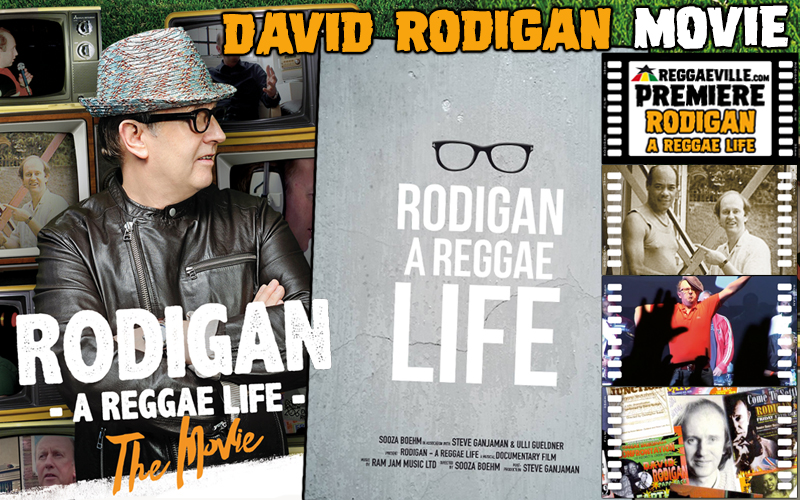 David "Ram Jam" Rodigan, broadcasting icon, sound killer, life-long reggae lobbyist, journalist, collector & curator and, let's not forget, since 2012 also an MBE (a Member of the Order of the British Empire), has blocked numerous attempts to compress his career into a film or television documentary for the better part of the last two decades - until 2014.

Therefore it can safely be stated that RODIGAN - A REGGAE LIFE is the first conclusive filmic treatment of the man's five decades long involvement in Jamaican music.

Initial shooting for this 70 minute documentary feature already commenced in 1999, but the project was finished in 2014 and it sheds light on all the pivotal moments of a career that can be traced back to the Swing in' London of the mid-60s, when teenaged David was infected with a virus that he found impossible to fight, because according to him, "there is no known antidote".

So it's all here live & and in living colour: the clashes, the dubs, the undying devotion to Jamaica's musical culture and a life spent imparting his passion and knowledge about it to others with what amounts to an almost missionary zeal. The film covers his mind-changing first Jamaican sojourn back in '79 as weil as his historic Waterhouse encounter with a man who remained a legend to him to this day- the late Osbourne Ruddock a.k.a. King Tubby.

lt also focuses on his illustrious broadcasting career and follows him through a nowadays almost extinct world of record dens, dub plate studios and once teeming Caribbean night spots. And finally it attempts to gauge the truly incalculable influence that Rodigan had as a Reggae development worker in Germany and on the rest of the continent.

The movie's world premiere took place in December 2014 in Berlin @ Yaam, in July 2015 Germany's famous Reggae Jam Festival hosted an exclusive screening and now Reggaeville is proud to present the worldwide online premiere.

We will premiere RODIGAN - A REGGAE LIFE in four parts from December 19 - 22, 2019.
Each evening at 7pm CET (6pm GMT).

A musical documentary film by Sooza Boehm in association with Steve Ganjaman & Ulli Gueldner. Music by Ram Jam Music Ltd, Directed by Sooza Boehm, Post-Production Steve Ganjaman.