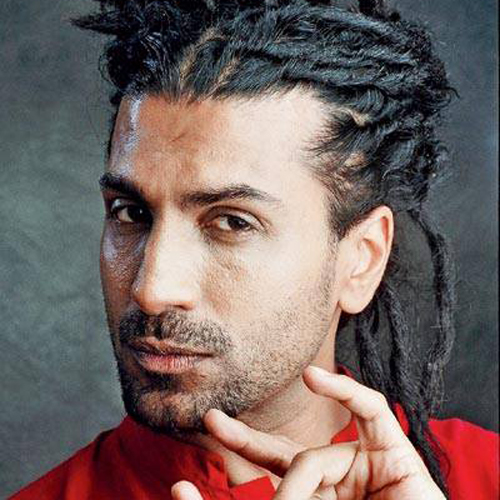 British vocalist Apache Indian performs a highly eclectic form of Ragga informed by the Bhangra style of his East Indian heritage. After cutting his teeth toasting in U.K. dancehalls, Apache Indian began to release singles in the early '90s and achieved three number 1's in both the Reggae and Asian charts! Many of these singles would appear on his 1993 major-label Island Records debut, 'No Reservations', including "Don Rajah", a song that exemplifies Apache Indian's cross-cultural fusion & earned him a new nickname as well.

By the mid-'90s, Ragga production often included elements of hip-hop, and Apache Indian's next record was no exception. Featuring guest appearances from Jamaican Reggae stars Sly and Robbie, Frankie Paul, Yami Bolo, & American MC Tim Dog, 1995′s 'Make Way for the Indian' included sampled tabla beats & spawned a U.S. club hit with the shuffling R&B of 'Boomshackalak'. The "Don Raja" of British Ragga began to increase his International exposure by touring the world 5 times over 20 years, performing massive sold out concerns across India & Asia, Europe, Canada & America!

Apache performed at Reggae Japansplash in '94 and '95 & has appeared in 4 Bollywood films! He continued to record as well, releasing albums titled, 'Real People' in 1998, 'Karma' in 2001, 'Time for Change' and 'Sadhu 'The Movement' in 2006/7 as well as various collaborations. Apache Indian performed at all the major World Music, Reggae & Asian festivals in 2006/7 with his live band 'The Reggae Revolution' from Birmingham including headlining WOMAD in Reading!

Apache has enjoyed 20 years of success including; winning various awards from the Asian & Reggae Industries, 7 British top 40 hits, 4 Brit Award nominations, Mercury Music nomination, Ivor Norvello Award & the International Dance Award in 1995. His big hit single Boomshackalak has been featured in over 75 International TV commercials including an advert for 'Lynx' featuring Jennifer Aniston & recently for MacDonald's 'Happy Meal' across Europe! It has also been featured in 7 Hollywood Movies including 'Dumb & Dumber', 'Scooby Doo 2′ & 'Threesome'!

Apache Indian was the first Asian artist to have his very own show on Radio 1 where he interviewed some major artists from the Reggae & Asian music industries & also had live sessions where he encouraged & supported local bands! Apache also presented a one-off special show from India for Radio 1 called 'Karma Confusion' which won a CRE Award in 1998! Apache Indian presented 'MTV Reggae Sound System' from Kingston, Jamaica, 'Apache Goes Indian' for Channel 4 from India & 'Soul Music' for Charlton TV in the Midlands! Apache Indian has sold 11 million albums to date and is now regarded as a Legend in his field. He is still very active in his music career & also acts as a consultant for various artists and record labels.

Apache Indian recently received 'The Life Time Achievement Award 2011' by the UKAMA's @ The Round House, Camden, London UK.

Apache Indian has just released his new album 'HOME RUN' on Universal Music India featuring artists: Miss Pooja, Money K, Amar, Malkit Singh, A. R. Rahman, Bali Kalsi, Asha Bhosle, Shaggy & More!