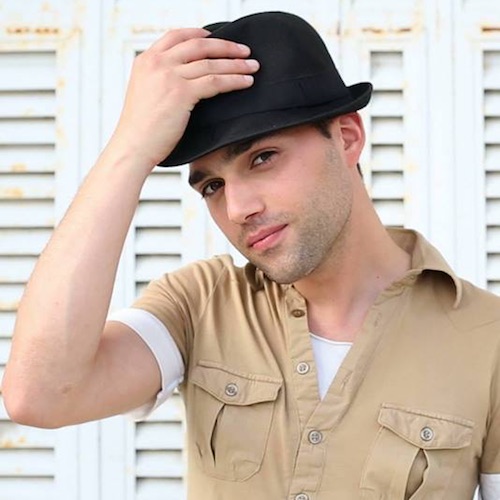 Andrea Ferraro (Genoa, Italy, 1983), aka Andy Mittoo, is a singer and keyboard player, songwriter and composer, arranger and producer. He has collaborated with several artists of international fame such as Derrick Morgan (2006 tour), Dennis Alcapone, Winston Reedy, Dave Barker, Ken Boothe (tour 2013, 2014 and 2015), Christopher Ellis and Mr Soul of Jamaica Alton Ellis, who was the one that first called him "The New Jackie Mittoo", because of his skills as a keyboard player, composer and singer that enchanted the jamaican artist.
During the course of his brief artistic career he has already performed at the Brixton Academy on Valentine Celebration in 2012 opening the show for Jimmi Riley, L.U.S.T. Crew, Freddy Mc Gregor and John Holt backed by the Ruff Cutt Band, where he was well received by public and critic alike. Andy also took part at the birthday celebration party for the legendary jamaican producer Bunny "Striker" Lee held at the famous London Jazz Cafè, alongside Big Youth, Owen Grey, Tappa Zuki, Winston Francis, Dennis Alcapone, Dave Barker, Winston Reedy backed by Mafia&Fluxy.
In 2014 he realeased his debut album "On My Way" with his band The Groove Makers for Roots Rockers Promotions which is also his management company based in London, which manages many foundation artists such as Ken Boothe and Derrick Morgan and many more.
The album available on digital stores thanks to Zojack Worldwide is a collection of selfwritten tunes which range from classic reggae to ska, rocksteady and roots. Some of the tracks were made in collaboration with other artist and musician, such as "I'm Falling in Love Again" featuring Chris Ellis, "La La La" ft. Mr T-Bone and "Love Is All We Need" ft. Alberto Tarin. Many songs are continually broadcast through numerous radio such us Roots FM (UK), RJR Rado (UK), Tropical Riddim (USA), italian radios... and by important DJs such us Tony Williams and the unique Mr Rodigan on their radio programs.
After the acclaimed album and numerous dubplates for major sound system such as Sentinel - Dancehall Soldiers - Jugglerz, Andy supported Ken Boothe, BB Seaton, Derrick Morgan and The Pioneers around Europe performing at Reggae Geel, Nowa Reggae, Reggae Jam, Summer Vibrations Fest, One Love Fest during his summer tour 2015. Currently he's working on new album and italian and foreign important productions for Chris Peckings and Team Gorilla Music. He'll be performing at Afrika Tage with Julian Marley, Inner Circle, Protoje... and Skamouth with Ken boothe, Dave&Ansel Collins... STAY TUNED!!!