Reggaeville Riddim Corner #21
12/31/2017 by Dan Dabber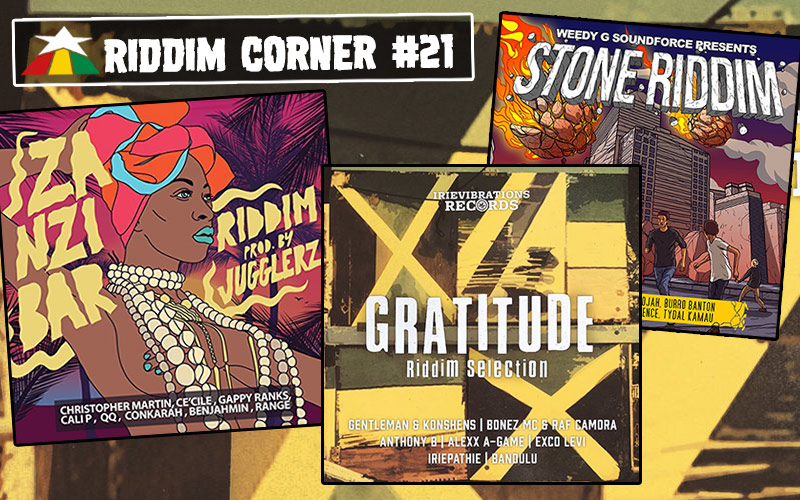 ZANZIBAR RIDDIM - JUGGLERZ RECORDS
German outfit Jugglerz Records are closing 2017 strong with a dynamic riddim selection titled Zanzibar. The instrumental, which is relatively upbeat, has broad appeal, blending reggae, dancehall, and R&B. It also possesses a kind of softness, perhaps even a sadness, and this emotion is furthered by the melody, which would work just as well over a rhythm section configured for dancehall as it does for Zanzibar's one drop configuration. On that point, Zanzibar has an eight bar "mix" segment - when a one drop riddim is played as a dancehall riddim for a short portion of a song - just before the 1:30 mark on all the versions. This is just one of many nice touches that makes Zanzibar a winner. I'm also captivated by the strange vocal sample that peppers Ce'cile's tune and the subtle, high-pitched anti-melody that pushes every hook on the project.
Jugglerz taps several prominent artists from Europe and Jamaica for Zanzibar and none disappoint. Ce'cile's song, Love Me So, is certainly one of the top three tunes from the juggling, and also one of the best recordings in recent years from the beloved veteran dancehall artist. No stranger to the sexy route, Ce'cile gives a seductive performance, using a more minimalistic application of her vocals to tease her audience. Similarly masterful in his approach to the love song, Christopher Martin contributes to Zanzibar with Is This Love. But while Ce'cile's technique is equally dependent on her attitude as on her singing, Martin's approach is entirely focused on his vocal ability, making for a technically sound song that may be somewhat short on pizzazz. Gappy Ranks is never short on swagger, and, much like Ce'cile, he applies it in excess on his Zanzibar track, Notorious. Apparently modelled from Turbulance's 2005 hit by the same name, Notorious is Gappy at his best - sensitive, righteous, and gangster as f*** - all at the same time.
Benjahmin is a name that has been popping up on riddims from European labels for many years, but I hadn't paid much attention until he teamed up with Jugglerz for the Zanzibar project. His song, Please, is beautifully written, delivered with style, and is as pleasing in its message as it is in its aesthetics. Addressing injustice while maintaining hope that things could be better, the mantra from Please is, No one is better than each other, which is fitting considering the high quality of the tune and Benjahmin's underdog status. Another underdog who seized the opportunity to shine on Zanzibar, is the English/Jamaican artist, Conkarah, who went in with authority for his version, Real vs Fake. With stellar performances from underrated artists like Benjahmin and Conkarah, on top of an already star-studded lineup and superb production, Zanzibar is almost guaranteed to make some sort of noise in the weeks and months to come.
STONE RIDDIM - WEEDY G SOUNDFORCE
Almost 42 years ago, legendary roots reggae artist, Prince Alla, recorded a magnificently haunting song (complete with organ and stormy sound effects) called Stone for Bertram Brown's Freedom Sounds label. Largely considered to be some of Prince Alla's best work, Stone has been resurrected (along with the 67 year old Alla, who hasn't released any new music since the early 2000's) for Weedy G Soundforce's newest juggling. Stone Riddim features a newly recorded, updated version of Alla's Stone, which is actually a much better idea in practice than it is on paper. He's older, but his voice isn't much worse for wear, and Weedy G's surgical production gives the re-make a clean, contemporary sound.
While Prince Alla's presence on Weedy G's Stone Riddim grounds the project in its historical context, artists like Melloquence, Fantan Mojah, and Tydal Kamau take Stone into the future, applying current styles to the retro riddim. Melloquence's effort, Stronger, is particularly well done, mixing singing and singjaying styles for a positively-minded reality tune with a contagious hook and a righteous message. Tydal's captivating baritone works very well with Stone Riddim for Love Surprise Them, another hopeful track that inspires the heart as much as it pleases the ear. For an edgier vibe, listeners will like Fantan Mojah's Far Away, a militant little ditty with colorful metaphors including a recurring vampire reference. Fantan Mojah's intense energy brings out the the polyrhythmic feel of the instrumental, which is accentuated by constant eighth notes on the kick drum. At 69 beats per minute, those kicks start to feel more like double-time quarter notes clocking in at 138 - something similar to the four-on-the-floor pattern that is the signature of house music. If you feel Stone on that level, it can be an energetic experience fitting for a hype artist like Fantan Mojah. For my money, the way it all comes together for Far Away makes it the number one selection from Stone.
Stone Riddim exemplifies one of the greatest and most unique things about reggae music as a genre - it is extremely in touch with its history and will revisit it, not just to mine for hits, but also to pay homage to those who have contributed to its canon. In this case, respect is tastefully paid to Prince Alla and Bertram Brown by the Weedy G team, and Alla has a chance to show us again why he deserves a prominent spot in the reggae history books. Although I don't see Stone being a hit riddim in the near future, I don't believe that was the point of this particular project. It is this kind of selfless motivation, fairly common in the world of reggae, that appeals to me the most about the genre.
GRATITUDE RIDDIM - IRIEVIBRATIONS RECORDS
Iriepathie is an Austrian reggae/hip hop group composed of vocalist/manager, Professa, along with his brother and producer, Syrix. The duo began making music in 2000, and shortly after Iriepathie's formation, they founded Irievibrations Records, a reggae label based out of their studio in Vienna. Irievibrations have since worked with many great artists like Luciano, Anthony B, and Konshens on a variety of projects, including numerous riddim jugglings that date back to their 2006 releases, Lovebird & Peace. Their newest selection, Gratitude Riddim, is a dubby roots banger, with a downtempo, grimey, digital vibe. Striking a balance between creepy organs and even creepier synths, Gratitude blends the old with the new, tying it all together with a big, bouncy bassline.
The magic of Gratitude is in the production, which borrows just enough from trap to suggest a genre bending experience, though it never fully commits to that direction, choosing instead to stay grounded in the rhythms of roots reggae. This approach works nicely, and the only slightly awkward bit about Gratitude is the lengthy and unnecessary bridge that extends the verse portions from eight bars to sixteen. The bridge's key change serves to add some tension to the riddim track, though Gratitude would have been better served by a single bridge that wasn't such an obstruction to the songwriting, but good artists can work around this kind of thing and Gratitude features some top shelf talent.

Irievibrations also gets great performances from lesser known artists like Alexx A-Game and Bandulu, and, although I don't speak German and often find it hard to relate to songs recorded in German, I found it easy to vibe to the two included with Gratitude, and especially easy to get down to Syrix's bonus dub of Bonez MC & Raf Camora's Dankbarkeit. Jamaican deejay, Alexx A-Game, was not on my radar before Gratitude, but he certainly should have been. His track, Step Inna the Place, features a rugged vibe and a pleasant message, and is probably the best track on the juggling, though the bigger names shine on Gratitude as well. Those names include Anthony B, who after more than twenty years still got it and ain't afraid to use it to smash Gratitude with a bad mind tune called Dem a Vampire. The only part of Dem a Vampire that I'm not feeling is the bridge, but I see its usefulness in other places, like when Gentleman & Konshens join forces to reflect on the reggae sound for Make It Play. These two artists meld well together, and theirs is the only version where the bridge adds to the track in a meaningful way, making enough room for both artists to do their thing during the verses.

Exco Levi takes Gratitude in a mellow, spiritual direction with Yes Jah, which fits the contemporary reggae mold more than any other tune from the juggling, though it's not likely to catch much heat in Jamaica or North America.

Listen to the Zanzibar - Stone - Gratitude Riddim mix here: