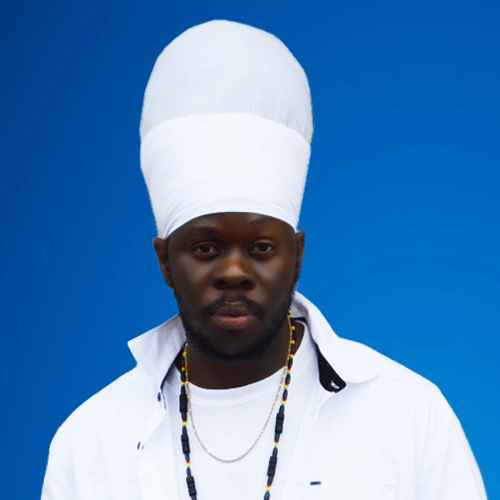 Born on the island of Dominica, Amaziah Moses a.k.a Aima Moses grew up in the village of Kingshill. Aima came from a poor church going family which consisted of three brothers and one sister. Every member of the family contributed to music by singing or playing a musical instrument. He was very close to his mother and is still very close. One of the reasons for this is her undying love, understanding and affection towards her children.

Attending the Newtown primary school Aima was a member of the school choir, which made him more interested in music. While attending high school he participated in a few music contests. One of which he free styled his song on stage because the song which he was to perform originally was very political, approaching the stage he startled, for the Prime Minister was sitting up front. Aima paused for a moment knowing that his political song would discomfort the Prime minister and alter the judges' decision during the competition. However he free styled another song and placed 2nd.

Aima, even though in love with music was also interested in business and agriculture. His inspiration in music stems from the 80s and 70s Pop, Rock, Soul, Jazz, Hip hop to reggae greats like Bob Marley, Peter Tosh, Shabba Ranks, Capleton, Michael Jackson, Lionel Richie and Sade among others. He showed real interest in music from high school days when he and his close friend Michael would listen to Caribbean and American music rhythms, then create songs to those rhythms. Realizing that he showed more interest towards music he started visiting record shops on his own like 'Music Land' in the town of Roseau, there he would ask for his songs to be recorded with the familiar rhythms. Aima says that he adored music with a passion and that his initial feelings in pursuing this career was such of excitement and a challenge knowing that it wouldn't be easy.

The love for music and teaching others through the art form, seeing what is going on around him, the injustices in the world also keeps him writing and making music.

In 2005, Aima won 'The best reggae album' in one of Dominica's local radio station annual event called the DBS Flamboyant Awards for his first Album called 'No Barriers'. He was named best reggae artiste of 2008. In 2010 he was named New Artist of the month by Caribbean Music Media and has been on a 2010 international reggae compilation cd called The mirror riddim cd, with the likes of Jamaican artists such as Lutan Fyah, bushman, Teflon and others.

AIMA has performed at various stage shows both local (Commonwealth Of Dominica) , The United States and the Caribbean with international artists such as Sizzla, Capleton, Tarus Riley, Duane Stephenson Morgan Heritage, Beres Hammond, Beenieman, Movado, Queen Ifrica , Gyptian, Etana, Tanya Stephens ,Tony rebel, Eric Donaldson, Lutan fyah, Duane Stephenson, Tanya Stephens to name a few. Right now Aima is on a small tour of the US and working on new materials . He stated "music is a job and must be done responsibly to the best of your ability".

Aima's music is uplifting, spiritual, powerful, educational, and very cultural which he uses to fight crime, oppression, injustice, and corruption. He writes and sings wonderful songs expressing is love and respect for the ladies. Fans can look forward to a continuation of good music and to his electrifying and charismatic performances.

Aima says he sees his music taking him to international status in the future and he is ready for the world. His ultimate goal is to prosper in this music business while opening the eyes and minds of others through his Rastafari faith. Next on the agenda for Aima is a second album and traveling to promote his music world wide.