11/14 - 11/19 2016
Mighty Crown wins Sound Clash at Sea @ Welcome To Jamrock Reggae Cruise 2016
11/21/2016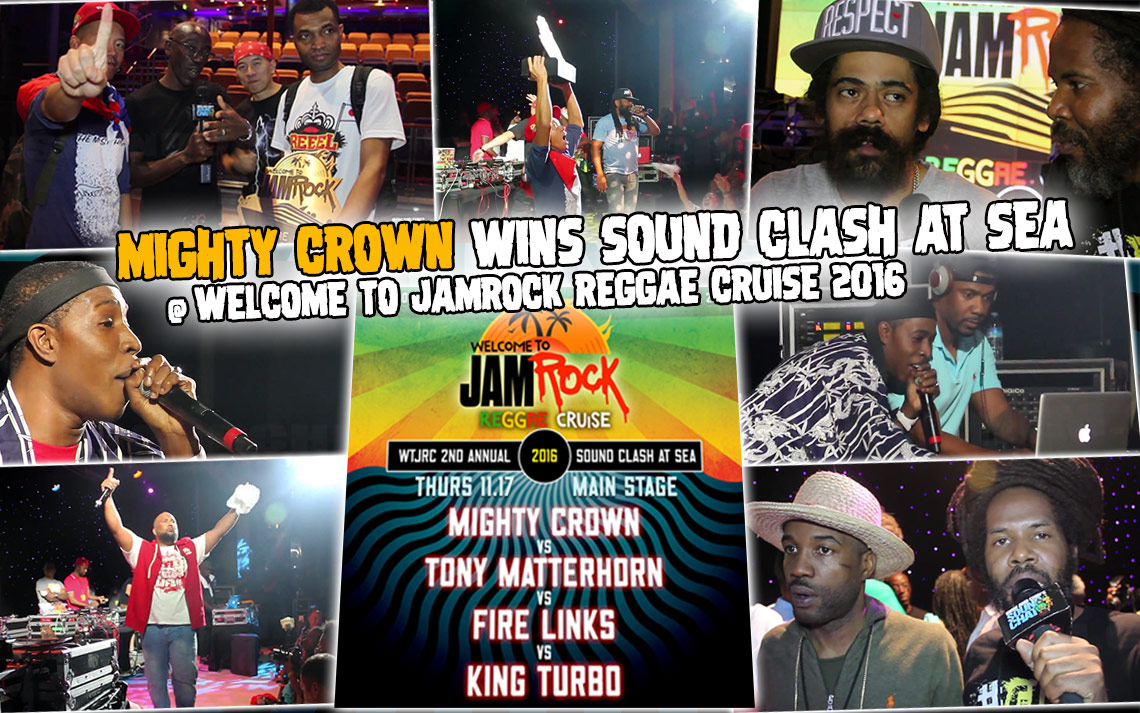 The cruise's curator @damianjrgongmarley and son were on deck for the @mightycrown victory!@irishandchin @officialninjacrown @mastasimon @samicrown_lens @destinemedia

Posted by IRISH AND CHIN on Friday, 18 November 2016
Congrats to the Far East Rulaz: Mighty Crown took the Sound Clash At Sea trophy again!

On Damian Marley's sold out Welcome To Jamrock Reggae Cruise 2016 they were able to defend their title. They defeated Tony Matterhorn in the final round.

Watch the clash video below: Irish and Chin SoundchatTV was on spot to cover the clash and spoke not only to the participants, but also with Captain Damian Marley!

PRESS RELEASE:
It was an awesome week aboard the annual Welcome to Jamrock Reggae Cruise, full of electrifying concerts, sound performances, food and fun. But on Thursday, November 17, sound clash culture came alive when Sound Clash at Sea took over the night, seeing defending champions Mighty Crown facing off against King Turbo, Tony Matterhorn and Fire Links! By popular demand, Mighty Crown returned to the cruise for a 3rd year. The explosive clash became the talk of the cruise.

Mighty Crown connected with the massive audience from the first round, offering lots of hard hitting customs and befitting speeches. At any given time, wicked selections from Jah Cure, Tarrus Riley and Sizzla were blasting through the powerful speakers. But it was a series of custom counteractions that dominated Mighty Crown's second round and beyond from the likes of Taranchyla, Bunji Garlin and others that solidified the top international sound's position. Based on the immense roars of the colossal crowd, it was clear which sound was on their path to victory.

The stage was commanded by Mighty Crown who reeled the audience in with powerful tunes that went hand in hand with their speeches. It seemed like everytime the competing sounds dissed Mighty Crown, they came back harder! Frankly, their dubs ran circles around their competitor's tunes, although Tony Matterhorn posed the biggest threat of the clash based on his hardcore early music droppings. With King Turbo and Fire Links eliminated in earlier rounds, The Far East Rulaz entered a memorable best of 7 "tune fi tune" round. As fate has it, the final showdown worked in Mighty Crown's favor. Ultimately, Mighty Crown sailed to victory, winning all of the "tune fi tune" rounds.

In addition to thousands of cruisers soaking in the intense sound clash, it was a rewarding moment to see top artists in attendance, including Jr. Gong, Half Pint, Bunji Garlin, Fay Ann Lyons, Mutabaruka and more. An extremely humble Mighty Crown couldn't help but be elated over their victory, which comes amidst their year-long 25th Anniversary celebration and "Money Pull Up" tour.

The celebration continued following the clash, as Mighty Crown fans lined up for autographs and signature t-shirts. Media also bombarded The Far East Rulaz for exclusive post clash interviews. The night proved to be a success with all the fanfare surrounding the clash. Even more pleasing, was presenting the integral art of sound clash to a mass audience. For many, this was their formal introduction to sound clash.