04/20/2019
No War Ina East 2020 - Back In Berlin 2021
02/02/2020 by Press Release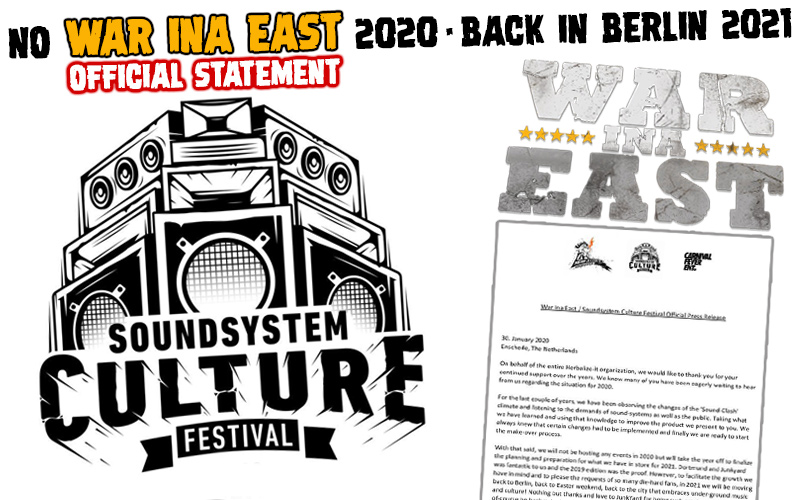 The Soundsystem Culture Festival including the famous War Ina East Sound-Clash, which were announced for April 11 & 12, 2020 in Dortmund, Germany, will not take place. Read below the official statement by Herbalize-It:

On behalf of the entire Herbalize-it organization, we would like to thank you for your continued support over the years. We know many of you have been eagerly waiting to hear from us regarding the situation for 2020.
For the last couple of years, we have been observing the changes of the 'Sound-Clash' climate and listening to the demands of sound-systems as well as the public. Taking what we have learned and using that knowledge to improve the product we present to you. We always knew that certain changes had to be implemented and finally we are ready to start the make-over process.

With that said, we will not be hosting any events in 2020 but will take the year off to finalize the planning and preparation for what we have in store for 2021. Dortmund and Junkyard was fantastic to us and the 2019 edition was the proof. However, to facilitate the growth we have in mind and to please the requests of so many die-hard fans, in 2021 we will be moving back to Berlin, back to Easter weekend, back to the city that embraces under-ground music and culture, Nothing but thanks and love to JunkYard for being such gracious hosts. We will of-course be back in JunkYard this October 2020, to host our famous anniversary party.

Officially, the dates are confirmed and Soundsystem Culture Festival will be held on 1st, 2nd, and 3rd April 2021. The War Ina East Sound-Clash will be on 2. April and on the other days, get ready for cutting-edge events, tailored to highlight the best of Caribbean entertainment. Together with our partners, Carnival Fever Entertainment, you are guaranteed that the professionalism, quality and level of entertainment will exceed all expectations.

Now that the dates for 2021 are publicized for the biggest and most influential sound-clash in Europe, we expect that all promoters will respect the nature of the business and use the, discretion and common-sense when planning other events. Let us all keep the best interest of the massive at the fore-front of every decision.