03/26/2011
Review: War Ina East 2011 - One Love Hi Pawa vs. LP International
03/27/2011 by Munchy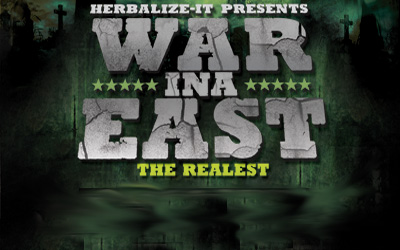 Review: War Ina East in Enschede, Netherlands @ Atak 3/26/2011
It could have been their memorable first win at an international clash – apart from the one at UK Cup Clash vs. US World Clash they owed to Bass Odyssey and the concept of a tag team – but instead the War Ina East 2011 turned into a lock off for One Love Hi Powa – still it was memorable same way.

After a quick introduction by the night's popular host Maikal X at 00:40 am, it was LP International who played their 20 minutes first at Atak.
Coming in with a nice and easy 'Billionaire' costummade poking fun at the cancelled competitor King Addies and present opponent One Love, they bussed their first – but surely not last – Buju Banton dubplate 'Destiny' before dropping a Cocoa Tea custom once again calling One Love's name.
During their first round Puma and Killa D created a vibe with a mixture of some Romain Virgo, Bounty Killer and Beres Hammond specials and their popular Far East selection not missing out on teasing both Addies and One Love.
Latter sound from Italy tried to score with a Sugar Minott as the debut, followed by a more fast than proper juggled mix including Capleton, Little Hero and Junior Reid.
Dropping a custommade Cocoa Tea counteracting the prior move from LP and a next set of Romain Virgo tunes seemed to get One Love a bit more in the groove – an impression that didn't even last for the rest of their first 20 minutes.
Due to lack of speech and a careless presentation of some Bujus, Mavados and rather regular Assassin dubplates, it didn't take Maikal X long to find out who lead the clash so far.

LP International introduced their next 20 minute round with a well-received Anthony B acapella followed by another bunch of Bujus, Bountys and current Mavados such as 'Cleara' or 'Peppa'.
After an entertaining One Day selection and a next costummade counteraction by Cocoa Tea the sound from Brooklyn earned some laughter renaming Addies the 'run-away sound Addiedas' before closing with a party set including Stitchie, Beenie Man and Major Mackerel.
With next MC Clava on the mic there seemed to be some improvement possible on the speech-issue, yet the Italians failed trying to counteract the One Day riddim with their version of 'Rum & Red Bull' and a next Khago dubplate on it.
The dancehall hit segment continued with the first (and the only four) Vybz Kartels for the night, an Unfinished Business selection and a next bag of Mavado tunes.
Although One Love proofed some creativity and being up-to-date by dropping Cali P's new hit single 'Like a lion' custommized for the clash, they couldn't gain a forward for that one either just not connecting with the massive.
The decision made by a show of hands from the audience was clear as the host asked for the intermediate result.

In the same manner they closed their last round still leading LP International turned up the heat once more having the fans wave their hands from side to side while entertaining with a Buju Banton and Cocoa Tea combination, Junior Cat and Stitchie dubs.
A next new tune segment including various Mavados, I-Octanes and Bounty Killer hits was topped with a acclaimed 'Can't friend again' of Stephen McGregor and the counteraction on prior played Mavado 'Hope and pray'.
One Love's decision of bringing back the first MC turned out to be suboptimal as he could neither create a proper vibe nor connect with the present crowd – an obvious fact that even a Romain Virgo custom or some classics from Louie Culture, Shabba Ranks, or Eek-a-mouse could not help.
The Italians' third 15 minute round could have definitely passed as a nice juggling dance but was not what the clash fans expected from a musical war.

After the third rather clear voting by the audience of Atak the last round started with an amusing turn of events as LP MC Killa D handed over the microphone to One Love icon Lampa Dread who had taken a back seat at the clash until that moment.
The veteran soundman used the chance to show his respect and didn't miss to follow the request to introduce the next dubplate LP was about to play.
By the end of the scene it was Killa D who held up the trophy confident while the night's last Cocoa Tea custommade sounded off the speaker boxes presented by the opponent himself.
As the motto for the rest of their round the sound from New York called pure Buju Banton dubplates and kicked off with more than a dozen Gargamel specials that left the crowd celebrating in spite of the 'Champion' replay.
The 15 minutes came to an end with a crazy forward for Bounty Killer's 'Look into my eyes' and a costummized Errol Dunkley special.
One Love's Clava, who once again took over the microphone for the last round couldn't deny the obvious situation admitting respectfully that this was LP's night and as there was nothing he could still do to change that he decided to rather use his stage time to not diss any people but send out some big up instead.
Starting with Jigsy King's 'Gimmie the weed' to hail up promoter Sultan from Herbalize-it the rather classical segment of the Italian sound included dubplates from Apple Gabriel, Steel Pulse or Glen Washington and didn't miss out a tribute to the late Sugar Minott.
While Clava moved behind the turntables and laptops more and more, LP's Killa D leaned on his side of the stage laughing and shaking his head.

It was promoter Sultan who finally asked the unavoidable question of the night and the answer of the massive was quite clear, two words: Lock Off!