07/31/2021
Uppsala Reggae Festival 20th Anniversary - Concert & Live Stream
07/12/2021 by Reggaeville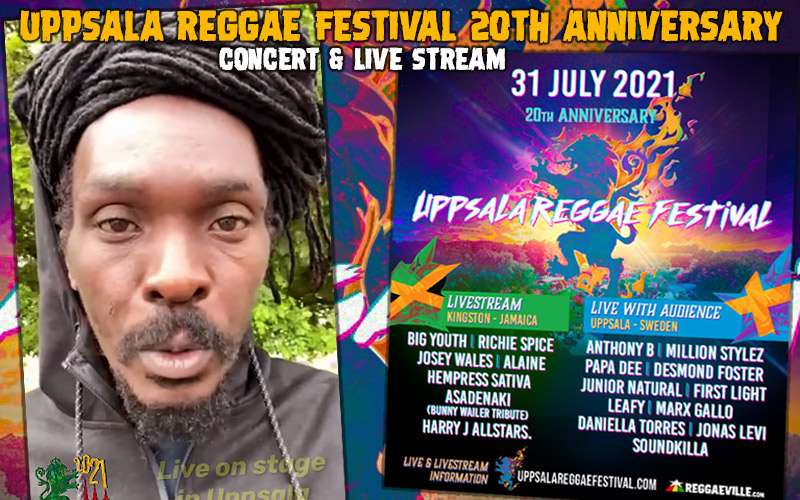 On July 12th in 2001, Uppsala Reggae Festival hosted the first edition of what is now known as the biggest reggae festival in Scandinavia. This year would've been the 20th anniversary, but because of the pandemic, it cannot be done as large as it was planned.
On July 31, 2021 a small crowd in Uppsala, Sweden will be able to experience the live performances of the likes of Anthony B, Million Stylez, and many more. A live stream connection directly from the legendary Harry J Studios in Kingston, Jamaica will provide additional live performances from Big Youth, Richie Spice, Alaine, Hempress Sativa and more.
For those who can not make it to Uppsala, the entire event will be available as free live stream on YouTube, Facebook and Twitch TV. Reggaeville is official media partner and we will host the live stream. Stay tuned...
Live with audience in UPPSALA, SWEDEN [Get your ticket here!]
Anthony B
Million Stylez
Papa Dee
Desmond Foster
Junior Natural
First Light
Leafy
Marx Gallo
Daniella Torres
Jonas Levi
Soundkilla

Live Stream from KINGSTON, JAMAICA
Big Youth
Richie Spice
Josey Wales
Alaine
Hempress Sativa
Asadenaki (Bunny Wailer Tribute)
Harry J Allstars