07/01 - 07/03 2022
No SummerJam 2021 - New Date in 2022
04/20/2021 by Reggaeville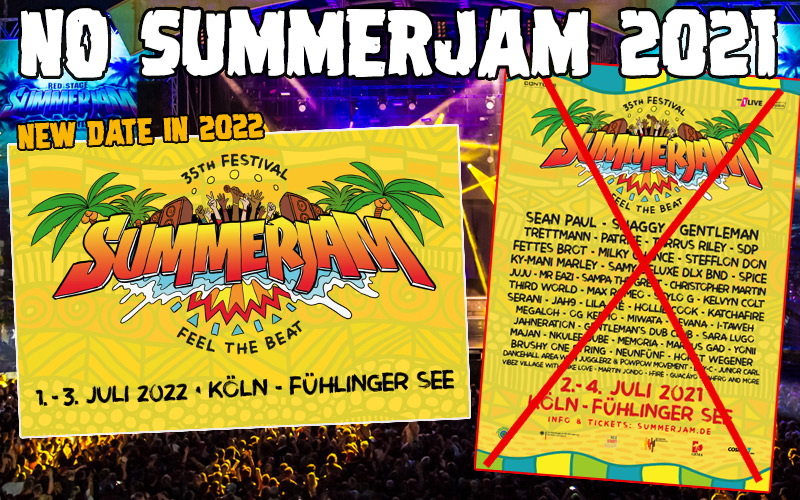 Even if we all hope for a great festival summer, the chances are very low that big festivals will happen at all during this ongoing pandemic as the usual traveling and touring will not be possible anytime soon.
This week Boomtown, UKs largest independent festival with a capacity of 66,000 people, announced the postponement to 2022 and also Uppsala Reggae Festival (Sweden) decided to move to next year. Today SummerJam (Cologne, Germany) announced that there will be no SummerJam in 2021. Read the full statement below:
Dear Summerjam friends!
For the last days, weeks and months, the idea of returning to the lake, reuniting with the whole Summerjam Family and having a great festival with you has given us the optimism to keep working on Summerjam 2021.

Right now, it's really hard for us and, to be quite honest, today is a particularly depressing day: we have to sadly inform you that the double anniversary edition of our beloved Summerjam will unfortunately be postponed for another year. Until now, we had still hoped so much that the situation would ease.
But developments leave little room for building more castles in the air. In our eyes - and we hope you see it that way too - Summerjam would be taken away its spirit and atmosphere by the attempt to hold it under hygiene-specific conditions.

Too many uncertainties remain, especially the question of the travel regulations of the different countries, where many of our artists and visitors come from.

Nevertheless, the next Summerjam will take place on: 1st to 3rd July 2022 – as always, at the Fühlinger See in Cologne!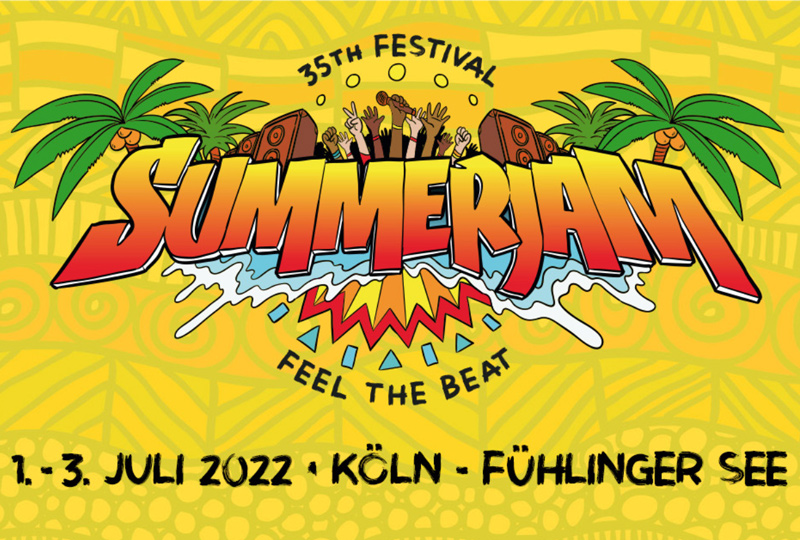 At the moment we are in contact with the artists to retain the line-up for our next Summerjam Family Reunion. We will keep you updated on the exact program in the next few months. But one thing is clear: we will do our best to present you a worthy anniversary line-up!

We will deal with all tickets already purchased in the same way as last year – in our eyes, this is simply the fairest option!
This means: All Summerjam TicketShop buyers will receive an email within the next week and can decide via a link whether their tickets will remain valid for 2022 or whether they should be refunded.
Please inform our TicketShop by email, if your email address has changed: ticket@summerjam.de For CTS eventim tickets: all tickets for the Summerjam Festival purchased online or in an advance booking office remain valid! For our part, a global cancellation release has been stored, so if a return should be desired, the tickets can be returned directly at the respective booking office or, in the case of an online order, via the eventim homepage.

Hang in there, stay healthy and positive with us! – KEEPING THE GOOD VIBES!
Your Summerjam Team
… we've just come from the lake, it's nice to wake up on the air mattress, the sun is shining, now we're going over to the tent for breakfast was late yesterday - in the dancehall arena, met old and new friends after breakfast we stroll across the bridge, it's slowly filling up here …

… the kids area is already busy, small families are having a picnic in the grass, on the stage there is a break - did anyone actually bring a line-up? - there's still a bit of time, so we walk back to the chill-out area, let our souls dangle a little, or walk around the bazaar again, maybe snack on some Puff Puff …

… walk through the sand in front of the green, with a cool drink in our hands, the sun's going down, over to the Red Stage. Vibes, Beats, Bass, Pull Up so much part of it, so much in the middle of it we jam, jump with everyone around us the dust is raised and everything cheers Andrew stands there with his guitar we know what's coming - "won't you help to sing?" we join hands, continue to collect these moments of happiness – next year again …!!!