07/05 - 07/07 2019
Buju Banton Distances Himself from Boom Bye Bye!
03/20/2019 by Reggaeville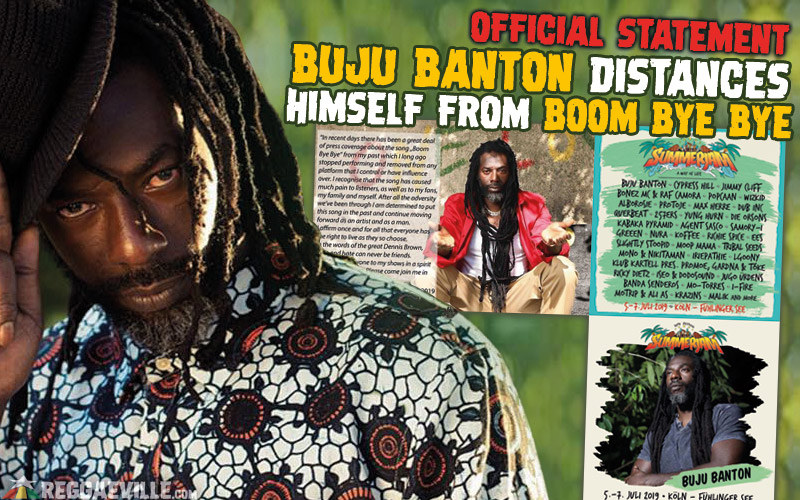 Last saturday Buju Banton kicked off his Long Walk To Freedom Tour in Kingston, Jamaica with an epic performance at the National Stadium in front of a sold out crowd of 35,000+ people. Check all photos & videos here!

The next show takes place in Nassau, Bahamas (March 30), followed by stops in Trinidad, Barbados, Suriname, Grenada, British Virgin Islands and St. Kitts. Most recently a show @ Reggae Sumfest 2019 was confirmed. Check the tourdates here!

Since the first dates were announced, there was not only huge anticipation for Buju's return, but also protests from the The LGBT communities in Bahamas, Barbados and Trinidad. The LGBT Barbados community demanded that Buju Banton publicly distance himself from his 1992 song Boom Bye Bye.

Outside the Caribbean only one concert has been confirmed so far: SummerJam Festival in Cologne, Germany - July 6, 2019. Shortly after the announcement, SummerJam faced strong protests from the LGBT scene. The Cologne based organisation KLuST demanded Buju Banton's removal from the SummerJam line-up.

KLuST (Kölner Lesben- und Schwulentag e.V.) is not only the organizer of the CSD Cologne and ColognePride, but is also active in local politics and nationally. The Christopher Street Day and the SummerJam Festival take place on the same weekend of July in Cologne, Germany.

Now Buju Banton gave the following statement (dated March 6, 2019), which was published as part of an article by the EXPRESS newspaper on March 19:

In recent days there has been a great deal of press coverage about the song "Boom Bye Bye" from my past which I long ago stopped performing and removed from any platform that I control or have influence over. I recognize that the song has caused much pain to listeners, as well as to my fans, my family and myself. After all the adversity we've been through I am determined to put this song in the past and continue moving forward as an artist and as a man.

I affirm once and for all that everyone has the right to live as they so choose. In the words of the great Dennis Brown, "Love and hate can never be friends".

I welcome everyone to my shows in a spirit of peace and love. Please come join me in that same spirit.

Buju Banton, 6th March 2019

The article reports, that the statement was accepted by KLuST, so they will not initiate any further protests against Banton's appearance at SummerJam 2019.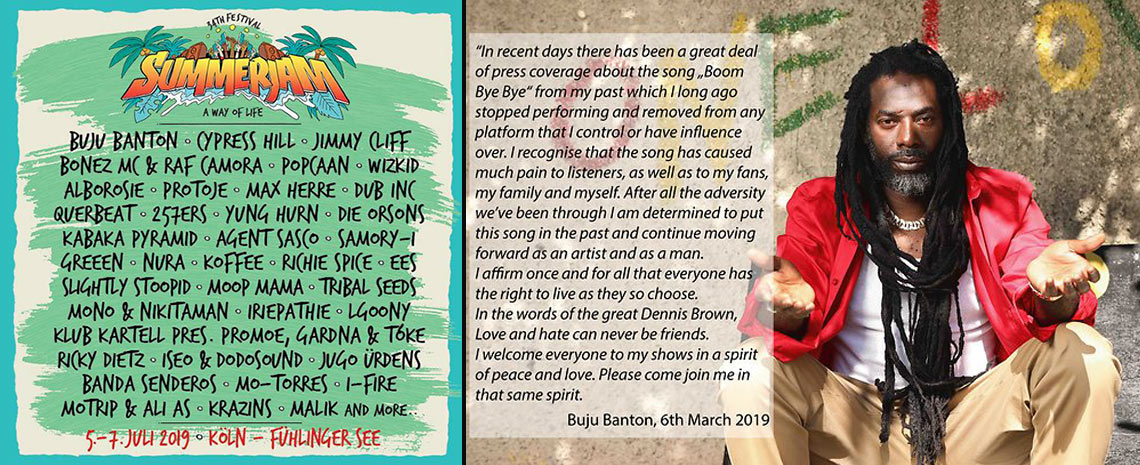 Watch Buju Banton's performance in Kingston, Jamaica - March 16, 2019 - here: