07/03 - 07/05 2015
SummerJam 2015 - Festival Report
07/03/2015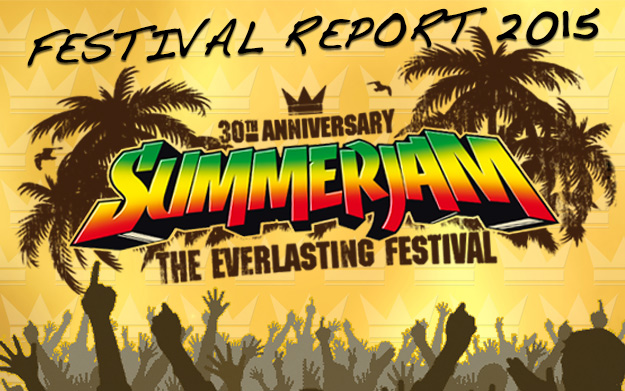 The 30th SummerJam kicks off today in Cologne, Germany! If you didn't secure your ticket in advance, you sadly will miss this event: IT's OFFICIALLY SOLD OUT!


➡ VIEW THE FESTIVAL PHOTOS HERE!
➡ LIVE VIDEOS & INTERVIEWS HERE!



REPORT - DAY 1 by ANGUS TAYLOR
14:40 As Dennis Brown, who left us 16 years ago last Wednesday, once sang "the musical heatwave is coming". The official temperature at SummerJam 30 is 30 degrees. And it's forecast to get hotter tomorrow.

14:59 In previous years there were some frustrating clashes between artists with the same fan base. No chance of that in 2015: most internationally known reggae acts are confined to one stage each day. Today it's the leafy Green Stage - starting with Italy's Lion D at 3.

15:29 Lion D and his crunchy Sound Rebels band are leading the crowd in their rendition of Inner Circle's Sweat. Who feels it knows it - and in this case that's everybody. Space under the Green Stage's trees is prime real estate. There's no avoiding the cliche - it's 96 degrees in the shade.

16:33 "This is my second time at SummerJam" says ankle locked Swiss Guadaloupian Cali P - wisely dressed in white shorts "I was here exactly ten years ago in 2005". Like Lion D he is versatile vocally and in the rhythms he rides. The slightly odd Green Stage acoustics - booming bass and quiet vocals - are strangely suited to the dubbier end of his repertoire like Wha Gwaan.

18:04 "Give yourselves a round of applause for standing here in this heat" asks Jesse Royal - backed as ever by Unga and Welsh of Notis. He's the first artist that seems to be working with rather than in spite of this tropical weather. His gritty tone and vintage major key vintage do overs are its perfect complement. In the dressing room afterwards they are exhausted. They say even Jamaica isn't as hot as this.

19:45 The first signs of day cooling into night have begun. There's still a constant turnover of people jumping in the lake. Romain Virgo is sharing his prodigious number of big tunes on the Green Stage as he was in 2013. Thanks to the new scheduling policy he's not clashing with Busy Signal this time but HoffMaestro. Romain's sax player's soothing sounds float on the breeze to his cover of Sam Smith's Stay With Me (along with the not so soothing odour of the bins).

21:15 Popcaan and Dub Akom band have drawn a large crowd. Rumours of dancehall's death in recent years have been slightly exaggerated. His singing vocals don't carry so well but he has a sincere high pitched speaking voice and some fun catchphrases. Party Shot has everyone moving and gets a rewind. Host Ganjaman and the people ask him back for an encore. Down front people keep waving large flags. None of them have the stamina of Damian Marley's chef Donovan so every few minutes their banners droop out of sight.

22:55 After a token peak at the Red Stage for Jugglerz' surprise guest appearance with mysterious, panda masked rapper Cro, it's back to the Green to check headliners Steel Pulse. The Birmingham band have had a renaissance live lately - dropping the "down with the kids" pyrotechnics for a stripped back roots feel. David Hinds has an audibly sore throat yet that doesn't halt the power of songs like Chant A Psalm, Drug Squad, Nyah Love and a Hendrix Star Spangled Banner led Rally Round. As if making their point about imperialist aggression, fireworks paint the sky.

00:00 The live shows are done and it's time to continue the UK theme with David Rodigan, Prince Fatty and Mungo's Hifi in the dancehall arena. The sound has been murky and several performers struggled to keep the momentum in the heat but it's been a scorcher of a first night for sure.


REPORT - DAY 2 by ANGUS TAYLOR
13:00 With Rodigan's exclusive cut of Dre Island voicing over the Sound Dimensions' Babyface still fresh in the ears, most of today's action is on the sonically superior yet more sun exposed Red Stage. People shelter under bars, bins and rocks. Getting sprayed by the many waterguns is a must.

13:30 First up is the aptly named Jah Sun. He's from California - as demonstrated when he and House of Riddim band start with a reggae version of Tupac's California Love. Yet he is full of praise for his German fans who call him back for more when he's run out of songs.

15:35 New Zealand's Katchafire start ten minutes later than planned. That's ok. Their woozy melty jazzy take on reggae - influenced by Aswad and their own culture - is ideal for a day like this.

17:40 "Are you too hot?" Asks Cham of the crowd. "No YOU are!" a woman shouts back. His Mad People Gang band have keyboard issues which delay them by a few minutes ("I love acoustic instruments" quips Red Stage host Andrew Murphy "they just make noise"). But Cham's voice sounds like the record, he doesn't try to sing (bar a well timed Could You Be Loved) wheel quick or talk long. He builds to a gospel inspired Ghetto Story that pays tribute to Michael Jackson and Eminem.This is how you do a dancehall live show.

18:21 On the Green Stage, Xavier Rudd gets plus points for his band's instrumentation - you don't hear enough flutes in live reggae. Meanwhile, on the Red - where bubble guns are replacing water guns in the SummerJam arms race - Alaine demonstrates her whistle falsetto backed by Dean Fraser and Blak Soil Band. She's only doing a 15 minute prelude to Tarrus Riley.

19:01 "It's 96 degrees in the shade" says Tarrus. It's probably higher but the wind makes it less debilitating than yesterday (when bands flagged and the bins were so full that throwing rubbish away was like a game of Jenga). Tarrus' slick sets lose their spontaneity if you watch too many shows on the same tour. But having added new songs from his rocksteady album and an X Factor style audition of his friend Christopher Smith, everything feels fresh from one of the most consumate vocalists in the world.

20:31 For the first time, we have a quandry. On the Red Stage the normally serious SOJA are having fun inviting fellow Americans Groundation for a jam and claiming love song You and Me was written for Gentleman. On the Green, Stand High Patrol - the French answer to Mungos - perform a bleak, haunting version of Dennis Brown's Westbound Train. Two selectors, a trumpeter and the alien voice of Pupa Jim - they aren't much to look at but they sound like no one else. Meanwhile a lively balafon and drum concert is going on near the lake.

21:47 Groundation overcome crackly initial sound problems on their march into roots jazz. It's officially evening now and they are the first group skanking at full pelt unencumbered by sweat. (An overdue shout out to whoever does the excellent Green stage visuals by the way). At the Red, Patrice has by far the bigger crowd and his soulful eclectic music is a nice change of pace from slightly angsty US roots. It's rumoured that Jamaican MP Lisa Hanna will be one of the thousands watching Damian Marley, up next...

01:00 It would be a cynical heart that wasn't stirred by the roar when Junior Gong ran on, behind flag waver Donovan, before a heaving mass whose collective body heat burned like the long set sun. He said very little as he sweated through a selection of his own songs, his father's and perhaps best of all, collabs with Nas. Each was so well rendered by the band that it was hard to pick a high point until the encore. "Germany, we have something of a surprise for you" he says, bringing out Cham for their combination Fighter. As he closes with Welcome To Jamrock Lisa Hanna can be seen on the screen watching from the wings. Saturday at SummerJam, goodnight.


REPORT - DAY 3 by ANGUS TAYLOR
13:53 The inevitable rain chose to arrive while everyone was conveniently sleeping off Jugglerz and Sentinel at the dancehall arena. It's still warm though, and Red Stage host Andrew Murphy (not acoustic for once but with Babylon Exit band) is playing covers: starting with the festival's unofficial tag line, 96 Degrees in the Shade.

14:12 "This is our fourth show in three days in three countries and we haven't really slept" croaks guitarist Josh from The Skints, "How much coffee is too much coffee?" Marcia plays a little flute during the dubby, Green Stage friendly, Forest For The Trees. They cover Katy B and Freddie McGregor. This holistic take on London meets Jamaican music wouldn't work if they weren't so good at tying it all together.

15:38 Yaniss Odua and Artikal band are bravely dressed all in black. His voice is very much in the mould of a relaxed Anthony B.

17:40 Under a greying sky, Danakil - like SOJA the day before - are being jovial, starting with dancehall, ending with roots and inviting Yaniss back on stage. After they finish, festival goers are warned that "a big thunderstorm is coming with heavy winds - make sure you and your tent are safe".

18:20 A couple of hours before his show Protoje told Reggaeville he's not bothered by the heat. He promises to keep his jacket buttoned all the way up. Prophetic words because thunder is rumbling and the whole programme has been temporarily paused while we wait for the storm. "Maybe they will bless us and this will pass over" says Andrew Murphy as the Indiggnation band strike up the Munsters theme.

19:40 In fact, there was no need to worry. Protoje and the Indiggnation made the storm go away. All reggae requires a sense of timing - but Proto is like a conductor, controlling the band and hushing the audience with subtle sweeps of his hands. Jason Worton may have left, but the Hendrix element remains with Lamont Savory's Purple Haze solo during Who Dem A Program. Jesse Royal and Sevana come on to sing their parts on Sudden Flight. Last year Kingston Be Wise had to be cut short. This year he deliberately extends it with a lengthy call and response. They don't play Bubblin' - but then the real Beres they sample can be heard very soon.

20:46 It might be the drizzle but at first Beres doesn't have as big a crowd as Protoje. His voice, though a little strained is a paintbrush - bringing his songs to life. And what a parade of classical rhythms he has to paint on. Before Tempted To Touch he says it's been a long time since "our last meeting" (SummerJam 2003) but it's "beautiful" to be back. Beres singing to his female fans in the rain - how romantic can you get?

22:55 Wyclef Jean's show is a cross between a Nile Rodgers style "an evening with" where a producer showcases all the songs by everyone they've been involved in - and a David Rodigan dance. His DJ spins dubplates of Whitney Houston, Michael Jackson and Beres (on the Stars rhythm). He raps in French and German. He plays shakily on a red gold and green Paul Reed Smith guitar during No Woman No Cry and then a highlife Redemption Song. He talks about his run for the Haitian presidency and how he's the only rapper to have sold 100 million records who doesn't need a bodyguard. It's a suitably bizarre end to an extreme but unforgettable SummerJam. The 30th anniversary and predicted hot weather meant the festival sold out in advance and there have been complaints on social media about overcrowding and long queues for water and showers. The management of the music, however, has been exemplary. SummerJam, it's been mad but it's been fun.


➡ VIEW THE FESTIVAL PHOTOS HERE!
➡ LIVE VIDEOS & INTERVIEWS HERE!