07/03 - 07/05 2015
Interview with SummerJam Organiser Klaus Maack #SJ30
03/26/2015 by Gardy Stein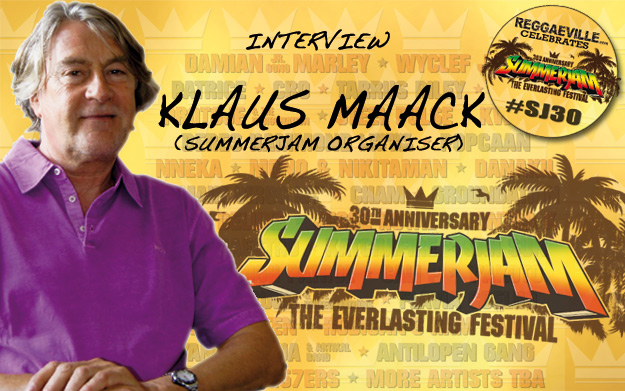 31 years ago, a young man decided to start something unusual. With a vision, a handful of like-minded people and an extremely small budget, he organized what was to become the first ever Summerjam in Germany in 1986. Investing time and energy in his passion, Klaus Maack came of age in this business and founded Contour Music, managing every year anew to bring to our attention bands, performers and singers from across the globe.

This summer, the "everlasting festival", which has long since become one of the biggest in Europe, celebrates its 30th anniversary (in marriage, this would be the pearl jubilee). Reggaeville took the chance to link up with "Daddy Maack" and dive into his deep pool of experiences, discovering pearls of personal history, special moments and challenges of three jammin decades as well as talking about line-up-related questions:

Thank you so much for having us! I can imagine you are well busy with only three months to go... Can you tell us something about how it all started 30 years ago? What was your motivation? How was the first Summerjam realized?
I hope you don't mind that I back up a bit... I was a passionate traveller, I used to roam the world, especially the Caribbean and Goa which was like THE destination at the time. Already back then I was very interested in urban music. For sure I knew and listened to Reggae, Mento and Ska in the Caribbean, and in Goa I came in touch with a more electronic side, with artists like Manu Dibango or Bill Laswell... Electric Dance I think they called it. That was my introduction to this music. I was open to all sides, not only to the whole Ethno-stuff, but also to the more modern influences. Then I went back to Germany, I think it was 1985, and thought about how I could transport this feeling, these relaxed vibes, to my home country. Something like that didn't exist back then, it was a very small exotic niche that nobody really knew anything about.

In Jamaica, I had met people from the agency Synergy who did the Reggae Sunsplash, Tony Johnson and Ronnie Burke. So I linked up with them and we were talking, just envisioning things via telephone, you know, back then there was no internet and no skype and all that. It was a bit adventurous, but anyway, I suggested to try and make a festival like this happen in Germany. I was aware that we couldn't just go on a meadow somewhere, I knew it had to be a special location to be able to present it in a nice frame. So I thought of the Loreley, an open air theatre that was well known through the TV-program Rockpalast.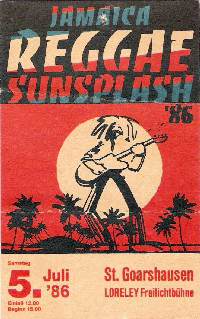 It was an area par excellence and I just booked it on the 5th of July 1986. It was a one-day-festival and I invited Black Uhuru, The Wailers, Dennis Brown, Gil Scott-Heron, Rhapsody and Manu Dibango, that was the line-up. You see, back then everything was different, we didn't really know how many tickets had been sold, you didn't have the online ticketing system... you had book shops and record stores and whoever selling them. So, in any case it was a blind flight, but on that day we had 7.500 or 8.000 visitors. And it was a wonderful day, we got exactly the feeling that we had intended to transport, to bring across... So it worked out from day one!

Great. How did you promote the event?
Posters. We did posters, the most economic version there was. In order to avoid using the 4-colour-print, we were printing on yellow paper, red and green ink. And of course it happened to turn out blue (laughs), so the first Summerjam poster was yellow, blue and red. But it was good, everything had worked out and we were ready to continue. But then Synergy tried to exert more and more influence on the program. At the end of the eighties the African Music started to hit, Salif Keita, Youssou N'Dour and the like, and I always wanted to make sure there is variety in the line-up, but they were very critical of that. That was when I decided to break with Synergy, because I didn't want to promote Jamaican music only, I wanted to realize my own visions as well. We agreed that we would still work together, but the Summerjam became my baby.

What were the biggest difficulties in the beginning?
I think the biggest challenge was the location. First we were at the Loreley, but then after 9 years it became too small, mostly because of the transport. There were traffic jams before and after the festival because everyone had to come up and down that hill... So from there we switched to Wildenrath, but the area wasn't really nice, it was an empty field in the middle of nowhere. So I kept looking, and after two years we moved again, this time to Cologne. These were the biggest difficulties in the beginning years.

In Cologne now, in 2002 and 2003, we had a lot of pressure from the then-police-director. He wanted to stop the event because it wasn't "culturally conform" or whatever. So we had many discussions with the City and Karl-Heinz Brozi, my local partner from the Fühlinger See GmbH, assisted me a lot in talking to the city administration, especially those from the sports department who are responsible for the area around the Fühlinger See. We were able to convince the people that the Summerjam is a festival that goes well with a city like Cologne, and thanks to the people from the sports department who supported us in every possible way we've been able to be here since 20 years now. So it's actually a double jubilee (laughs).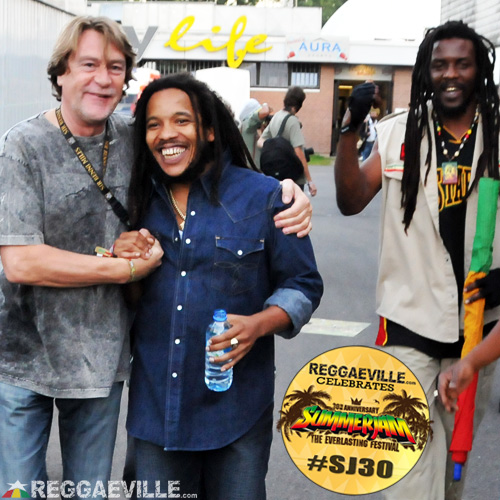 And now there are no more problems?
Well, it's never that easy. You always have some problems and incidents… the most recent one is the noise emission. So, after the festival you have to sit down with the people in charge and come to a conclusion and then it's incorporated into the planning for the next year. The problem is that, whatever they oblige us to do, the costs will rise as well. Every improvement you do entails a slew of changes, of additional expenses. So, for example, we installed a new PA system to reduce the noise, with delay towers, and then the line-array settings had to be changed as well, so now you can line every single speaker in a way that the noise doesn't spill out to the back. This is very expensive, of course, but when you speak to the officials and there are massive complaints, you have to do something. We always consider their complaints and try to work it all out, that's why we are on good terms with the city of Cologne now.

How many people are involved in the advance planning of the festival?
We are about 20 people who work more or less the whole year on setting everything up. Then on the event itself, there is the local part taken over by the Fühlinger See Gmbh, and then Contour for the organizational part... Do you want to have some details? I could read it to you!

Yes please!
Ok. We are 28 people from Contour, then 22 technicians for the PA System, 3 Backliner, 21 for the catering, 6 in charge of the video-material, 8 for the merchandising, 4 to take care of the Hotel-bookings, 20 for the shuttle service… So, from our team it's around 100 people. Then from the official side for the 5 days involved you have the Security, Cleaners, DRK [First Aid], DLRG [German Life Saving Association], Stage and Fence Builders, Sanitary people, Gastro Teams and so on... altogether that's between 1800 and 2000.

Wow, that's like a festival in itself! Do you have something like a team party afterwards to congratulate yourself?
Well, it's more like trying not to fall asleep standing (laughs). Yes, we do a little meeting after everything is done, just a sit-in to celebrate ourselves. We don't scold; we just praise and thank everyone for their participation.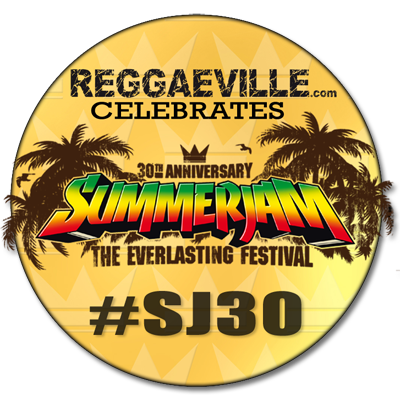 During the last 30 years, what was a very special or emotional moment for you personally?
That's hard to say… my happiest moment is always when we have good weather and when the festival is pumping, grooving. When I am sitting in my office and then I hear the sounds of the festival in full course, this is a very moving moment. Another special moment is when the firework is started. Then we know: "OK, we've done it again!", so this is really a feeling of achievement, an adrenalin rush.

And on the minus scale, what was your biggest disappointment?
Personally, my biggest disappointment was the cancellation of Gil Scott-Heron in 2010. He was supposed to play as last act on the green stage, but somehow he got lost in New York City. He was already sick back then, and he died soon after that, too. So, his gig was cancelled on a very short notice and we had to make do with a band from Cologne, Brings, but it didn't really fit. We had thought they'd be a bit more on the folk side, but they pulled their carnival thing through and that wasn't so nice.
Also when it's raining, that's a downer for me and the mood is not so good, but we can't really influence that (laughs).

Was there any concert that you especially remember? Do you have time at all to see the acts?
I always try to see as much as possible, even if it's only a few minutes. Matisyahu really thrilled me, for example, or Fat Freddys Drop. But it's hard to put any one in front now... Jimmy Cliff was great, Burning Spear, Bunny Wailer... so I don't really know where to start.

Living legends such as Bunny Wailer haven't been on the line-up for quite some time. Is it not possible to book them anymore?
I would have liked to book Bunny, but it has to fit in their tour period, too. They have to be in Europe at that time. Bunny Wailer and his group are a lot of people, plus he has a very high fee, so if you want to bring him for one show only, that's too expensive. One festival alone can hardly shoulder that. Plus, he is not easy to handle. I have tried it before and he cancelled the show on very short notice, so I don't really want to take that risk again.
There are exceptions, of course. Like Damian Marley, I really wanted to have him as a special for the 30-year-jubilee. The costs are enormous, so you can only do that once per festival, not for two or three acts with a big entourage. But now it's a very special thing because he is only playing at the Summerjam, that's his only gig in Germany.

What about the other Marley Brothers? You said in an interview last year that it was your dream to bring them all together for the jubilee…
We are still trying. The problem is that they all are really really busy, all the members of the Marley family, but Summerjam is also a highlight for them, so we still try to get another special guest. We'll just see what happens in the next three months, there might be some short-term developments.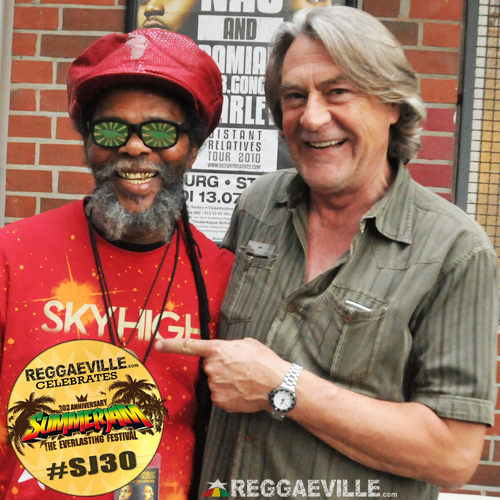 Speaking about the line-up, there are always people who criticize that many acts are not "Reggae" enough. Like, I checked the comments on your Facebook page and a lot of people complain about Cro, for example.
I am interested in variety, as I said before. We have to present different genres, because once you reach a certain size, you cannot step down again. Our problem is that we need at least 20.000 visitors to have our costs covered, so you can't focus on one target group only.

I also try to bring different generations together. That's why, on the one hand, the older artists are important, because they represent the true foundations of this music. Education is maybe the wrong word, but the background is that people who are not interested in the Roots so much, young people mostly, they might stop in front of a stage and listen to them, so these artists and their message might get known more widely as well.

On the other hand, new acts are important too because otherwise, one day we'll have 500 old men in wheelchairs in front of the stage, scratching their white beard. That's not possible. So, I want to present new talents such as Protoje along with bands like Steel Pulse. That's important! We need development in that too, it's no use if the same people come to the same concerts all the time, over and over again.

Plus, this music is extremely open to development, especially the urban music. What is happening in German HipHop, German Reggae, European Reggae - that's a tremendous development! Many people are focused on the Caribbean and they might bicker a bit, but well… You also have to see that there are not so many new things coming out of Jamaica. If I wanted to do a three day festival only with Jamaican acts, that wouldn't work out. Well, maybe it would, but then we'd have artists that nobody knows about and nobody knows if they are good.

Another thing, we have two stages, two full open air stages. Would I do Reggae only, then we'd have the problem that two Reggae acts would play at the same time. The people wouldn't like that either! We had that problem before. Now, when Cro is playing on one stage, Steel Pulse is playing on the other stage. So, we try to do that throughout the three days. People who are interested in Ohrbooten or Xavier Rudd can go to one stage, and people who are interested exclusively in Reggae can go to the other stage. Fans would be upset too if their favourite bands played at the same time!

How can we imagine the booking generally? Do you contact the artists you want to have or is it a mixture of active bookings and applications coming in from artists and managers?
The better known bands are always requested by me. Especially Damian Marley, I asked him very early on because I really wanted to have him perform. Also, Protoje or Tarrus Riley or SOJA, that's the ones I ask first in order to have a matrix to build upon. Then from the offers we get, from bands that really want to play, we have to sift thoroughly to see what could fit also, so yes, it's a mixture.

And how do you keep up to date generally with new music in this area, are you in Jamaica often or how is it?
Yes, I'm in Jamaica almost every year. Of course I'm also in touch with managers, studio people, friends and agencies. The internet is a main source, specialized press such as Reggaeville and Riddim as well... you need information from all sides and then you can start to create an interesting line-up.

On Monday there was a post about a surprise act and three more artists, can you say something about them?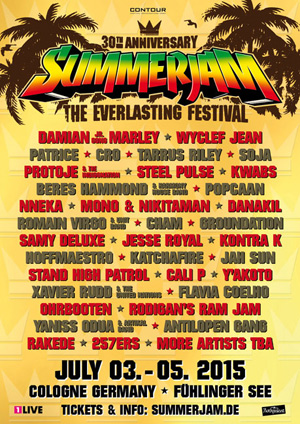 Yes I can. One is a lady we've had before already, Nneka. She has released such a mad album right now that we took her in because I think people have to hear this, it's simply fantastic! And then there is another special guest, a man from Haiti: Wyclef Jean. That's a move to be seen with regard to our anniversary, because he rarely performs and when he does, it's a major event, so we will bring some carnival to the Summerjam. I'm really looking forward to it!

If you rummage around a bit in old press releases, you'll find a statement of Patrice in 2013 who says that he could imagine sharing the stage with Gentleman for the Summerjam jubilee. Is there another surprise due?
These are ideas and dreams, but the reality is that Gentleman is doing an extensive tour in April. He is playing in Cologne and Bochum and on some other festivals, so there was no real spot to plan this. Of course you always have wishes, but in reality everyone has to do his own thing. So, this year it won't happen, but hey, it's not the last Summerjam!

If you had three wishes, regardless of all financial and logistic issues, what would be the three headliners of your dreams?
Bob Marley, Peter Tosh and Dennis Brown!

Honestly, during 30 years we had almost everyone on stage here. So if you talk about headliners, there has to be a certain momentum behind. For some people, Shabba Ranks is a headliner, but many others don't know him anymore, that's why it's difficult to talk about a dream-headliner. I am really happy to have Damian Marley on board and we'll see what happens during the next three months.

Looking ahead, is there a limit when you say that you won't do it anymore or is it really an everlasting festival?
Jah knows. I don't really know. As long as I have fun and everything works out, I will continue. I don't really want to think about a possible end, so no, there is no limit. I will stop when the fun stops!

Last question, will we see you on stage as well during the jubilee or do you leave the moderation to Andrew Murphy?
(laughs) Well, we'll see to that. I actually really want to express my gratitude, so probably on Sunday evening I will step up, because it's then when the really loyal Summerjam massive is still there. So I think we'll arrange something. Until then I hope that our fans are open to new stuff and I wish everyone a wonderful summer!