07/03 - 07/05 2015
15 Years of Reggaebus - Welcome Aboard!
06/10/2015 by Gardy Stein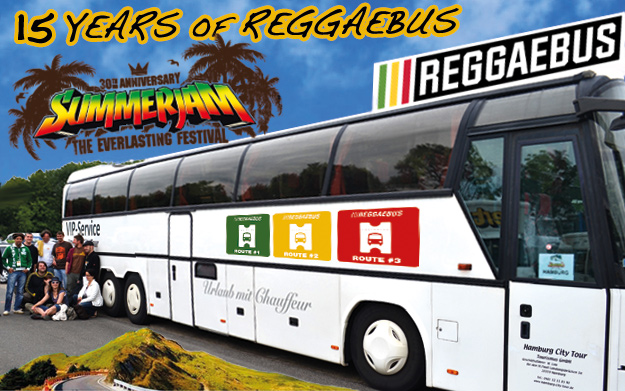 UPDATE JUNE 26th:
Reggaebus.de cancelled all routes for 2015 due to lack of bookings!


Welcome aboard! 15 years of Reggaebus

"We travel the nation from station to station!" sings Burro Banton in his 1983 release Jolly Bus. A jolly affair that we want to bring to your attention today are the countless buses that bring you and your friends to most European Reggae festivals. There is the Sunsplash Bus, for instance, carrying people from all over Spain to the Rototom Festival. Other, privately organized routes are presented on the official Rototom-Website as well, so that you'll certainly find a way to reach Benicassim, no matter where you start from. Likewise, the Overjam Festival runs its own transport from different departure points in Italy. In case you live in Switzerland, it's even easier: there is a Festivalbus that will bring you to six different festivals all over Europe from every bigger Suisse city! The advantage here is that you can purchase combi-tickets for both the bus-ride and the festival itself – easy! Similarly, Ontours offers packages to different festivals, starting anywhere in France

To learn about the general runnings in such a bus, let's take a closer look at the Reggaebus, an initiative that started out with a small circle of friends and has now grown into a successful enterprise that delivers Reggae-fans from near and far to their destination: SummerJam!

Thorsten Petrzelka, founding father of the Reggaebus Enterprise, tells us how it all started: "I used to visit the SummerJam often. In 1999, my friends and I went there with an old rickety VW Bully, and we realized that, after three days of festival, it's a bit too much. 9 people on the road and one always has to drive... So we decided to start going big, and the idea of the Reggaebus was born - that's what we had called the Bully!"

The message spread, flyers were printed, a homepage created, and one year later, in 2000, the first officially booked 2-storey-bus rolled from Stuttgart to Cologne. Every seat had been taken, and the idea was picked up enthusiastically by the SummerJam-promoters as well: "This was a good thing for them because their visitors arrived in a big group. The area had parking difficulties then already, and we held a lot of cars away from there. Also, on Sunday night, when all is over, the people were packed in the bus and left the festival area quickly. Thus we also had the organizers on our side because they realized we not only deliver the visitors right at their front gate, we take care of them as well! We tell them where to go and we pick them up so the event host has no trouble with the people arriving and departing."

In the following years, the bus was strongly requested and more routes were installed. Hamburg, Berlin, Munich, Nürnberg, Stuttgart, Frankfurt... today, there are 3 city-routes you can choose from to plan your individual trip to the festival. About 3.500 people have been brought there so far, and up to now the Reggaebus is the only official provider that is supported by SummerJam with a link on the festival page even. Short flirtations with other festivals were discontinued quickly. "2003 and 2004, we started to do other festivals as well. We went to the Splash, for instance, and the bus was called Splashliner (laughs). We went to other festivals too, but the demand was declining because there were too many providers that broke the prices. We decided to focus on SummerJam only. And the concentration on that made the customers realize that we really know what we are doing!"

The advantages are obvious: party hard all weekend without worrying about how to get back or fear of losing your driving license (police controls are vicious, especially around a Reggae festival), travel with a group of friends and arrive and depart directly at the main entrance. Plus, the party starts right there in the bus! Soundsystems like Sentinel & Jugglerz release special mixtapes in time for the festival that are played non-stop, and the possibility to watch the SummerJam-DVD from past years gets everyone in the mood for the weekend ahead or introduces newbies to what awaits them. Reminiscing the first years, Thorsten smirks: "Back in the days we had smoking buses, that time you were allowed to smoke in Germany. Of course people smoked all kinds of things in the buses. The drivers didn't know, because they carried everything from pensioners to Hippies going on a demonstration to festival visitors... And that was interesting for our passengers as well cause they were like "Mhm, smoking buses... cool, so we can smoke 5 hours straight!" Now that smoking is not allowed anymore on the bus, we do 2 stops on the ride. One is mandatory for the driver and then we do an additional one for the smokers. That's a funny picture when 50 red-yellow-green striped people stand around the bus and smoke... but also interesting for the police! So we told people that they have to watch out, cause when one is caught, 49 others have to wait. No illusions, we are going to a Reggae Festival! Still, we prefer that to having people booze Vodka for 5 hours. So we do take care that people don't overdo it."

Overdone are the luggage wishes sometimes. Even though the Reggaebus has additional carry-on trailers, the passengers challenge their capacity sometimes. From the necessary camping gear to crates of drinks and even handcarts, Thorsten has seen everything. But, according to him, so far nothing and no one had to be left behind!

When asked about what kind of people travel with him, he explains: "Over the years we have built regular customers, so about 20% of the passengers are people, groups of friends mostly, who go every year. Also, parents often call to book the trip for their kids, their young kids whom they don't want to see in cars with other young drivers. They probably wouldn't let them go otherwise! We can reassure them that their sons and daughters are under our care on the trip, they get all the information they need and they have the security that they are picked up also. And if anything happens to them, maybe they lose their money or get robbed or break their finger or whatever, they can always call us and get help."

What a service! This is made possible by the so-called Irie Guides who accompany every Reggaebus and stay at the festival the whole time. "At the beginning, it was friends of mine who said 'We want to go to the festival but we don't have the money, what can we do?' So I told them just be the escort, check that the bus stays clean, talk to the people and so on... Make sure everyone is boarding the bus after each stop. And of course they are fans and stay at the festival and our passengers have their number and can ask 'I forgot, when was the trip back on Sunday?' or 'Can you lend me fifty Euro?' or whatever. So we are often the first contact persons on-site."

And when the festival is over and it's time to go home, the Reggaebuses are already waiting at the gate: "Coming back now, the people can come from around 8 pm to leave their luggage with us, it's guarded, then from 11 pm they can board the bus and midnight is departure. The official end of the festival is 11 pm, so people can come directly after the firework and go home. We play some lullaby music and then, within 30 minutes or so, it's quiet and the people are carried home in a relaxed way."

Sounds very relaxing indeed. In case you need more information on the Reggaebus and its services, check their homepage: REGGAEBUS.de

Everybody get on board - enjoy the Reggae-Bus-Comfort!